Energy Saving Performance Contract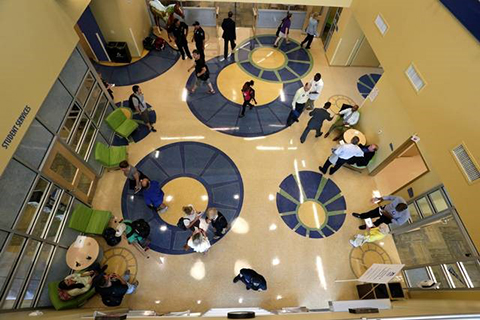 Early in 2016, Bluegrass Community and Technical College entered into a contract with CMTA Engineers, facilitated by the Kentucky Finance Cabinet. The goal of this contract is to evaluate and implement selected energy saving improvements, financing the improvements with guaranteed energy savings. Ideas for energy reductions were considered at all BCTC Campuses with the exception of Cooper Campus, which is owned by the University of Kentucky.
Implementation of these ideas will begin in the spring of 2016 and involve several themes.
Installation of new high efficiency LED lighting in both interior and exterior applications.
Installation of new, higher efficiency HVAC equipment to improve building conditions and reduce energy consumption.
Automatic turn off of computers across campuses when not in use.
Installation of motion detection in classrooms to turn off lights and reduce ventilation when not required.
Evaluation and improvements to the building automation system programming to reduce energy usage, including upgrades to existing controls.
Installation of low flow restroom fixtures to reduce water usage.
Improvements to building envelops to reduce air infiltration thru increased insulation and new weather stripping.
This is a 12 year contract that should provide benefits to BCTC well beyond the term. As utility rates rise, the economic benefits will actually increase for the college.