Semi-annual Reports
Every six months, all of the KCTCS colleges submit Sustainability Reports. These reports are compiled by the KCTCS Sustainability Coordinator and presented to the Board of Regents. Following are BCTC reports.
December 4, 2015:
Ninth Annual Peace Fair
Bluegrass Community and Technical College (BCTC) Cooper Campus cohosted the 9th Lexington Peace Fair on Sunday, September 20, 2015, on the lawn of Cooper Campus. Held from 1:00 p.m. to 6:30 p.m., the Peace Fair was free and open to the public. The Peace Fair was co-hosted by the Central Kentucky Council for Peace and Justice and the Community Montessori/Montessori Middle School of Kentucky. International, environmental, social justice, and fair trade organizations were present at the fair, which also featured a lineup of musical and dance performances.
Grant from Lexington Fayette Urban County Government (LFUCG)
Bluegrass Community and Technical College received a sustainability grant from LFUCG. With the grant funding, the college will enhance interpretive trail at the BCTC Newtown Campus. Students have participated in the interpretive trail improvements, assisting with the path layout for the trail. In addition, throughout the remainder of the year, BCTC students will tend, prepare the soil, and plant additional plants. BCTC faculty and staff planted fruit trees and Kentucky Coffee trees. A planting of Newtown Pippin heritage apple trees is planned for fall 2015.
Gift from Central Bank and Trust Co.
In June 2015, Bluegrass Community and Technical College received a gift from Central Bank and Trust Co. The leadership gift supports the BCTC BuildSmart Initiative to build a second classroom building that will provide state-of-the-art classroom and lab space focused on science education. The Newtown Campus is a cornerstone of the Newtown Corridor and provides a significant step in the transformation of this part of Lexington and the surrounding neighborhoods.
June 12, 2015: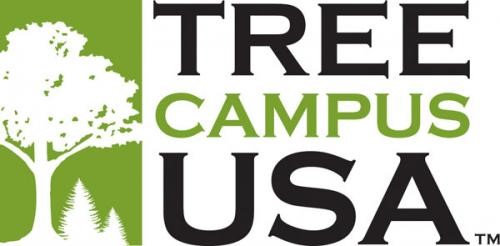 Tree Campus USA Awarded
Bluegrass Community and Technical College was honored with 2014 Tree Campus USA recognition by the Arbor Day Foundation for its commitment to effective urban forest management. Tree Campus USA is a national program created in 2008 by the Arbor Day Foundation and sponsored by Toyota to honor colleges and universities for effective campus forest management and for engaging staff and students in conservation goals. Bluegrass Community and Technical College achieved the title by meeting Tree Campus USA's five standards, which include maintaining a tree advisory committee, a campus tree-care plan, dedicated annual expenditures for its campus tree program, an Arbor Day observance, and student service-learning project. The Arbor Day Foundation and Toyota have helped campuses throughout the country plant thousands of trees, and Tree Campus USA colleges and universities invested more than $29 million in campus forest management last year. More information about the program is available at arborday.org/TreeCampusUSA. The Arbor Day Foundation is a million member nonprofit conservation and education organization with the mission to inspire people to plant, nurture, and celebrate trees. More information is available at arborday.org.
Newtown Classroom Building LEED Plaque Ceremony
Governor Steve Beshear and US Congressman Andy Barr presented the Leadership in Energy and Environmental Design (LEED) Gold status award to Dr. Augusta A. Julian, President of Bluegrass Community and Technical College, at the 75th anniversary and Newtown Campus dedication ceremony September 4, 2014. LEED is a certification program focused primarily on new building projects and based upon a points system. Gold status is the second highest certification and difficult to obtain. Some features of the Newtown Classroom Building that helped earn LEED Gold Certification are: motion detection controlled lights and HVAC in almost all spaces, programmable space occupancy settings, ambient light sensors on lights near windows (10 percent energy savings in these areas), heat recovery chiller for temperate days; avoids operation of main chiller and boilers, ventilation calculation based on monitored CO2 levels, lower duct static pressure design (2.4 percent energy savings), 92 percent efficient domestic hot water heater, sun shades on key windows, spray foam on exterior to control infiltration, high performance windows (.6 percent energy savings), and R30 cool roof design. The Newtown Classroom Building is one of only six Gold certified buildings in Lexington, and the first LEED certified building in the Kentucky Community and Technical College System.
Workshops, Collaborations, and Partnerships
In November 2014, Bluegrass Community and Technical College, partnered with the American Association of Community Colleges Sustainability Education Economic Development (SEED) Center, Ameresco, the KCTCS Green+ Sustainability Initiative, and the University of Kentucky to host, The Campus as a Living Laboratory: Using the Built Environment to Revitalize College Education. The event included working together to achieve common sustainability goals, integrating living lab work into the curriculum, the power of industry partnerships, and sustainability student projects. Bluegrass Community and Technical College also hosted the 6th annual Go Green Save Green Workshop, in March 2015, which included discussions on energy efficiency grants, green infrastructure water quality, waste reduction composting, sustainable development and green jobs. In a fundraising partnership with Alltech, Bluegrass Community and Technical College students will sell Alltech s brand coffee with profits going to benefit student organizations, the BuildSmart Campaign, and two primary schools and economic development projects in Haiti as part of Alltech s 501c3 Sustainable Haiti Project.

Earth Day Focus: Water is Life - "Keep it Clean"
Bluegrass Community and Technical College Danville Campus hosted an Earth Day event April 25, 2015, focusing upon water. Children s activities, music, workshops, exhibits, artwork, and a 26K bike ride were part of the festivities. In addition to support from Bluegrass CTC, the event was funded in part by a grant from the U.S. Environmental Protection Agency, Bluegrass GreenSource, Danville-Boyle County Community Education, Boyle County Government, and Clarks Run Environmental Education Corporation.
December 5, 2014:
Peace Meal Gardens and members of the academic community received a grant from Growing Warriors to purchase 60 large blackberry plants. The plants will be cared for over the winter and planted in early spring 2015.
Governor Steve Beshear and US Congressman Andy Barr presented Bluegrass CTC President Augusta Julian with the LEED Gold Certificate and award for the first building at the BCTC Newtown Campus. According to the United States Green Building Council website, the Newtown Classroom Building is one of only six Gold certified buildings in Lexington, and the first LEED certified building in the Kentucky Community and Technical College System. The Newtown Classroom Building also is the showcase project for the US Department of Energy Better Buildings Challenge.
BCTC faculty and staff associated with the college s Peace Meal Garden participated in BCTC Newtown Community Day by organizing an activity on seeds and planting.
The American Association of Community Colleges SEED Center, Ameresco, KCTCS, BCTC and UK are hosting a workshop in November 2014 at BCTC Newtown Campus to help colleges build successful living laboratory initiatives. The living laboratories merge academics and campus facilities management to provide students with real-world skills, for the institution, a path to meet it sustainability goals.
BCTC's Danville Campus partnered with its Workforce Solutions Department, the Danville Independent and Boyle County Schools to host 20 rising high school freshmen and sophomores for the Career Craze Camp.
BCTC's Leestown Campus faculty and students installed a solar system to pump run-off water from a 1000 gallon tank to a 300 gallon tank at the Peace Meal Gardens. Carpentry faculty and staff built a pump house and biotech faculty installed pipes to divert water that runs off the large storage building.
Two Faculty members participated in Kentucky Environmental Education Council s 5-year planning process. BCTC had a faculty member give a presentation at the Kentucky Association of Environmental Education Conference and while another member of our faculty staffed a display at the conference.
BCTC's Maintenance continues to re-caulk old windows at the Leestown Campus in order to reduce energy cost throughout the year.
The 10th Annual Latino Multicultural College Fair (LMCF) took place on the Newtown Campus Tuesday, October 14 while BCTC students were on fall break. Students from high schools around the area were able to get information on how to prepare for college and search for scholarships, as well as learn about the types of support services available to them. They also had the opportunity to meet with representatives from colleges around Kentucky. The fair has been hosted through BCTC s Office of Latino Outreach and Services for the last 10 years, but this is the first time the fair has returned to BCTC s campus since its start. More than 500 students from 12 area high schools and representatives from 27 colleges participated in the fair.
June 6, 2014:
KCTCS U.S. Department of Energy Better Buildings Showcase Project receives national recognition
KCTCS was invited in December 2011 by the United States Department of Energy to be the first community and technical college in the nation to participate in the Better Buildings Challenge program. The Better Buildings Challenge is a national leadership initiative with a goal to make American buildings 20 percent more energy efficient by 2020. Partners of the Better Buildings Challenge commit to upgrade buildings across their portfolio and provide their energy savings data and strategies as models for others to follow. KCTCS Better Buildings commitment includes:
Pledging to reduce energy across KCTCS 20 percent by 2020.
Piloting a retrocommissioning project on two campuses that will expand to other campuses over the next three years.
Showcasing the specific buildings included in the retrocommissioning project.
Collecting and sharing campus level data and expanding data collection to facility level via submetering involved with the retrocommissioning.
The showcase project, the Bluegrass Community and Technical College Newton Campus Classroom Building, was selected for recognition at a national reception in May 2014. The building profile has been added to U.S. Department of Energy s Better Buildings Challenge website at http://www4.eere.energy.gov/challenge/partners/better-buildings/kentucky-community-technical-college-system. The building was selected as the showcase project because of its energy efficiency features, anticipating expected energy savings of 26 percent and $45,000 annually.
Bluegrass Community and Technical College receives grant to support the college's Peace Garden Water Initiative

Bluegrass Community and Technical College received a two part sustainability grant, focused on water. The project involves installing a water catchment system to collect water into a 1000 gallon tank from a large shed, a solar powered pump that will deliver water to the garden site, thus curtailing water consumption from the local water company.
Bluegrass Community and Technical College Campus News
The Danville Campus hosted an Earth Day festival in partnership with Clark s Run Environmental and Education Corporation, Bluegrass Green Source and UK Cooperative Extension Service with the theme of the event Celebrate Clean Water which included, rain garden planting, and earth friendly displays.
Students for Peace and Earth Justice hosted the 8th Annual Lexington Peace Fair in May 17, 2014. The fair brought together students, community organizations and businesses to participate in working for social and economic justice, building ecological resilience, preserving nature, teaching peace and creating a more diverse and beautiful community.
Lawrenceburg Campus has teamed up with the Anderson County Government in recycling paper and cardboard items from their campus.
Bluegrass Community and Technical College hosted a workshop at its Newtown Campus targeted toward business and industry. The workshop, organized and sponsored by Bluegrass Greensource, (a nonprofit PRIDE affiliate for Central Kentucky), was geared toward business and residential property managers. Sessions highlighted sustainability opportunities and practices for how Industrial Businesses, small Businesses/Start-Ups, Restaurants, Non-profits, and Apartment/Property Management could save money with green initiatives and eco-friendly business practices. Participants also received continuing education credit toward LEED Design (USGBC Continuing Education Credits) credentials.
Bluegrass Community and Technical College offers students numerous opportunities to engage in and learn about sustainability. Some of the opportunities offered during the spring 2014 semester include:
Student Sustainability Committee Established. The college and students hosted a presentation on climate change led by the Kentucky Student Environmental Coalition. The students hosted a drawing for a rain a barrel to raise money for future improvements to the Peace Garden.
Expressive and Wellness Program at Employment Solutions. Welding students developed a real world learning experience by creating panels from scrap metal to create a safety ramp to display art for the Expressive & Wellness. The program allowed Medicaid participants to create a functioning art garden and training programs to enrichment services for community outings.
Lexington Art League s Luminosity at Triangle Park. Welding students worked with a local artist to create an interactive sculpture for the Lexington Art League s Luminosity display in downtown Lexington. The project was made of re-purposed light bulbs and scrap.
Building Student s Solar Car. Students at the Danville Campus partnered with the University of Kentucky College of Engineering in building a solar powered car.
Bluegrass Community and Technical College faculty and staff held an activity at the Peace Meal Gardens on Kentucky Arbor Day 2014. The event was open to general public, faculty, staff, and students. During the Arbor Day event, tree plantings of cherry, persimmon, hickory and oak trees occurred. In addition, college faculty gave a public presentation on heritage seeds and their impact on our community as part of their spring gardening event.