LEED Building
LEED Building: The Newtown Classroom Building s Energy Efficiency and Sustainability Measures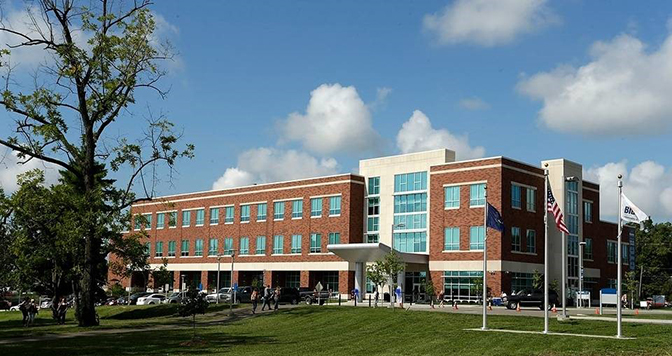 The Newtown Classroom Building was awarded a LEED Gold certification at the completion of construction and incorporates many energy saving features.
Motion detection is utilized in all classrooms and offices and controls the operation of the lights and ventilation levels in those spaces. After a period of inactivity, the lights are automatically turned off as well as ventilation reduced and the space temperature set point moved to a stand-by level. All these spaces have programmable occupancy settings as well as variable air volume based on the needs to maintain a comfortable condition.
Classroom light fixtures have ambient light sensors near windows and reduce light levels as practical based on outside light levels coming through the windows. The CO2 levels are also monitored in the building to reduce the introduction of outside ventilation air to the minimum required.
The building went through a Building Envelop Commissioning during construction to assure air and heat infiltration was minimized. In addition to infrared analysis to identify problem areas for countermeasures, all windows were tested for air infiltration. Spray foam insulation was utilized on the exterior of the walls to minimize outside air leakage. High performance windows were utilized to minimize heat gain from sun as well as sunshades on key windows. An R30 cool roof design was also utilized.
The mechanical systems were designed to reduce energy consumption. Ventilation ducts were enlarged to lower static pressures and make the building easier to heat and cool. Variable speed drives were used on the air handling units and pumping systems to assure only that required was provided. The hot water heaters are 92% efficient. A heat recovery chiller was also installed to provide hot and cold water on temperate days as required and avoid operation of the larger chiller and boilers.
Outside, permeable pavement was utilized in several parking areas to reduce the impact of storm water runoff.
Overall, the Newtown Classroom Building should efficiently provide a comfortable environment for BCTC students, faculty, and staff for many years into the future.