Career Connections
Bluegrass Community and Technical College uses College Central Network as its official job resource and resume system. Students alumni, and employers can easily create an account at www.collegecentral.com/bluegrass.
Students, easily apply to jobs and Internship/Co-op job opportunities posted exclusively for you, and search other opportunities via Jobs Central and Intern Central , national job boards.
Create and upload your resume and career portfolio to make available to employers.
Access our events calendar, and career/job search advice documents, podcasts, videos and more.
Employers search for talented students and alumni, and post unlimited jobs for free.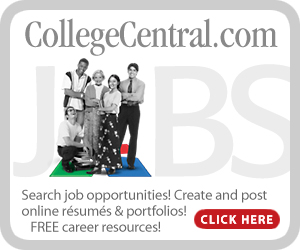 Disclaimer
Some internships posted here are private opportunities that are not part of the Bluegrass Community and Technical College (BCTC) Cooperative Education Program and are not eligible for academic credit. If you are a BCTC student looking to earn class credit through a Cooperative Learning and Internship placement, you must first contact Laura Lynch at laura.lynch@kctcs.edu to apply. BCTC is not responsible for and accepts no liability for any damages of any sort for internship experiences that are not coordinated by the BCTC Cooperative Education Program for internship or cooperative education.