Construction Technology
Contact Information
Coordinator
Ezra Sword
Leestown Campus, B-110
(859) 246-6769
ezra.sword@kctcs.edu

Program Coordinator
Laura Lynch
Leestown Campus, N-121
859 246-6583
laura.lynch@kctcs.edu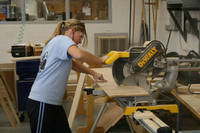 The Construction Technology program is designed to prepare students for entry level positions in the construction industry. Residential and light commercial construction applications are taught. This program includes instructional units in blueprint reading, building site layout procedures, foundation systems, light framing construction methods, exterior and interior finish systems, concrete forming systems and construction safety. Units of instruction are designed to include lecture and practical experience in the lab or on-site projects. This program also offers an excellent prerequisite for students that plan to pursue a career in areas such as construction management, civil engineering or architectural design.
James Wallace proudly displays his program hammer and diploma with Assistant Professor Laura Lynch at the May 2010 Bluegrass Community & Technical Graduation.
The Lawrenceburg National Association of Homebuilders Student Organization placed 11th in the two year college Residential Construction Management Competition held in conjunction with the 2010 International Builders Show in Las Vegas.
The Lawrenceburg students participated in the 2010 Repair Affair held by the Lexington Housing Foundation. The students rebuilt the front porch for an elderly disabled couple.
Bill Martin and David Baker Install shelves at the Anderson County Adult Education Learning Center as a community service project.
*Please click on images below to enlarge
Lawrenceburg Student Home Builders Association Host Boy Scouts
On Saturday February 7, 2009 the BCTC Student Home Builders Association hosted Boy Scout troop # 234 for a workshop on safety and construction. The scouts made a tool box to take home.
Special to Courier By Laura Lynch
BCTC's student chapter of the National Association of Home Builders (NAHB) placed 13th in the Residential Construction Competition at the January International Builders Show (IBS) held January 19-21, at the Las Vegas Convention Center, in Las Vegas, Nevada.
Tom Brannon, Kimberly Stephens, and Jason Stewart joined over 65,000 attendees at the show, which offered more than 250 educational seminars and a million net square feet of displays from 1,700 manufactures and suppliers.
The competition, sponsored by Centex Homes, and held at Caesars Palace, hosted 66 teams from across the country. High schools, two- and four-year colleges were each given a different project for which they had to develop a working set of drawings, a detailed material estimate and construction schedule including all options for the project. Developed solutions were submitted to the judges for review prior to the IBS. In conjunction with the IBS, teams gave oral presentations and defended their solutions in a timed question and answer session with a panel of construction company executives.
The BCTC chapter's attendance was made possible through chapter fund- raising activities and scholarship funds provided by The National Housing Endowment, a philanthropic arm of the NAHB.