Weekend drive-thru graduation celebration for BCTC grads
Published on Dec 13, 2020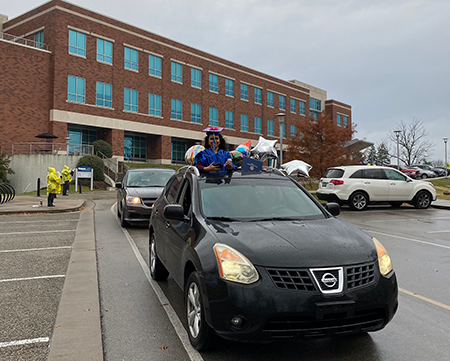 LEXINGTON, KY - After having to cancel in-person graduation ceremonies twice due to the pandemic, Bluegrass Community and Technical College (BCTC) was pleased to offer drive-thru graduation celebrations at the Newtown Campus in Lexington and each of the regional campuses in Danville, Georgetown, Lawrenceburg and Winchester over the weekend.
College leadership, faculty and staff welcomed and cheered graduates as BCTC President Dr. Koffi Akakpo presented their credential covers and BCTC swag.
"We were so disappointed that we couldn't do an in-person graduation event," said Dr. Koffi Akakpo, "so we knew we needed to plan something special to let our students know how proud we are of them. They not only reached an educational goal, but they did it during a worldwide pandemic."
Special it was. Faculty and staff lined the drive-thru route at each campus with signs, cheering and shouting congratulations to students as celebratory music loudly played.
"I've been to a lot of boring graduations but this wasn't one of them. This was one of the most exciting ones I've ever attended!" one BCTC graduate exclaimed.
Another student shouted, "Maybe we should do it this way every year!"
Graduates, their families and friends drove through in decorated vehicles taking it all in. Students continued to celebrate their accomplishments on social media:
"After four years of being lost, trying new paths, struggling to find my true self, handling/processing trauma and defeating my addiction, I have finally taken a step forward in life by getting my associates degree!"

"After 30 years, I did it!"

"I'm very grateful to professors, advisors and friends! My path toward a bright future has begun."

"The Coronavirus really changed what our graduation looked like, but nevertheless, we did it!"

"I'm thankful for this event to celebrate my graduation in these uncertain times. I was determined to finish this degree and not even a worldwide pandemic was going to stop me. My wife and my daughter are my biggest supporters. I couldn't have done it without them!"
Over 250 graduates attended the events that took place Dec. 12 and 13. Videos and photos of the events can be found on the BCTC Flickr and YouTube channels.
Interested in attending BCTC in the spring semester? Classes begin Jan. 11. Find out more on the BCTC website.