What is Administrative Office Technology?
The Administrative Office Technology program is an integrated curriculum, which prepares graduates at the certificate, diploma, and associate degree level. The Administrative Office Technology program prepares students to work in an office environment of people, processes, and technologies. Students will learn to use the latest office technology software - like Microsoft Office and QuickBooks - and other soft-skills to become an effective communicator and team member in an office setting.
Technical courses combined with general education courses prepare students for today's workforce and provide a basis for lifelong learning, a necessity for the workforce of the future. Students select an area of specialty from the following tracks: financial assistant, administrative, desktop publishing, and legal. Program graduates are employed in a professional office, education, government, businesses, and industries. Graduates may choose to sit for the Certified Administrative Professional Examination or Microsoft Office Specialists Certifications.
Awards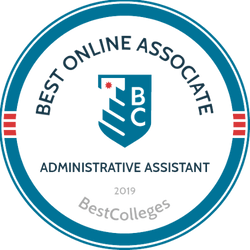 Additional Information
BCTC's Administrative Office Technology program teaches students the vital office skills they need to be prepared to work in an administrative support position in a wide variety of office settings.
Get started with Administrative Office Technology
BCTC's Administrative Office Technology program is offered both in person and online.
Students can earn an associate degree, diploma, or certificate with options in Administrative, Desktop Publishing, Financial, and Legal tracks. BCTC's Legal and Desktop Publishing programs are the only ones of their kind in Kentucky.
Classes range from computer literacy to accounting, and include preparing students with the skills they need to find employment, such as resume writing and interviewing.
Students can also transfer the skills learned in the program to a four-year university through a 2+2 partnership with Western Kentucky University in Organizational Leadership.
Contact Mary Blaydes, Administrative Office Technology Program Coordinator:
mary.blaydes@kctcs.edu / (859) 246-6640
What are my career choices?
Our graduates find employment as:
Executive Assistants
Client Specialists
Account Managers
Event Specialists
Financial Representatives
Appraisers
Project Administrators
Graphic Designers
Legal Management Representatives
Communications Coordinators
What are my degree, diploma, or certificate options?
The catalog describes the course requirements for completing the credential. Students are required to schedule an appointment with their assigned academic advisor to ensure achievement of their academic goals.
Length of Program
You can earn an associate in applied science degree in two years if you maintain full-time status.
This information should not be considered a substitute for the KCTCS Catalog. You should always choose classes in cooperation with your faculty advisor to ensure that you meet all degree requirements.