Intramural Sports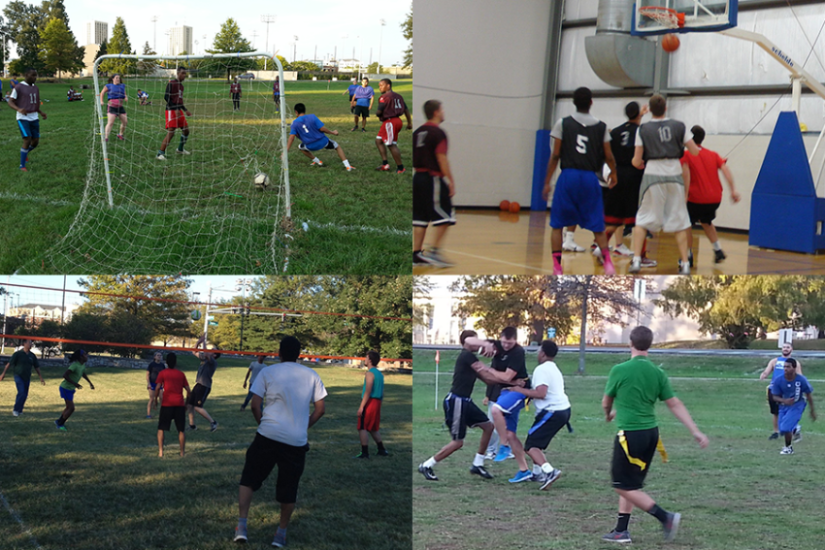 Intramural Sports promote organized recreation, student involvement, exercise, stress relief and commUnity! Fall sports include soccer, volleyball and flag football. Basketball is offered in the spring. Whether you are a novice, a new beginner, skilled or just want to learn a new sport, Intramural Sports is for you. Come join the fun!
Play a sport you love or learn a new sport
Exercise to help stay in shape
Stress relief
Get involved with campus life
Diversify your social connections
Add structure to your day
Outlet to channel energy
Learn about other cultures
Have fun
"It's not all about winning. It is more about bonding and playing together, whether winning or losing is the outcome."
"I got to play against friends and make new friends that I would never have met if it wasn't for this opportunity. It was a good experience."
"It gives us students something besides school to look forward to during the week, -it's an outlet."
"I appreciate all that the league has done for me socially. I had a great time."
Fall sports include soccer, volleyball and flag football and are played at the Cooper campus location. The spring basketball league plays at the Kentucky Basketball Commission. Participants are responsible for their own transportation to/from Intramurals.
The next Intramural Sports Information Meeting will be held:
When: Friday, September 6, 2019 at 4PM
Where: Cooper Campus, Oswald Building, Room 103
Note: Cooper Campus parking lot is not patrolled after 3:30 PM
Attend the Sports Information Meeting to become better acquainted with what BCTC Intramural Sports has to offer. Registration and Release Forms are available via 103J Oswald Building/Cooper campus, seasonal registration tables located at Newtown and Cooper campus lobby areas, or go to 'How Do I Sign Up to Play?' section below on this page, for more instructions.
Sport
Season
Game Day
Game Start Time
Game Site
Team Size
Soccer

Fall: After Labor Day

4-6 Weeks includes Play-offs

Thursday
5:15 p.m.
BCTC Cooper Campus
5-8
Volleyball

Fall: After Labor Day

4-6 Weeks includes Play-offs
Thursday
5:15 p.m.
BCTC Cooper Campus
5-8
Flag Football

Fall: After Fall Break

4-6 Weeks includes Play-offs

Thursday
5:15 p.m.
BCTC Cooper Campus
7-8
Basketball

Spring: After Classes Start

10-12 Weeks includes Play-offs

TBA
9:30 p.m.
Kentucky Basketball Commission
8-9
Knowledge and skill levels vary from novice to beginner to advanced. All are welcome!
You have the option to join a team, make your own team or be placed on a team by the Intramural Director. BCTC Intramural Sports are open/gender-neutral.
Current BCTC part-time and full-time students and faculty/staff are eligible to participate in Intramural Sports. All students enrolled in online BCTC courses are also eligible to participate. Registration is required of all participants.
1. Submit the following items:
2. Download, print then email Registration and Release Form and a copy of your current class schedule to: donnalj.murphy@kctcs.edu or hand deliver to 103J Oswald Building/Cooper Campus.
3. Attend the Intramural Sports Information Meeting in the fall to find out more about the sport offerings and how to become a participant.
*Registration and Release Forms are also available at 103J Oswald Building/Cooper campus, seasonal registration tables located at Newtown and Cooper campus lobby areas, or go to forms section below on this page.
*Download, print then email roster to: donnalj.murphy@kctcs.edu or hand deliver to 103J Oswald Building/Cooper Campus.
Rules
No player may play on more than ONE Men's League Team. Rosters will be checked frequently. Playing on more than one team will result in automatic forfeit as well as possible suspension. Team Captains, please confirm with your players that they are on your team and your team only.
All games will feature two (2) 20 minute halves with a running clock. Each team gets 2 - 45 second timeouts per half that do not carry over. Halftime is 4 minutes. The clock will stop on injuries, timeouts, and dead balls in the last minute of each half. Overtimes will be 3 minutes and each team will receive 1 additional timeout. After 2 overtime periods, a third overtime will be played in a sudden death format (only in the regular season).
Players must be at least 17 years of age to play and have a parent's written permission if under 18 . Every player on a team must have the same color jersey as the rest of their team. Each player must have a number on their jersey that is different than any other player on their team. THERE SHALL BE NO TAPE NOR SHARPIES USED TO MAKE NUMBERS. EACH JERSEY/SHIRT MUST HAVE A REAL NUMBER ON THE FRONT AND/OR BACK. Each player's last name and number must be in the scorebook before the game starts. Blank jerseys will not be accepted as the number zero. Each number may not be more than 2 numerals. ( Ex. # 120 is not acceptable) Failure to meet these requirements will result in a technical foul to the team for each offense.
All team personnel on the bench must be in uniform, in the scorebook, and their name must appear on your roster form. Violations will result in a technical foul to the team's bench and removal of the offending person/s from the bench.
Teams must have 4 players present and on the floor to start a game when the buzzer sounds. If they do not have 4 players it is a forfeit. If the team is expecting a 5th player late, the player must be in the scorebook prior to the start of the game or it will be a 1 shot technical foul with possession of the ball going to the opposing team. In case of a forfeit the teams may use the floor until 10 minutes before the start of the next scheduled game.
Free throws are played on the release of the shooter. It is illegal to have a foot on the block before the release. All other KHSAA rules apply. Also note the rule changes for the current season.
Complaints to the league director about officiating during a game by any team member (including team captain) are grounds for a technical foul and ejection from the game. This includes timeouts and halftimes. Any complaints must be made in a respectable manner by the team captain to the league director AFTER the game is over. The league director will not accept, nor listen to complaints from fans, wives, girlfriends, parents, or kids and such complaints will result in an automatic dismissal from the building and are also subject to a technical foul being assessed to your team. The league director does reserve the right to correspond with teams/team captains in writing only.
Any player receiving 2 technical fouls in a game will be ejected from that game and suspended for the next TWO games., "I forgot" will no longer be an acceptable excuse for trying to play in the next game after being ejected the previous week. If it is reported or the league director observes a player who was ejected from a game the previous week on the floor, the game will be halted immediately and a forfeit will be assessed. ANY PLAYER WHO GETS EJECTED FROM A GAME THE TEAM CAPTAIN WILL HAVE TO SIT A GAME WHEN THE EJECTED PLAYER GETS BACK.
Any player ejected from 3 games in the season will be removed from all KBA leagues and may receive a suspension for future leagues. Any team that receives 3 direct technical fouls will have their game ruled a forfeit and forfeit the next week's game. After a team has had 2 games ruled a forfeit because of 3 direct technical fouls, that team will be removed from the league with no refund. This rule can, and has, cost teams a number one seed and more favorable tournament positions. KBA implores you to pay attention to this rule. It will be enforced. Please remove any player from your team that could cost you a game because of behavior problems.
Fighting, threats and harassment towards KBA employees (staff, referees, or scorekeepers) are considered serious offenses and charges will be filed with the Lexington Police Department. The league director will have full authority in deciding the length of suspensions on a case by case basis and said decision is final. There are no appeals. Past precedence/behavioral history will have weight in the decision making process.
Fighting between 2 players on the floor will result in the immediate ejection of the players involved. At any time if the fighting escalates to more than the 2 people involved, the game will be called with both teams being assessed a forfeit. If a fight happens on the floor, any person that comes onto the playing floor that was not already in the game will be subjected to being banned from the facility until the next men's league. Any fan that goes onto the floor during a physical altercation will be banned from KBA for 1 year, there will be no exceptions. Fighting, regardless of circumstances, will not be tolerated.
Rosters and payments must be completed by the third game. You may add players until the third game has started. After that, no player may be added to any team barring any season ending injury. If your team does not have their full balance paid before the third game starts, your team will be replaced by one on the waiting list and you will not get to play that game. Each player on your team's roster must play 3 games during the regular season in order to be eligible for the tournament. Every game that an ineligible player plays in will be forfeited, including tournaments.
The HOME team is listed first and must supply the game ball. If you do not bring a game ball you can pay a deposit of $30.00 to get a ball. When the game is over you will return the ball back to the front desk and you will receive your deposit back.
All decisions of the league director are final. All decisions are for the good of the League.
Rule
Details
At the Snap
Four offensive players must be on the line of scrimmage (5 yard penalty.)
Backfield
At least one (1) yard behind the line of scrimmage (5 yard penalty).
Ball Carrier
Shall not deliberately drive or run into a defensive player, nor straight arm, nor protect
the flag (10 yard penalty).
Blocking
Blockers must be on their feet before, during, and after contact (10 yard penalty).
Dead Ball
The ball is dead when an opponent removes the ball carrier's flag. (NOTE: In all cases where a play is in progress and a ball carrier loses a flag either accidentally, inadvertently, or on purpose, play shall be stopped at the spot where the flag is dropped. If any player loses a flag, he still is eligible to receive a legal forward pass, but cannot advance the ball, and the ball is dead where it is caught).
Defensive Player
Shall not hold, grasp, or obstruct forward progress of ball carrier when in the act of removing a flag (10 yard penalty), with Exception: (5 yards and first down).
End Zones
5 yards in width.
Flags
Players must wear two approved same length flags attached to a belt at the waist.
Forward Pass
All players are eligible receivers. A team may only have one forward pass per play.
Fumble
Loss of possession after control: Ball is dead when it strikes the ground.
Illegal Equipment
Shoulder pads, helmets, and hip pads are not legal equipment.
Interception
If the defense catches a ball thrown the ball is dead and the ball will be moved to the 10 yard line as if it were after a score.
Kickoffs
There will be no kickoffs. At the beginning of each half and after a score the team will start at their own 10 yard line.
Kickoff Recovery
An untouched free kick must travel 20 yards before the kicking team can legally recover unless touched by the receiving team.
Line to Gain
The line-to-gain in any series is the zone in advance of the ball. A new series is awarded a team when they legally advance to the next zone.
Muff
An unsuccessful attempt to catch or recover the ball. Ball becomes dead when it touches the ground after a muff.
Stance
All players of both teams, except the snapper, may use any stance.
Teams
The game is played between two teams of seven to eight players per team.
Zone
A zone is 20 yards wide. Four or five zones constitute the playing plus 10 yard end zones.
Players
Each team shall consist of five players, one of whom shall be the goalkeeper. Teams must have at least four players at the designated time of the contest, or the game will be forfeited. Teams must have at least four players to continue.
There is no limit on the number of substitutes. You may only sub when your team has possession of the ball during a stoppage of play in the game on a corner kick. Either team may substitute during a stoppage of play in the game on a goal kick, throw in, after a score, when a player is cautioned, when a player is injured, or when a player is disqualified.
Officials must be notified of a substitution before it is made.
A goalkeeper may be changed during a stoppage of play. The referee must be notified prior to the change.
If a player enters the field of play without notifying the referee, an indirect kick will be taken at the point where the ball lies at that time, and a yellow card will be issued to that player.
Equipment
The Intramural Director will supply numbered game pinnies to each team. Teams may also opt to supply their own team shirts. Pinnies will be available if opposing teams have the same colored t-shirts to differentiate teams.
A player shall not wear anything that is dangerous to another player on the field (i.e. loose chains, rings, watches, headwear that contains any hard, stiff material including billed hats or items containing exposed knots). ALL JEWELRY MUST BE REMOVED. Participants wearing illegal equipment will be required to sub off (whether a sub is available or not) until the next substitution opportunity after the jewelry is removed. THIS INCLUDES ALL EARRINGS. If you are wearing any type of cast you will not be allowed to play. Braces must be covered and padded. All shin guards made of hard substances (plastic etc.) must be covered entirely by stockings.
Players must wear athletic type shoes that cover the foot completely. Sandals, boots, and open toe shoes are NOT allowed. Cleats are limited to studs or projections that do not exceed ½ inch in length and are made with nonabrasive rubber or rubber type synthetic material that does not chip or develop a cutting edge. Baseball cleats are not allowed. The Intramural director will have final judgment on legal footwear and it will not be up for protest.
The goalkeeper must wear a shirt color that distinguishes him/her as a goalkeeper.
The Game
The game shall consist of two equal periods of (8) minutes each; with a (4) minute halftime. The clock will only be stopped if the referee has to discontinue the game or if a player is injured. THERE ARE NO TIME OUTS.
Halftime the teams switch ends.
The choice of ends or possession of ball is determined by the flip of a coin.
On the kickoff:

Each team shall be in their own field of play.
The team that is not kicking off shall be 7 yards away from the ball.
If it does not go forward, the kick off is repeated.
The player to first kick the ball shall not be allowed to touch the ball a second time until another player has touched it. If the first player takes a second touch when the ball is in play, an indirect kick shall be awarded to the opposing team at the point of infraction.

No Slidetackling is allowed. Players may not leave their feet or slide when executing a tackle. Any infraction of this rule will result in an indirect free kick for the opposing team. It is not an infraction for the goalie to dive or slide to make a save or for a player to slide in the act of shooting provided they are not putting another player in danger when doing so.
A drop ball shall be used to start the game in case of an injury, an outside agent stopping the game, or a mistaken call by the referee, unless there was clear possession established by either team; in which case possession will stay with that team. The ball must touch the ground before a player may touch it.
The goalkeeper can either throw or kick the ball. Drop kicks are not allowed. The goalkeeper must put the ball into play on his or her own half of the field only (the ball must either be touched by a player or touch the ground on the goalkeeper's half). Violation will result in an indirect kick for the opposing team at the spot where the ball crossed the half.
The goalkeeper may not hold the ball for more than six (6) seconds. During that interval, the goalkeeper may hold the ball, bounce it, or throw it in the air and catch it. Failure to relinquish the ball will result in an indirect kick for the opponent from the penalty kick line nearest the violation.
On any occasion when a player deliberately kicks the ball to her/his own goalkeeper, the goalkeeper is not permitted to touch it with her/his hands.
Throw–ins must be made via a two handed overhead throw while both feet are positioned on the ground. Under hand throws or rolling it to a player are prohibited.
In case of a tie score at the end of regulation play, a (4) minute sudden death period will be played with re-start of game and teams changing possession. If no one scores, each team will take (5) consecutive penalty shots from the 10 yard penalty mark spot, using the players on the field of the play at the end of the regulation play (goalie also stays the same). If the game is still tied, sets of penalty shots are taken until a winner is determined and the teams may change goalies if they choose.
Mercy Rule - if one team is ahead by seven (7) goals at halftime or anytime in the second half, the game is over.
There is no OFF SIDE.
Any player who is bleeding must be substituted for until the bleeding stops. An intramural staff person or game official has the authority to remove the player. If by removing the player who is bleeding, the team falls below the minimum number necessary to play (4), the following will apply:

The game clock will stop and a maximum of five (5) minutes will be allowed for the player to stop the bleeding. Either an intramural staff member or game official must approve the player to reenter. If the bleeding is not stopped within the allotted five (5) minutes the team will forfeit the game. THE TIME ALLOWANCE IS ONLY FOR PLAYERS WHO ARE BLEEDING, AND THE TEAM CANNOT CONTINUE TO PLAY WITHOUT THEM.
Please Note: Current High School Federation Rules will govern play. BCTC Intramural policies, procedures, eligibility requirements, etc., and specific rule modifications will take precedent.
Rule
Details
Teams
Six (6) players constitute a team; a team may play with no fewer than four (4) players.
Winning a Game
Matches will be the best 2 out of 3 games, rally scoring to 25 points, a third and deciding game will only go to 15 points. You must win by 2 points to declare a game.
Pre-game
A coin toss will determine service and side of the net teams will play.
Game Start
At the beginning of the game, the ball shall be put in play by the player in the right back position, who may serve from anywhere along the service line.
Server
Each server shall continue to serve until the opposing team gains service.
Scoring
Rally scoring will be used for all games
Alternating Service
Serves will alternate as each team regains possession.
Let Service
If a ball touches the net on a service, but crosses onto the opponent's side of the court, that serve will be considered legal and in play.
Rotations
The team receiving the ball for service shall immediately rotate one position. Exception: the first serve of each game (for each team).
Playing the Ball
A player may leave the court to play the ball. A ball hitting a sideline or an end line is in bounds.
Touching the Ball

A team may touch the ball three (3) times before being returned over the net.

(NOTE: Blocking the ball is not a touch but if it goes out of bounds, the blocker is charged with it).

Violations

The following are violations and will result in a point for the offended team:

Serving out of turn, catching or holding the ball, touching the net with any part of the body while the ball is in play, illegal serve or illegal volley.

Center Line Crossing

A player may cross the center line with one or two feet as long as foot/feet is on or above the center line and the player does not interfere with opponents' play.

Ceiling Touch

A ball remains in play after touching the ceiling on a team's first or second contact if it remains on that team's side of the net. If the ball touches the ceiling on a team's third contact or touches the ceiling and crosses over into the opponent's court, it is out of play.

Time-Outs

Each team has one 60 second time out per game.
Please Note: Intramural Director Discretionary Items
The BCTC Intramural Director reserves the right to rule on any case not specifically covered in the rules of the game or in these guidelines and will do so in the spirit of the rule, and of fun, fair and safe participation. The Intramural Director also reserves the right to put into effect and/or make necessary changes/additions to these guidelines including any new rulings pertaining to Intramural sports, unsportsmanlike behavior, fair play safety of the participants, or any other item to foster the enhancement of the event/activity and the college's mission for Intramural sports.
BCTC Notifications: Information about Intramural sports is shared via BCTC student email, BCTC social media outlets, campus flyers, handouts, calendar, and online at BCTC Intramural Sports Page


BCTC One-Way Messaging:

Download free Remind APP to receive information and updates for Intramural Sports via phone and tablet
To join Intramural Sports: type sport code below:

@bctcbb– Basketball
@bctcfb– Flag Football
@bctcvb– Volleyball
@bctcsoccer– Soccer
@bctcis – Intramural Sports in general



Go to: Kentucky Basketball Commission

for

more information about the facility and its location.


Download the free KBC HOOPS APP for information about the Basketball league, game results, schedules, team standings, time changes and weather alerts and updates. See below: