BCTC Art Exhibitions
Welcome to our visual art exhibitions page! BCTC Arts in Focus is committed to exhibiting the artwork of BCTC students, staff, & faculty, and the community-at-large. Our exhibitions examine a variety of contemporary themes and issues, using a variety of art mediums and approaches.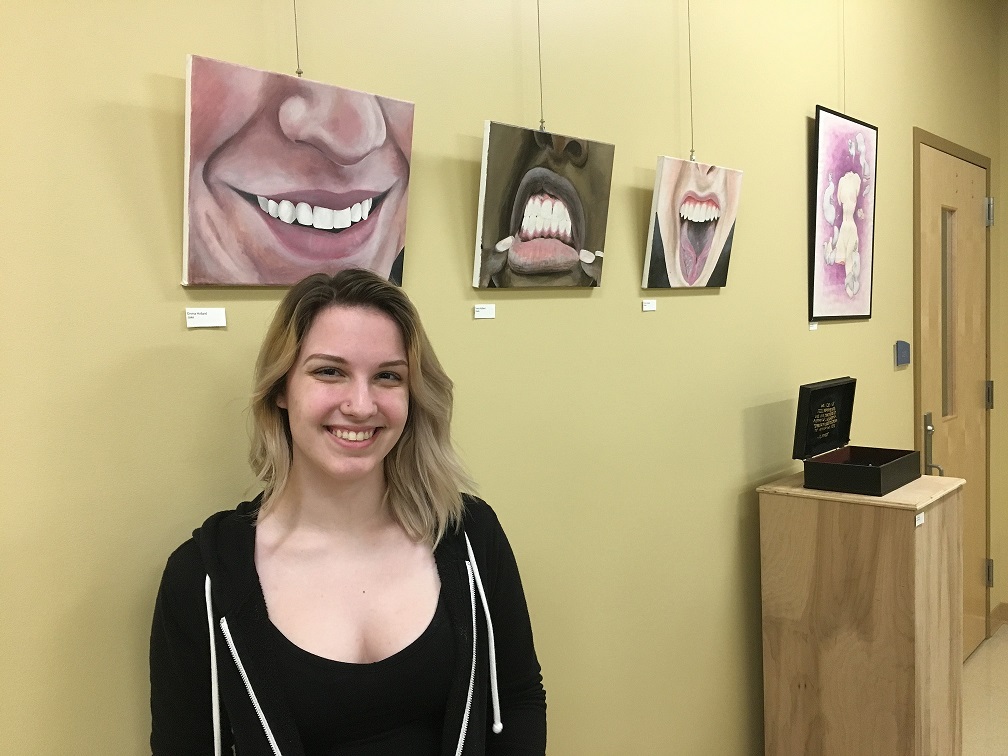 BCTC STUDENT, STAFF, & FACULTY VIRTUAL ART EXHIBITION CALL FOR ART
The Arts in Focus Committee presents the Spring BCTC Student, Staff, & Faculty Virtual Art Exhibition. Images of any 2D, 3D, and Digital art mediums are accepted from any BCTC students, alumni, staff, or faculty. Entries that are selected will appear on the BCTC Art Exhibitions webpage April through July 2021. Entry deadline is Monday, March 1st, 2021.
Current Exhibitions
BCTC Common Read Art Exhibition
BCTC Students, staff, & faculty were invited to contribute works of art inspired by themes this year's BCTC Common Read book, The Ten Thousand Doors of January by Alex E. Harrow
Untitled
This artwork depicts an old fashion scale off balance. This scale is meant to represent the inequality in our world. This scale is seen as a representation of power and the control it can have over you. The scale can be interpreted to hold whatever you may feel is unequal in life and in our society. The unevenness can equate to the way power that is held over you or the way this power may make you act and feel. This depiction of the scale representing justice doesn't include the lady justice as usually seen. I chose to omit her, as I feel she is a hyper sexualized woman that negates from the ideal women can be professional and hold positions of power. I believe the widely known image of lady justice needs to be replaced with something more like this artwork of mine. My color palette for this stemmed from colors like bronze and gold that speak wisdom and worth to me.

Door
This door may not look all that beautiful and fancy, but this door is no regular door. This is one of the barn doors from the barn that War Admiral and Man O War were living in for a while. This door preserves a part of history that we now have in our own home. I used to ride horses for many years so when most people walk by it, they just think it's a cool-looking old door, but for me and my family, it has history behind it. I admire this barn door; the rustic look it has and how it is worn down makes me think of all the things it has been through in its time and all the beautiful and big-time racehorses it has held inside its barn. 

Untitled
As an artist, I like for my work to capture the beauty in ordinary objects and places. For this particular piece the fictional book, "The Ten Thousand Doors of January", by Alix E. Harrow inspired me to capture a picture of a rustic, broken down red door. In the book the main character, January Scaller goes through many hardships, but is saved by a strange book. The book allows her to travel to other worlds. To enter the alternate universes, which are filled with love, danger, truth, and adventure the only entrance is through secret doors. The secret doors I read about in the book influenced my creation. I went to my hometown, Dunnville, Kentucky to capture my work of art. Similar to the secret doors talked about in the book, this broken-down door tells a story of its own. This door leads to an old cabin filled with my fondest moments of joy and happiness.

Beauty of Books
The way my artwork correlates with the book, "The Ten Thousand Doors of January" by Alix E. Harrow, is that the theme is the power of books. There is no specific meaning behind my piece and I would like to leave it up for interpretation.


Isolation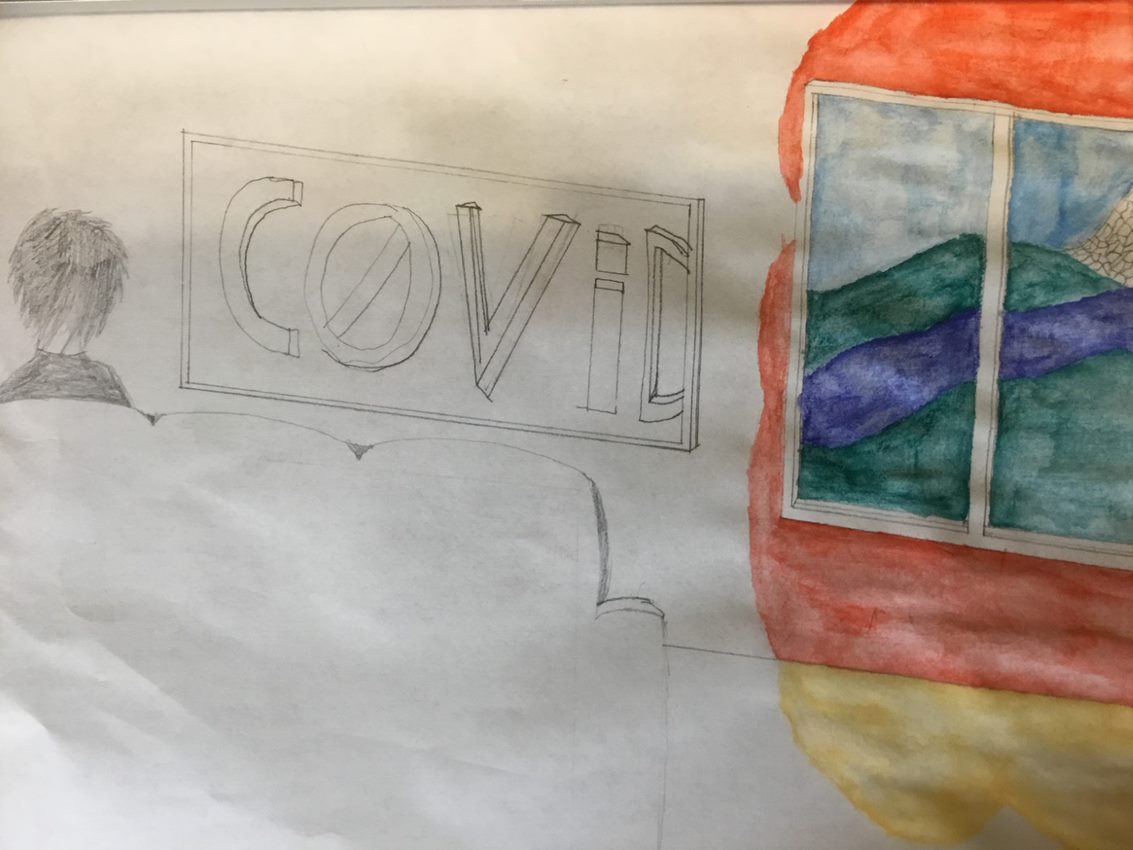 Touch

Separation of Peace
This piece is titled, "Separation of Peace." It is inspired by some of the themes represented in the book, "The Ten Thousand Doors of January" by Alix E. Harrow. I created this piece by combining and editing digital images and creating a collage that visually represents the themes of inequality and the power that comes with fighting against said inequality. Through creating this piece, I tried to visualize myself in the images and imagine the strife and emotions that come with these themes, though I myself cannot personally connect to the experiences of those who have endured inequality. In my art, I strive to touch on topics that need to be discussed and bring light to promote change and open the eyes of those who are not yet opened. Though something my not affect you personally, that does not mean you can't support and care for those who are affected. Racial inequality and separation of peace is the topic of this work, with the police in riot gear representing the side of brutality and the protesters representing the side of justice. The dove above the scene represents fleeting peace in these hard times and the peace sign on the ground represents the foundation of peace being walked on and ruined.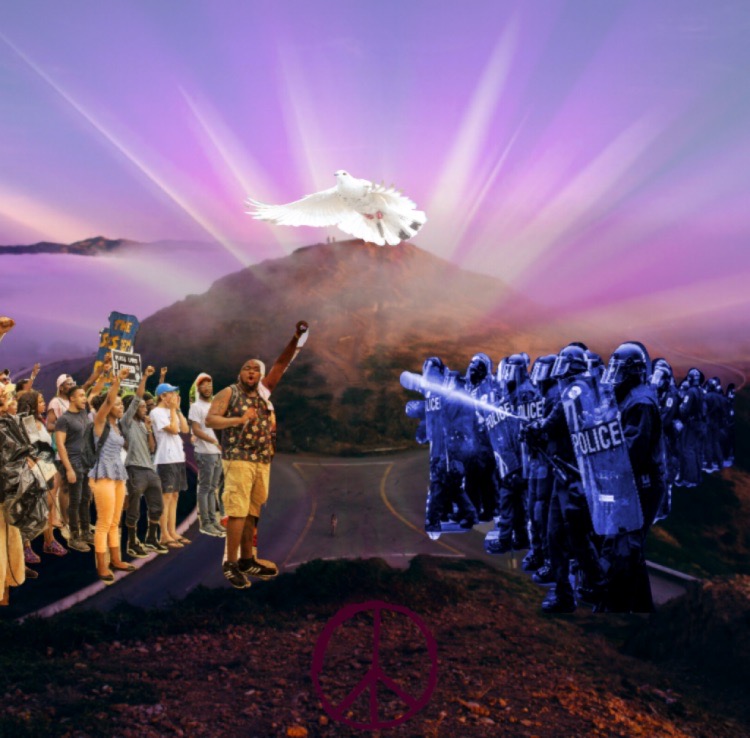 An Interdimensional Hallway
This particular piece relates to the Common Read because this is what I imagined an "in between doors" place may look like. I have heard of this concept for years and been very intrigued by it. There was a man, I hear, that said he went to a place that was interdimensional- I attempted to paint what he described. I titled the painting "Interdimensional Hallway". My mediums used are a canvas and acrylic paints.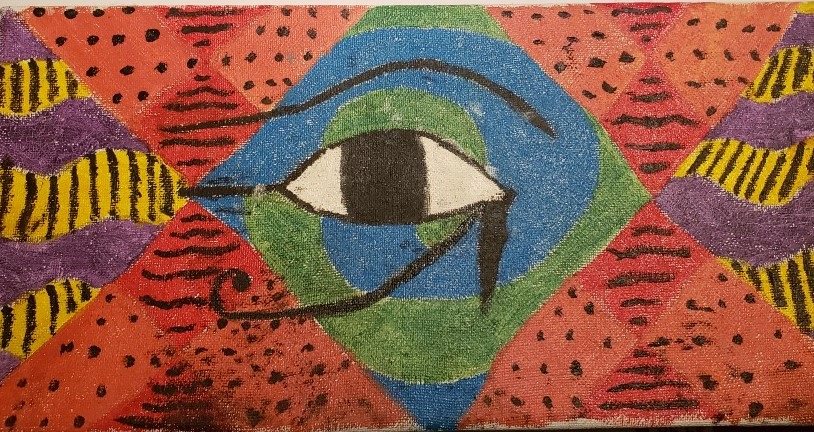 Nin
This is a picture of the city of Nin, featuring Bad, January, and even Adelaide in the window looking out to the sea.
The Blue Door
I modeled this woodworking project after "The Blue Door" that January Scaller finds in the first chapter. The door itself consists of a mouse trap board, a few pieces of balsa wood, and some small screws. This small craft may seem insignificant, but one can wonder where this door could actually lead.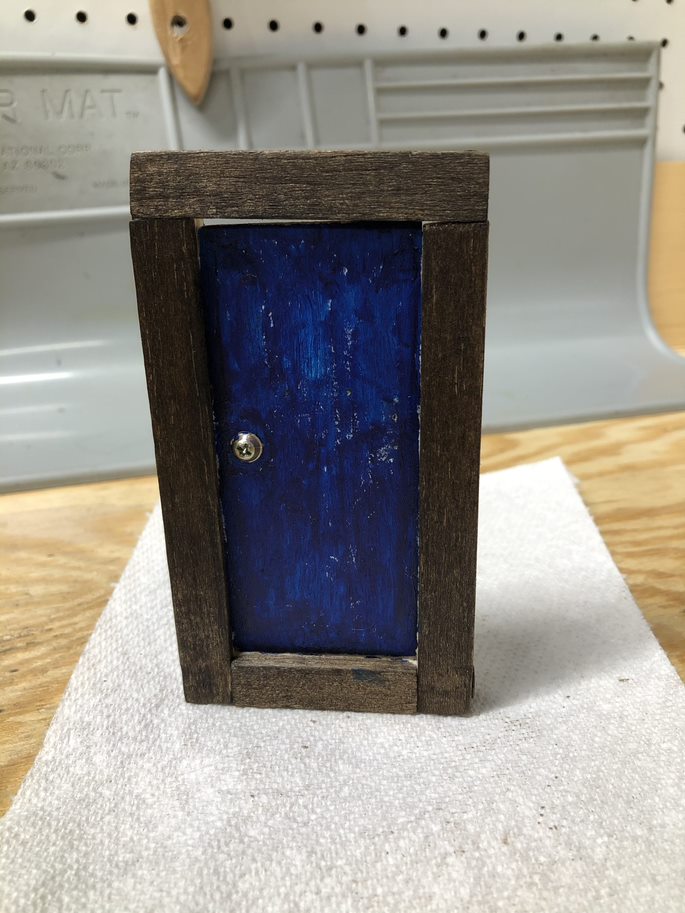 The Field
In my artwork I combined 2 themes from the book "The Ten Thousand Doors of January"; Power and race. In my artwork the young black man is doing all the work in the sun while the rich, wealthy, clean white man is not lifting a finger and sitting on his money bags. It is a correlation with how in the world the poor work hard just to make the rich richer.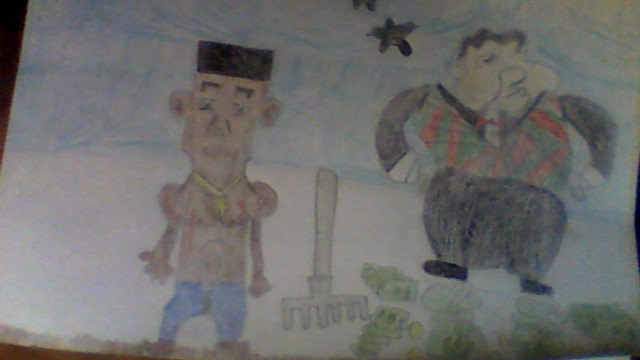 Open Door
What inspired me was the fascination I had at the premise of the book about how January entered another world through the opening of a door. I find this to be symbolic in life on how new opportunities can come to me if only I open the door.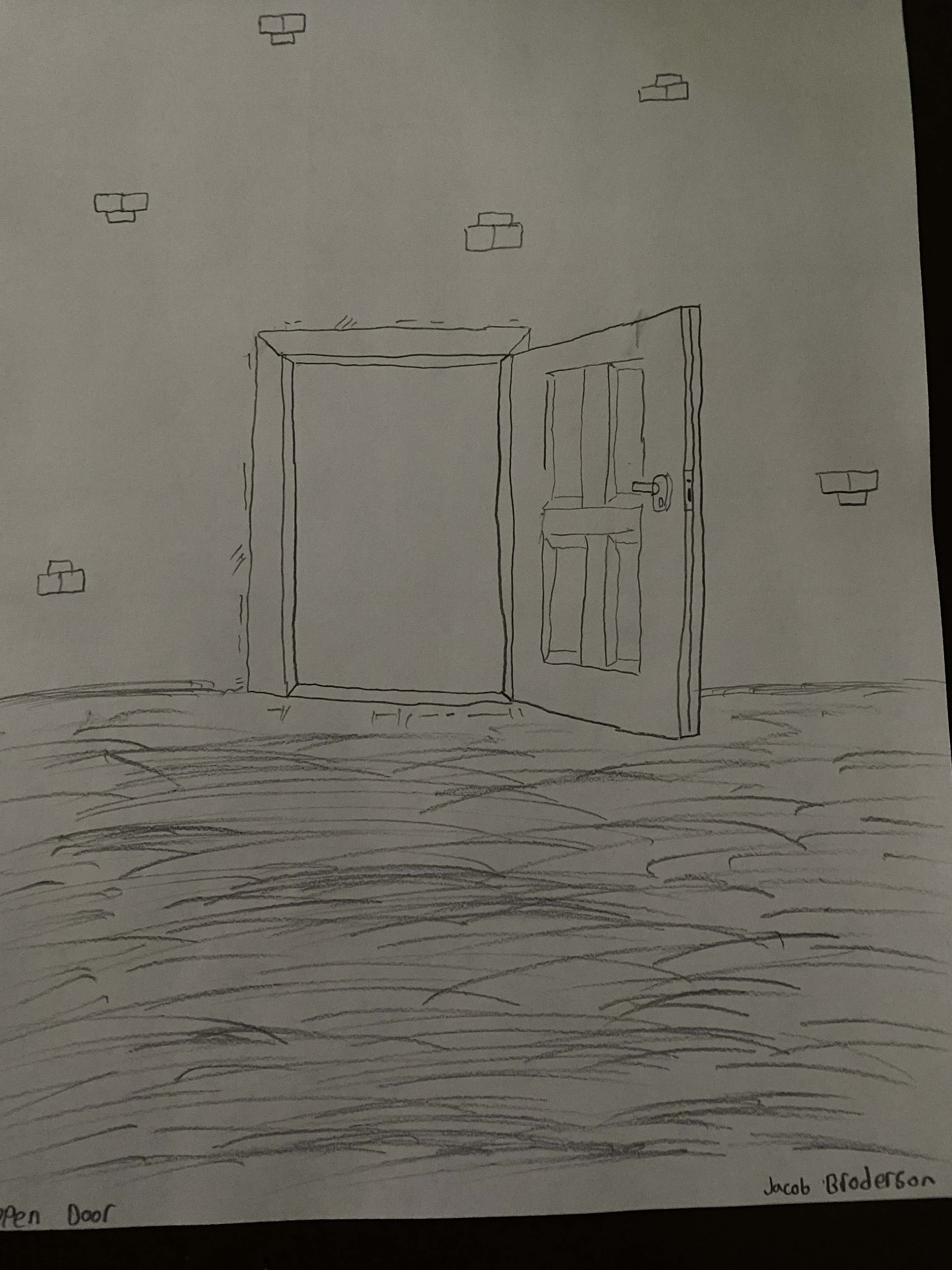 The submissions for this exhibit are part of a new series of paintings inspired from Paleolithic and Pop Art. They are multi-media acrylic paintings on panel.
Blackbird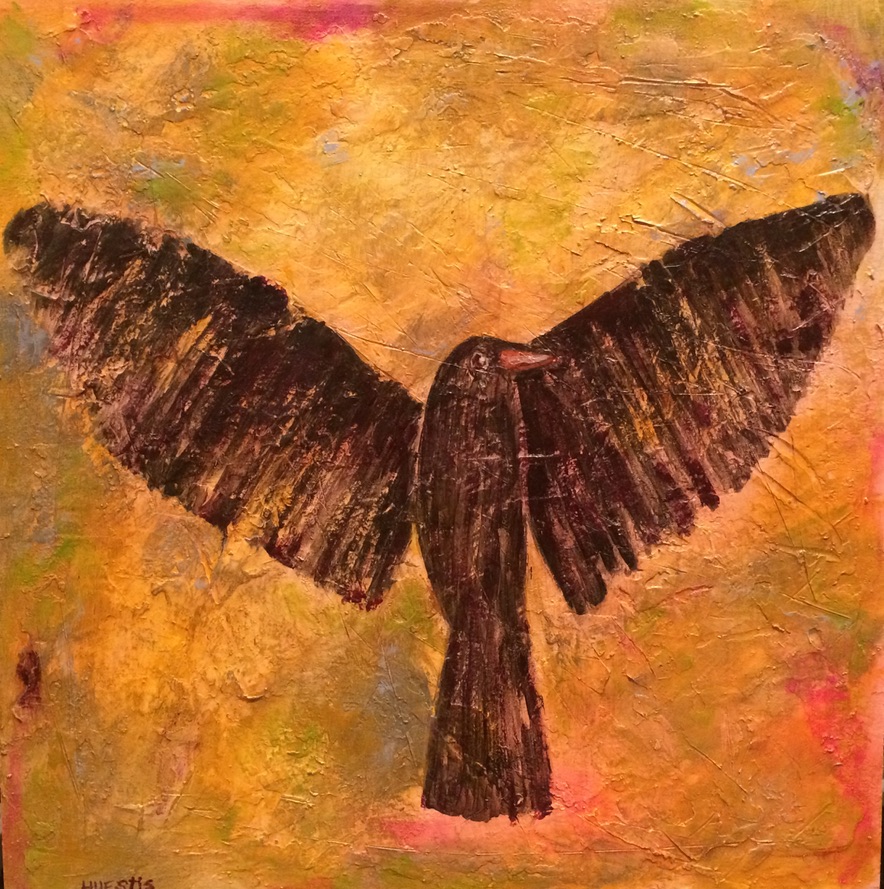 Paleo Horse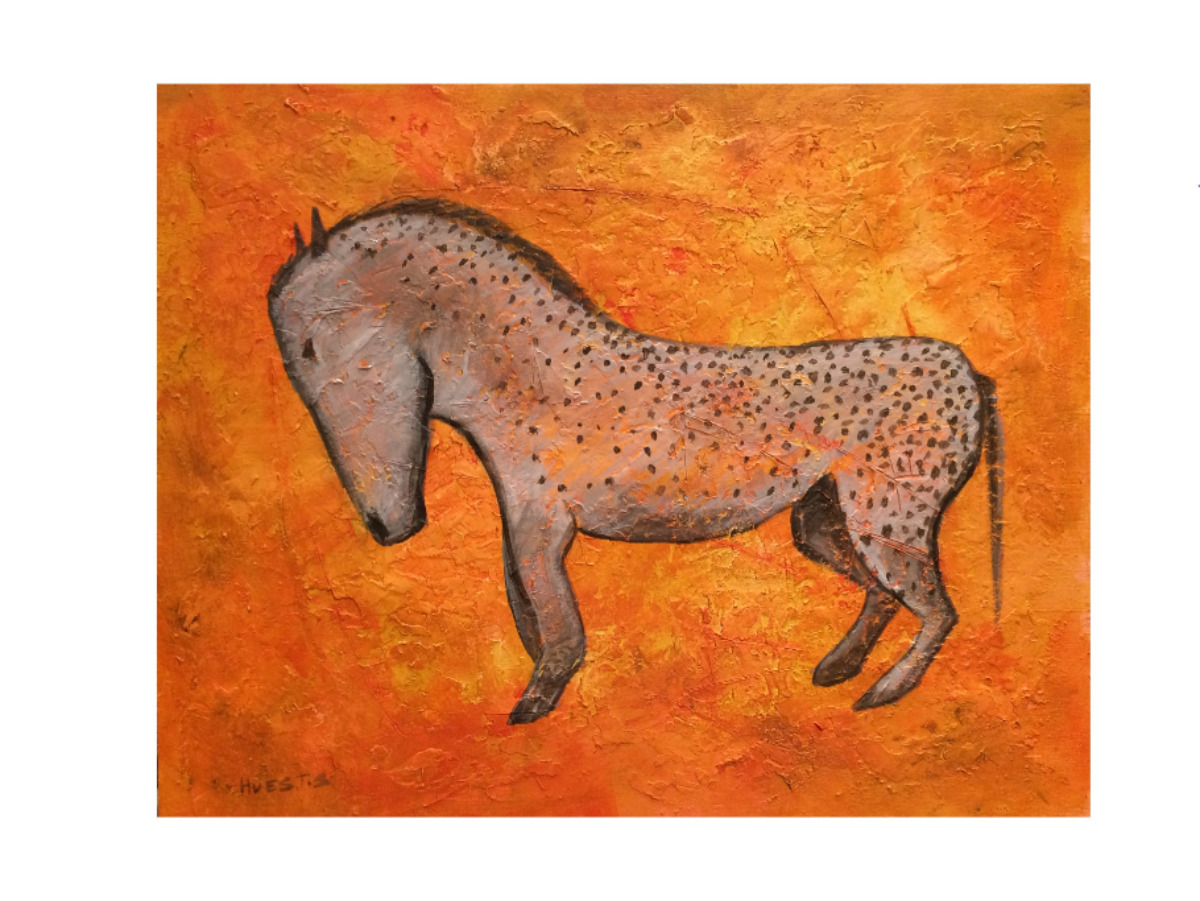 Goosebumps
This artwork represents the ability to show who you are without the fear of other people's opinion.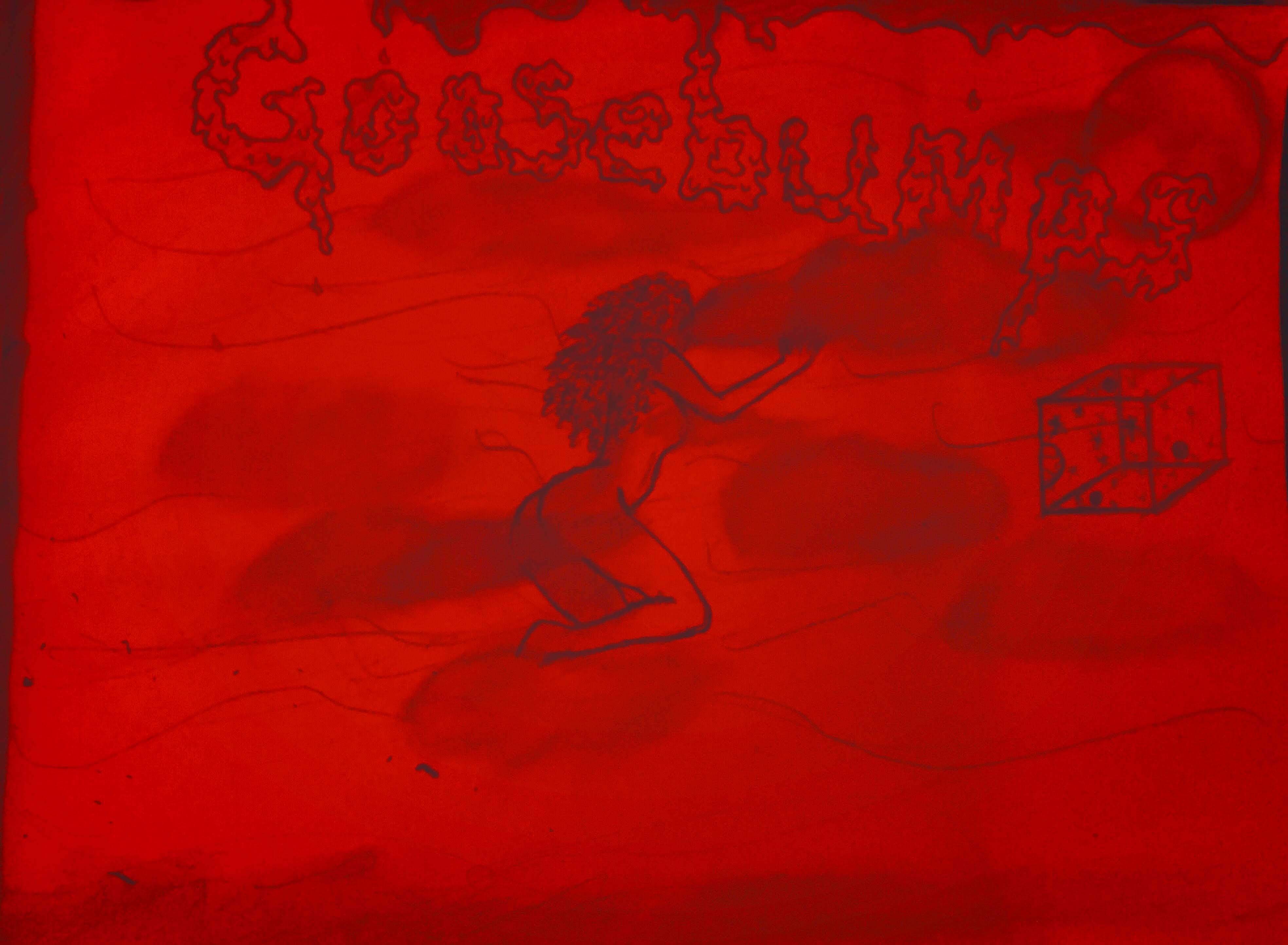 The Door I Know Best
My family moved into a 200-year-old house that was forgotten and falling apart and after many years of work-and still progress to be made-it has become our home. The renovation itself told of so many stories and history that had happened within its walls. Seven layers of wallpaper, fireplaces filled with concrete, a purple bathtub and a stained-glass window that still glistened. So much character and so many hints to past lives with only imagination to fill in the details. The house had been deemed haunted by the community, still intimidating trick or treaters on Halloween, stories running wild with ghost tales. Our home reminds me of the wear and tear of time and how memories made can be lost eventually but are always echoing somewhere somehow to someone.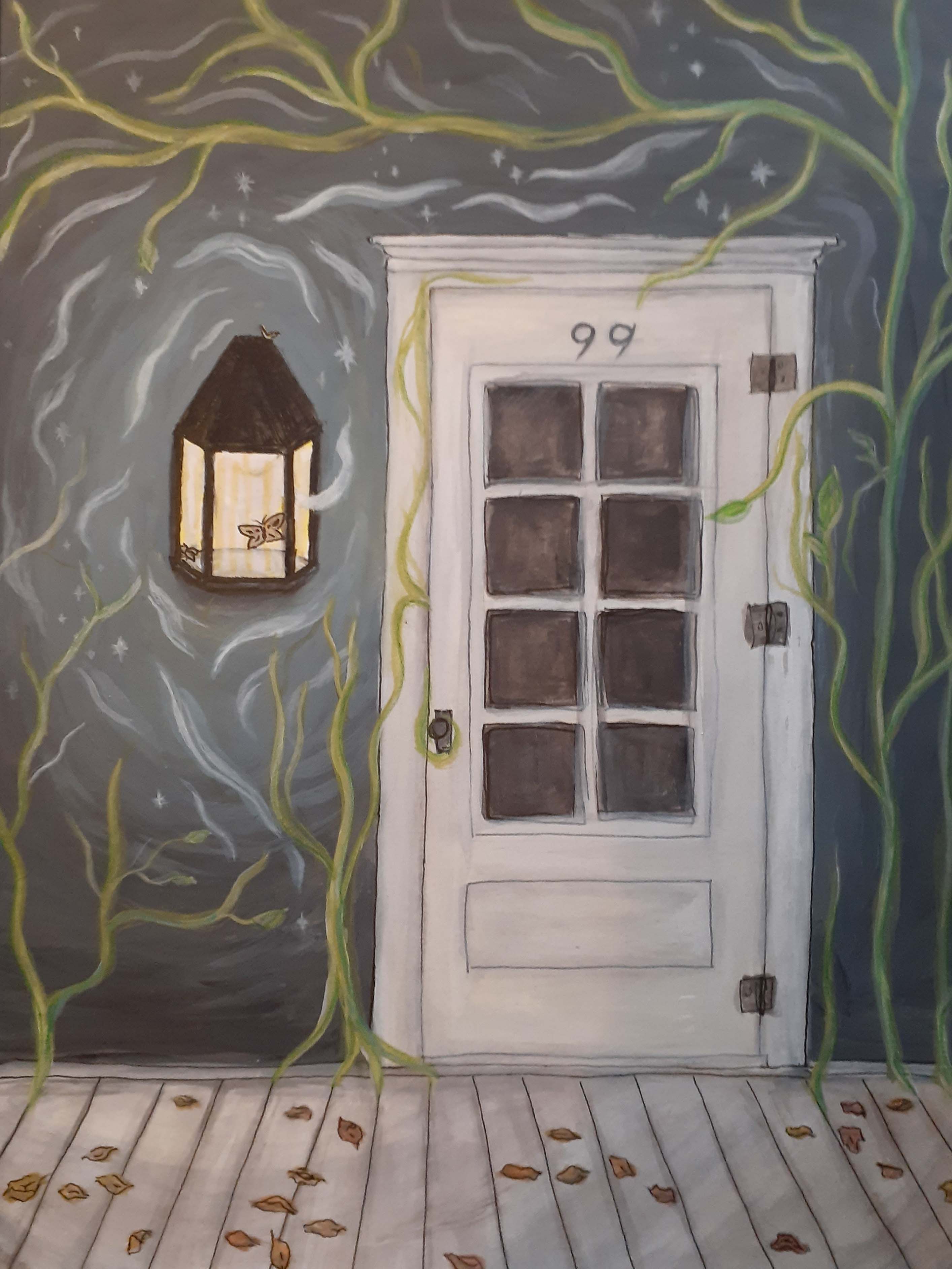 Untitled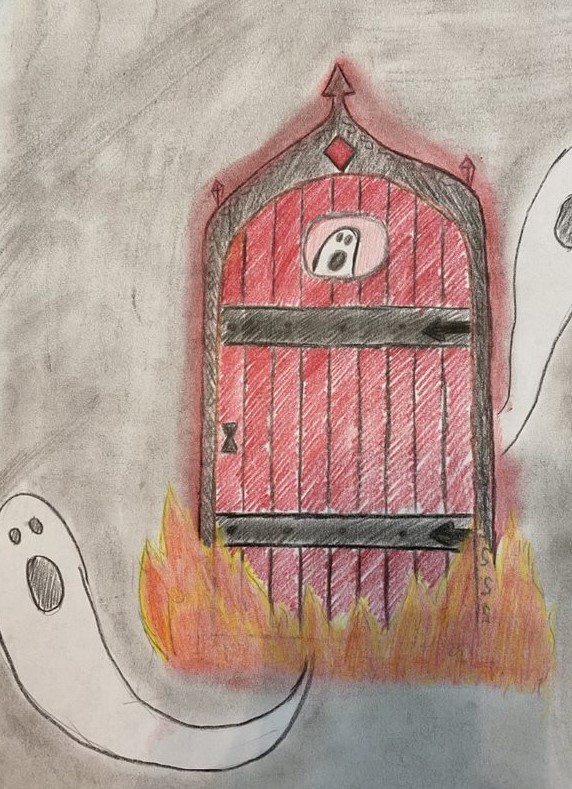 Untitled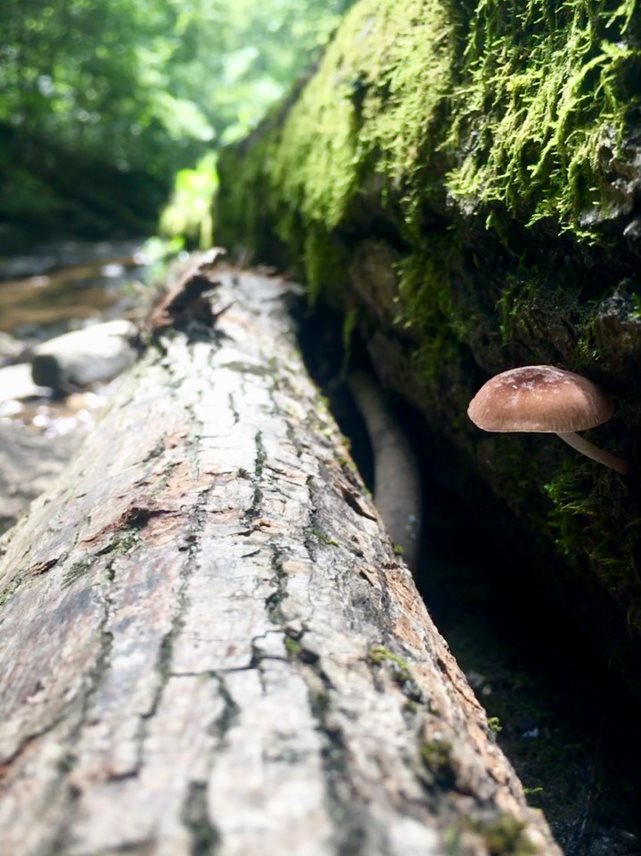 Untitled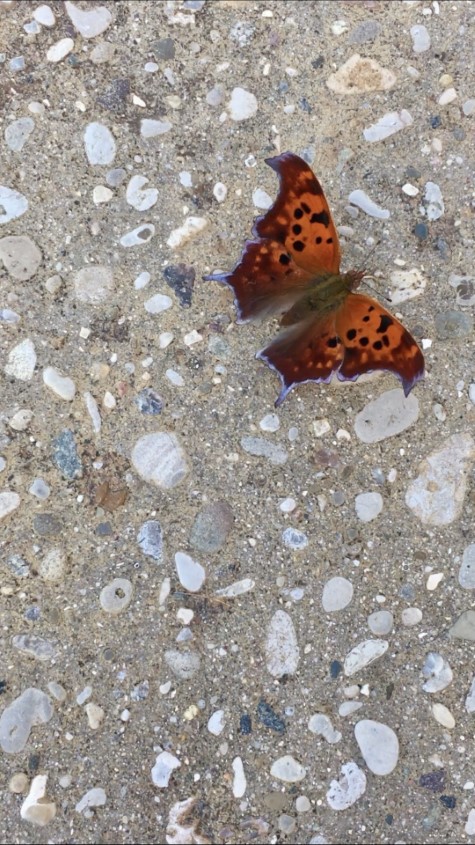 Man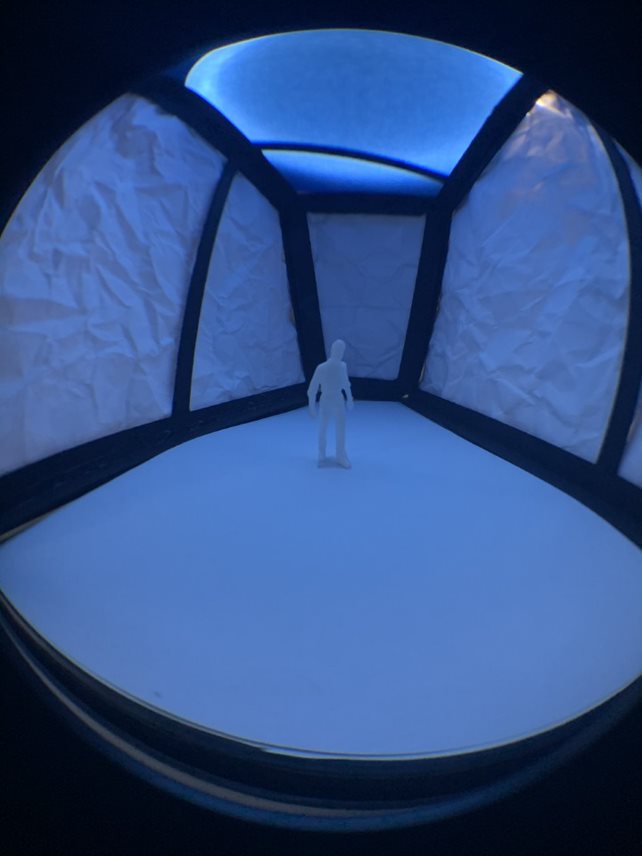 (LKMPHOTOGRAPHY), Fake News-Get the Facts
As time goes on inequality becomes more prevalent in the world. It is no secret that social media runs our generation. There is not an idea that goes without acknowledgement from the minds behind social media apps. Social media is an organization that comes from a one-sided point of view. These accounts are run by individuals who are titled to one perspective of an idea. It is in humanities nature to be gullible when information sounds right. Every human strives to have a purpose, and social media gives people that platform. When one-person post about a specific topic that becomes the norm of society it becomes the normality for everyone. Especially if given a reason to speak out against someone or something. Conflict makes life interesting and boost individuals into thinking they have purpose in what they say. In actuality, half of the individuals speaking out on topics get their information from what the hear through social media. Very rarely are their facts to line up what they have now spread to their own social media page. Therefore, inequality will only increase with the one-sided social media sites. There is only one voice that is heard through social media and it's the one that everyone else goes with. Facts, don't matter anymore: social acceptance does.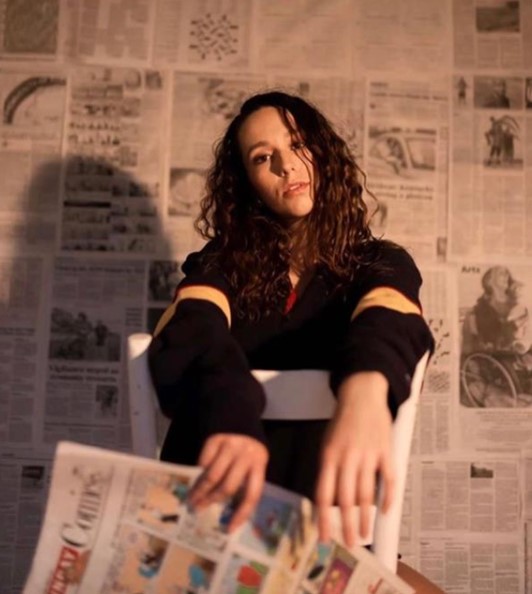 Untitled
For this artwork, I decided to incorporate the themes of decolonization, inequality, and power. The purple in the background represents the world we set up for people of color, the brown is seen second to the white, the mountains are representative of the historical and spiritual land we as a nation have polluted and stolen from indigenous people. The native American artifacts being pulled out of the mine in the mountain are representative of the indigenous culture we have oppressed as we stole their land, and the world we created for them.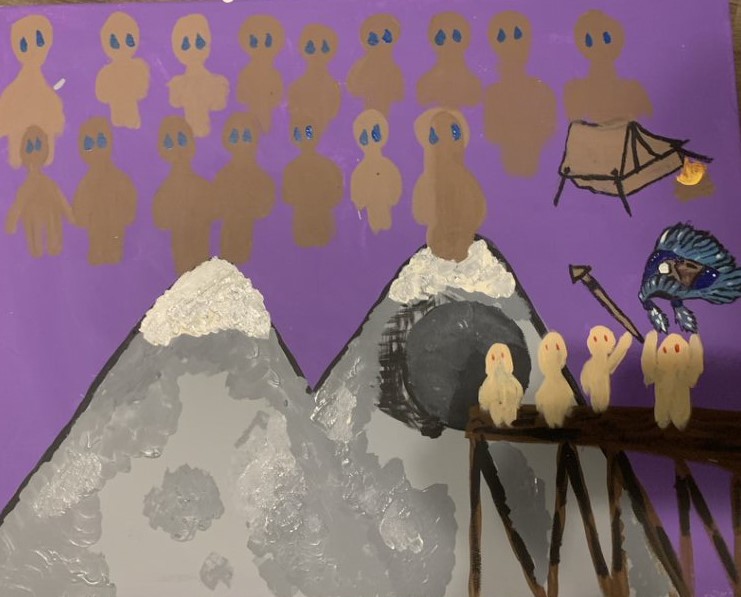 Untitled
The subject matter for this artwork the red and blue doors with the symbols on them. The content of this artwork has some political undertones are the blue and red and the symbols on the blue and red doors and how their visually presented. The in this case standing for a political party who had a candidate leaning more towards equality and the red door that represented a candidate and party that has shown to be more privileged. The symbols of the scale which is a popular symbol for equality so it is on the blue and the VIP being a symbol of privilege and the two doors representing which path and door you choose to pick, and the welcome mat meaning equality should be a more approachable welcoming subject to people and this art work is very simplistic with its line art because the subject of this controversy should become normalized as simple to explain the red and blue symbolizes some political parties and the light actually lit up is just another factor showing equality is the welcoming subject. Putting this all together walking up to two doors giving what seems like two simple colors and symbols on doors but picking one of those could into a much more complex house or building or world and how the blue with and doormat is represented as warm and welcoming and the red not so much which gives a message to the person viewing the artwork.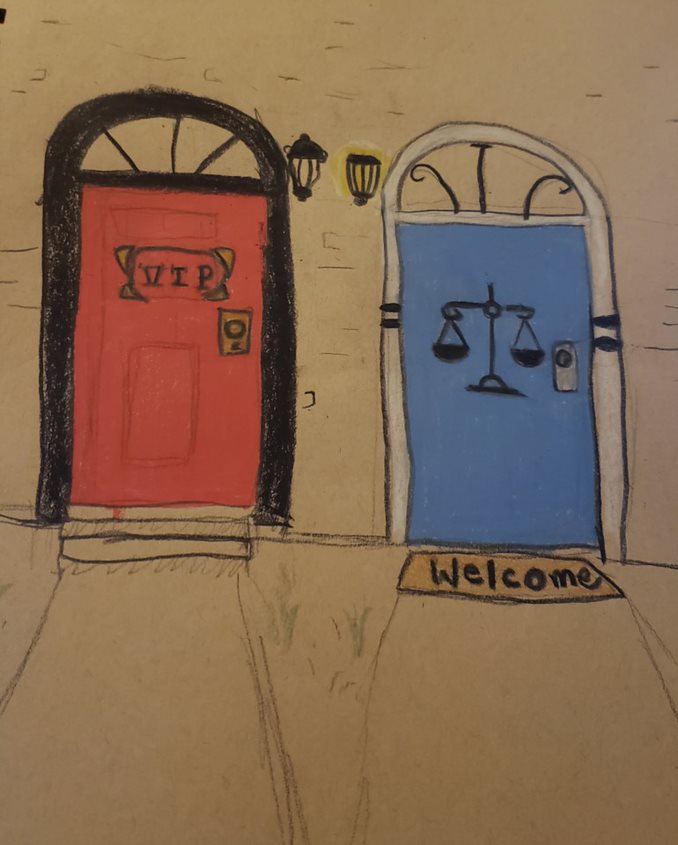 Your Journey
In this art piece, I used oil paint as my medium to paint these tulips to represent individualism based on each one being different shapes to express how everyone's journeys are different. It exemplifies the fragility of flowers and their delicacy. I used striking colors to attract vulnerability. Tulips can be short-lived, but they represent rebirth because they are the first flowers to bloom in the spring. One's journey is filled with new beginnings and an individual is constantly growing to become the best version of themselves. Tulips are also known for meaning deep love. I want my journey to include deep love and affection from someone who is willing to grow with me. To show expressiveness I painted the stems zigzag to depict how one's journey has obstacles, but they are able to get past those setbacks and still have the chance to grow. I also used complementary colors and the use of darks and lights to create a balance to represent life's balance. I kept the background one color, so that the focus was primarily on the tulips. The tulips are supposed to project an inner realization rather than reflecting on nature. My goal is to put individuals through a personal reflection on their journey.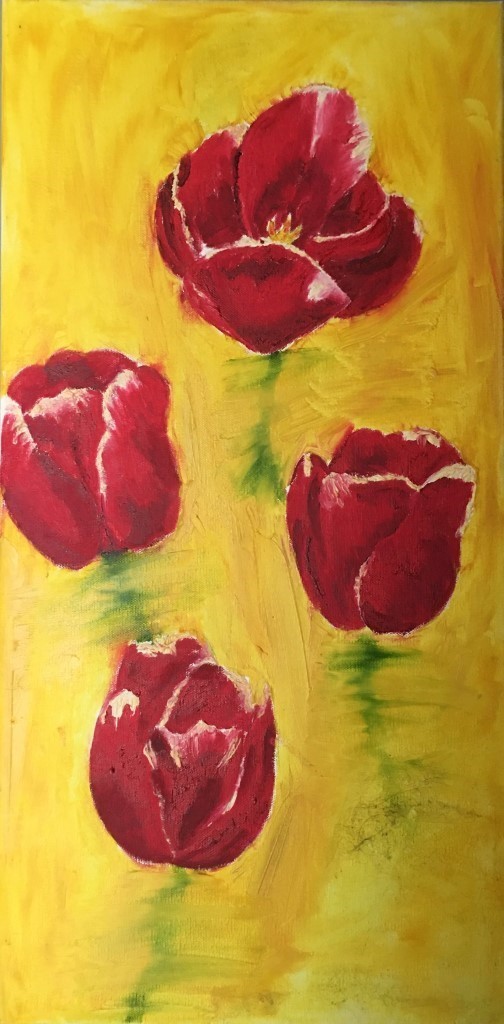 Untitled
For my art entry I entered one of my best and meaningful sketches which is of a skeleton casually sitting on a bourbon barrel with his hand on his bony hip while chugging a bottle of bourbon. The reason I chose this sketch is because it really symbolizes inequality. It's one of the sketches I've spent the most time on trying to get every line and detail perfect to really show neither happiness nor sadness. The inequality of this sketch is from the part of society that just doesn't feel like their anything. The skeleton represents the people that just don't feel like they are good enough and just feel dead to the world while looking for their answers in the bottom of the bottle. The sharp cracks in the bones I drew to represent stress fractures from all he's endured from life and that he's about to fall apart.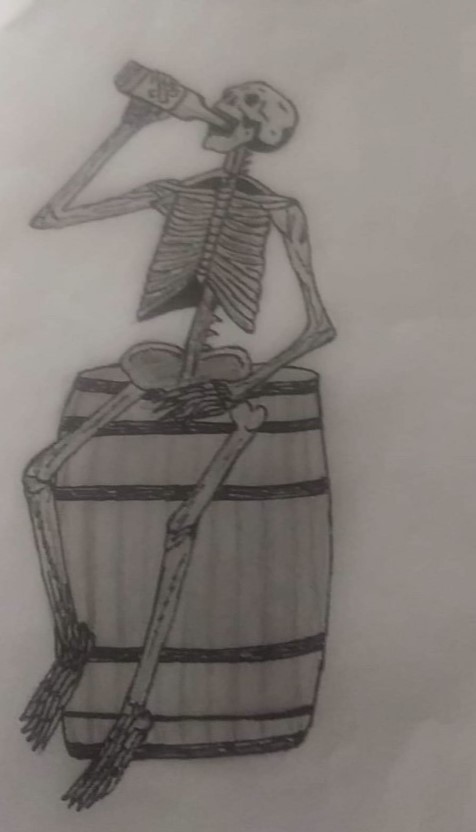 Don't Lose Your Dinosaur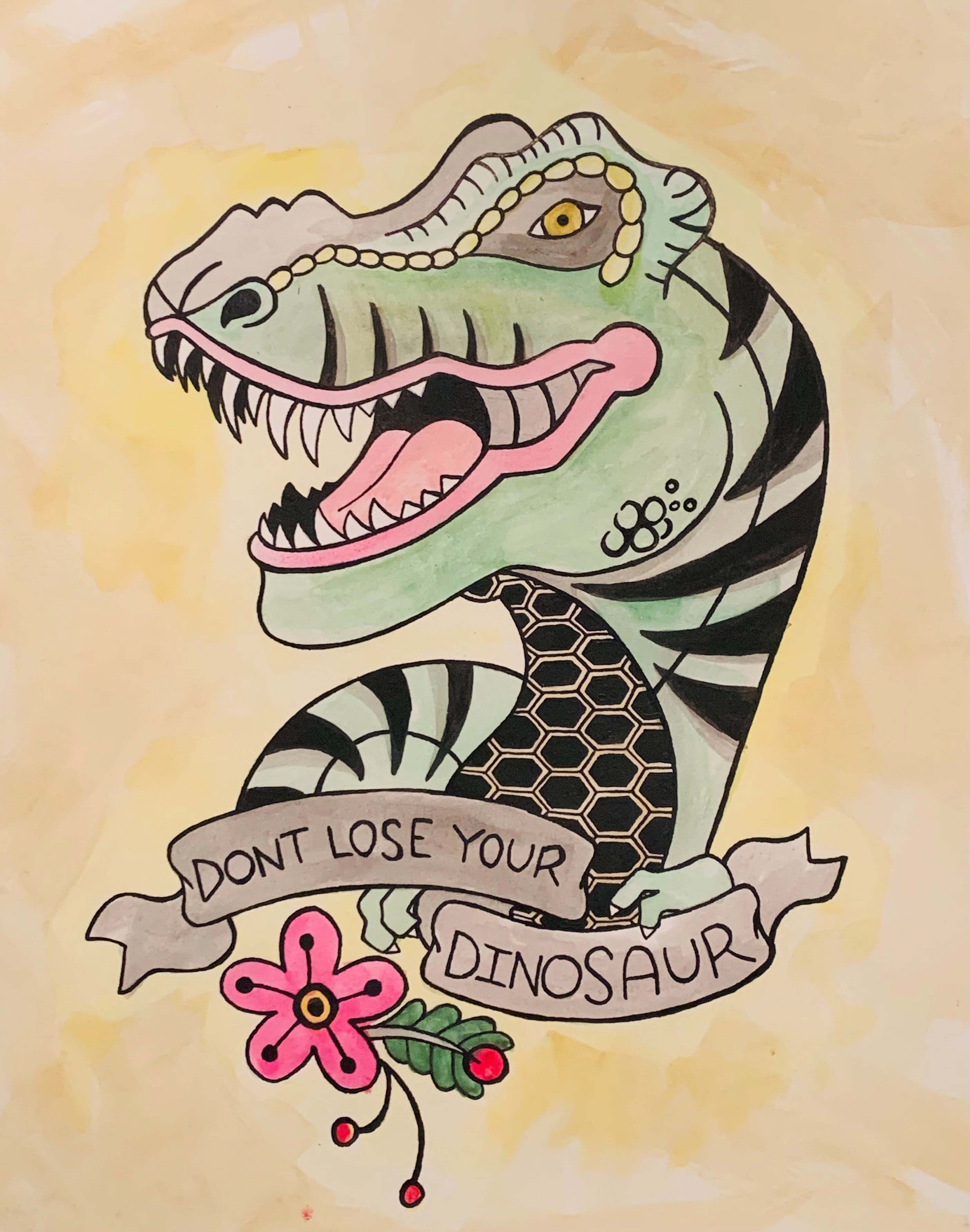 Student Feature
Abstracted Place
For this project, students investigated and abstracted a representational, 2D rendering of an actual place that held significance and meaning from their life. Imagery in their selected place will be source material for creating a composition with a successful illusion of space that uses 15-25% abstraction to add more symbolic meaning and conceptual depth. Students investigated their place and space through the written language of line, space, value, and color intensity.
Drawing 1 (ART 110)
Fall 2020
Professor Corrinne LeNeave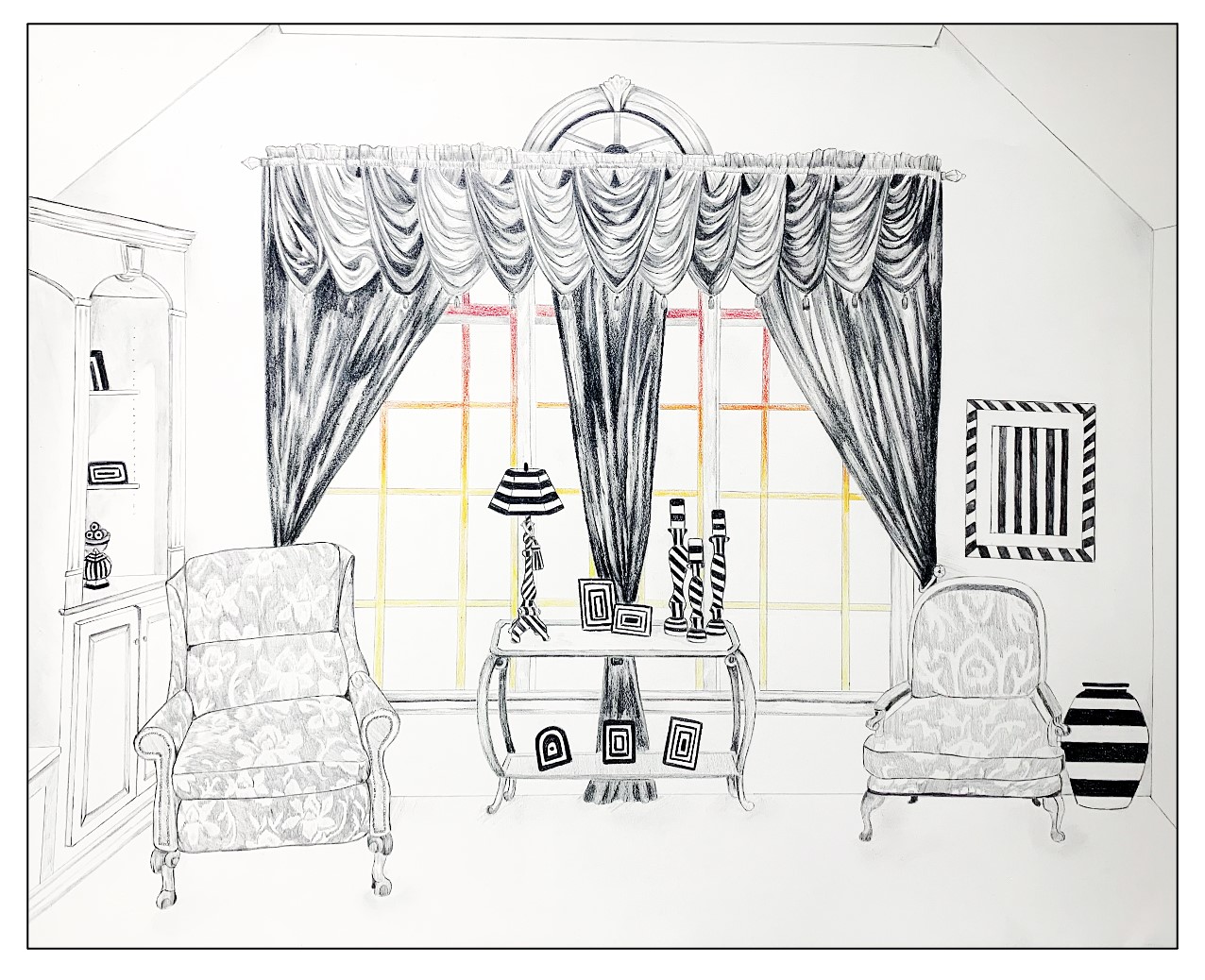 Drawing 1 (ART 110)
Fall 2020
Professor Corrinne LeNeave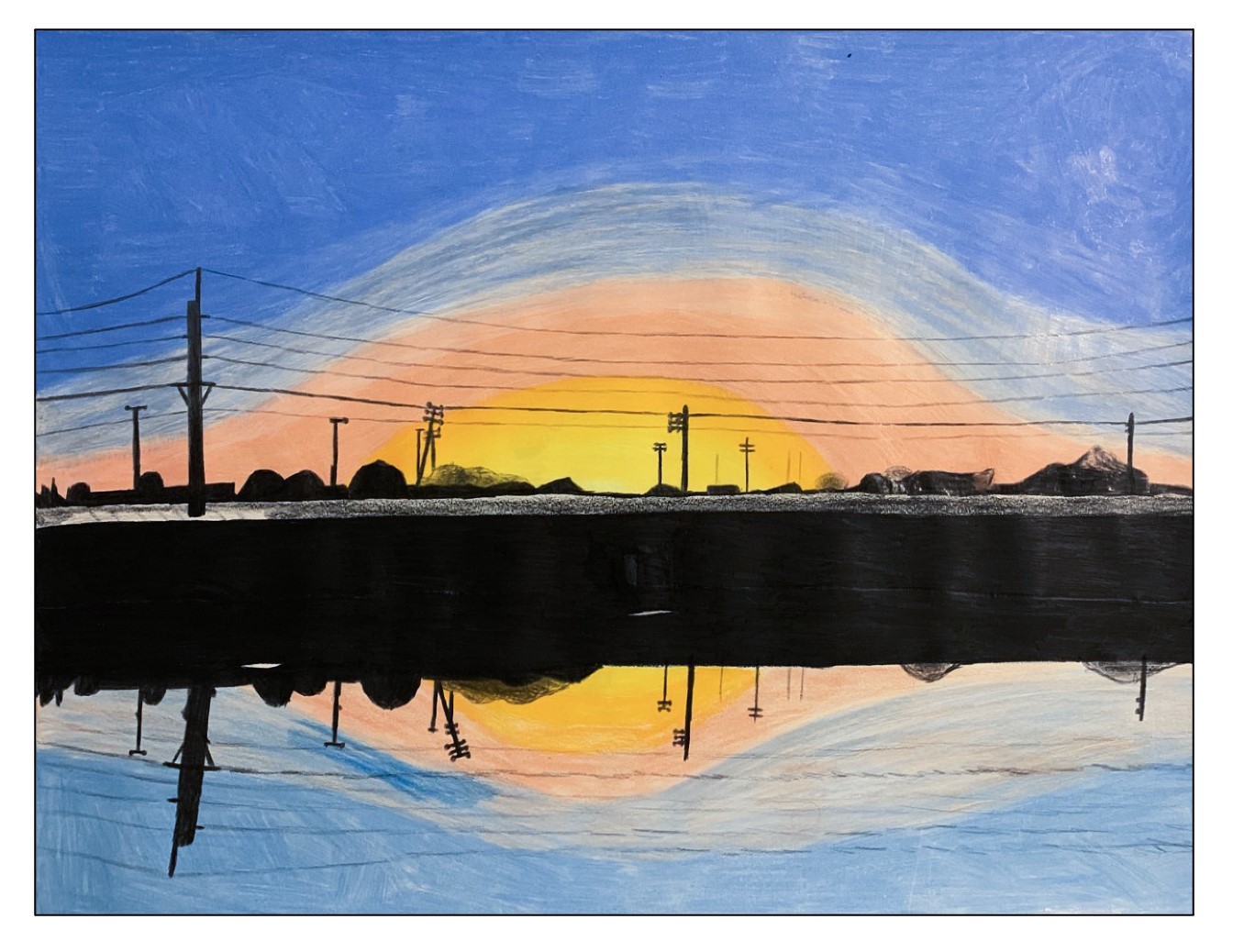 Drawing 1 (ART 110)
Fall 2020
Professor Corrinne LeNeave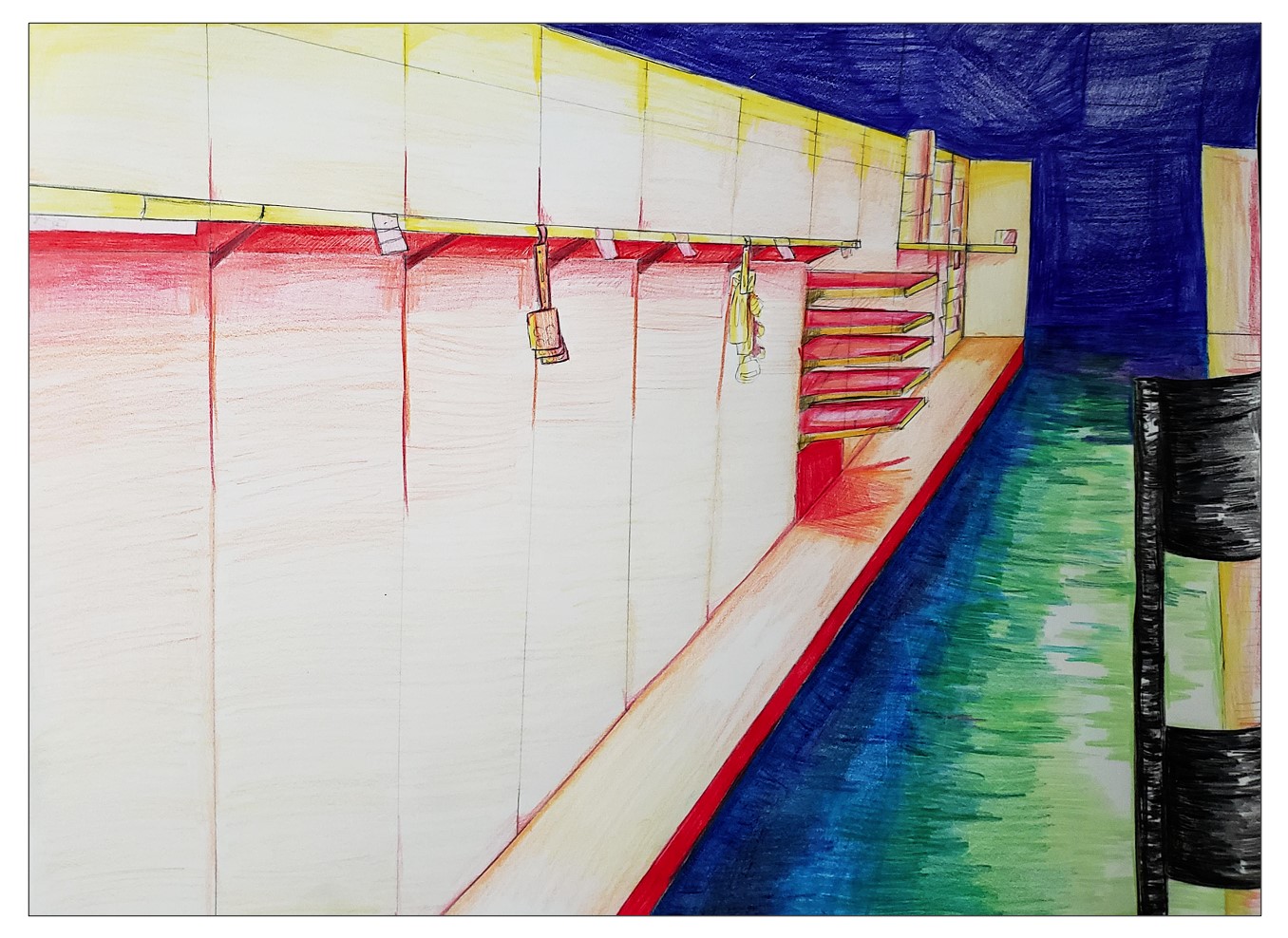 Drawing 1 (ART 110)
Fall 2020
Professor Corrinne LeNeave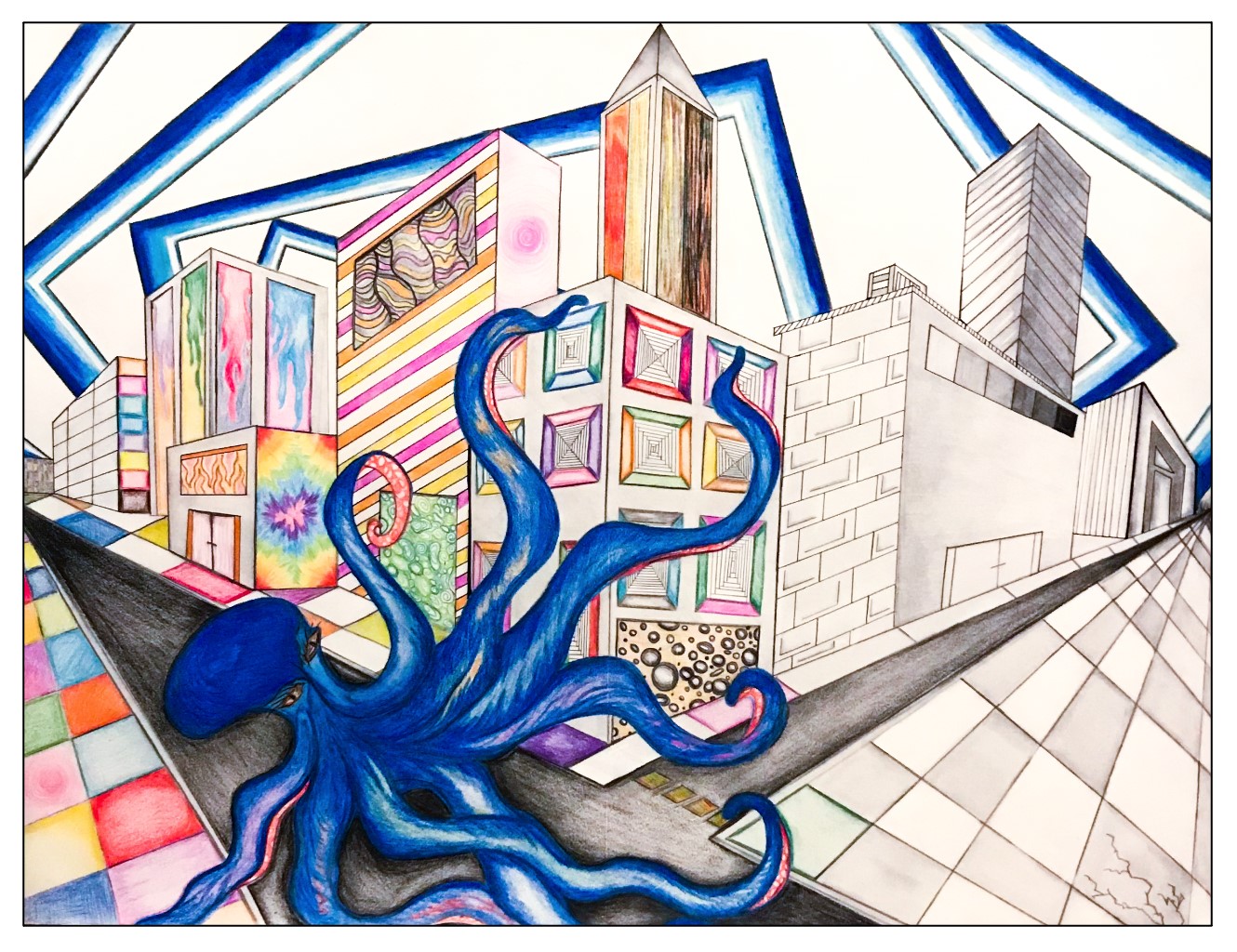 Drawing 1 (ART 110)
Fall 2020
Professor Corrinne LeNeave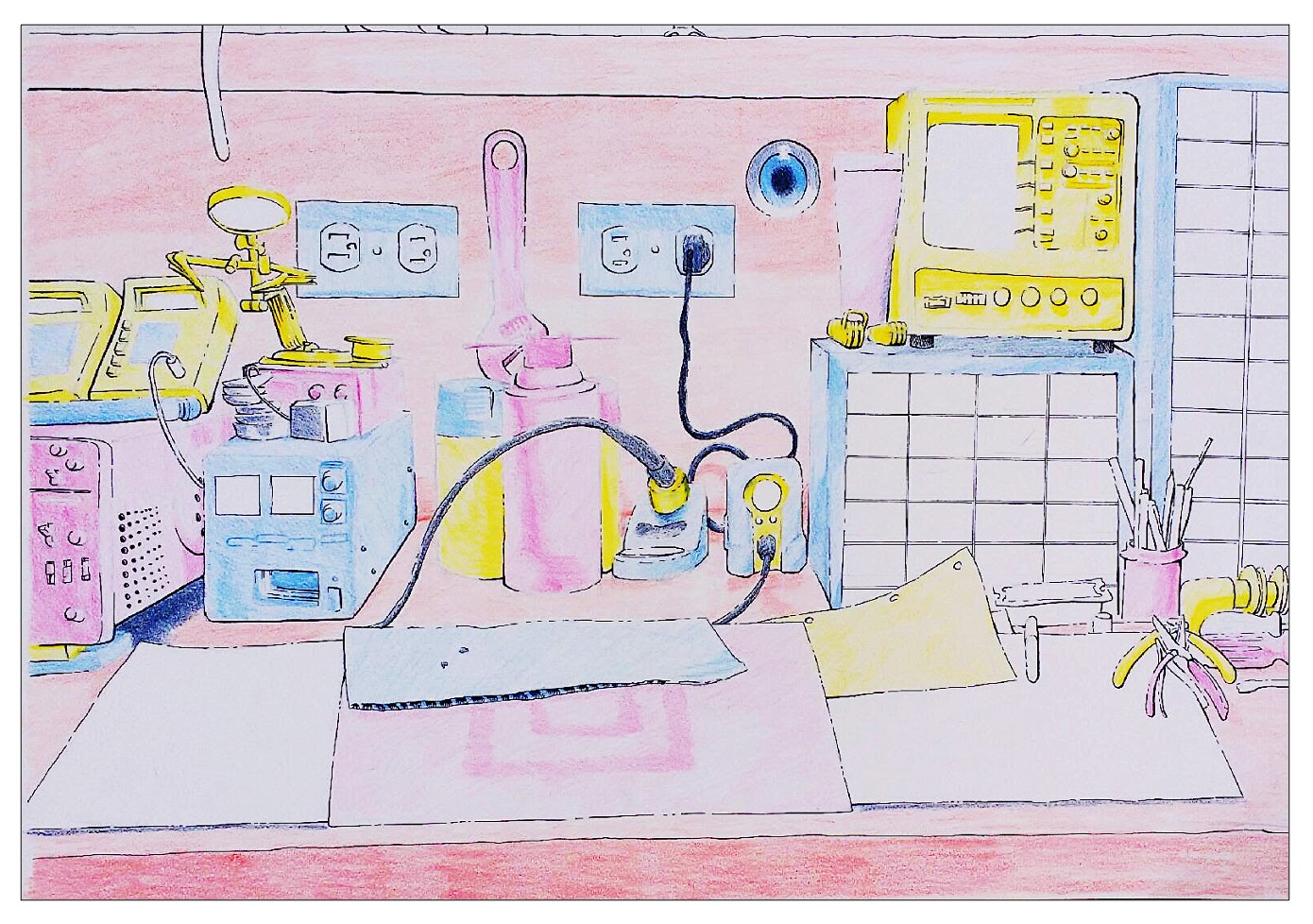 Drawing 1 (ART 110)
Fall 2020
Professor Corrinne LeNeave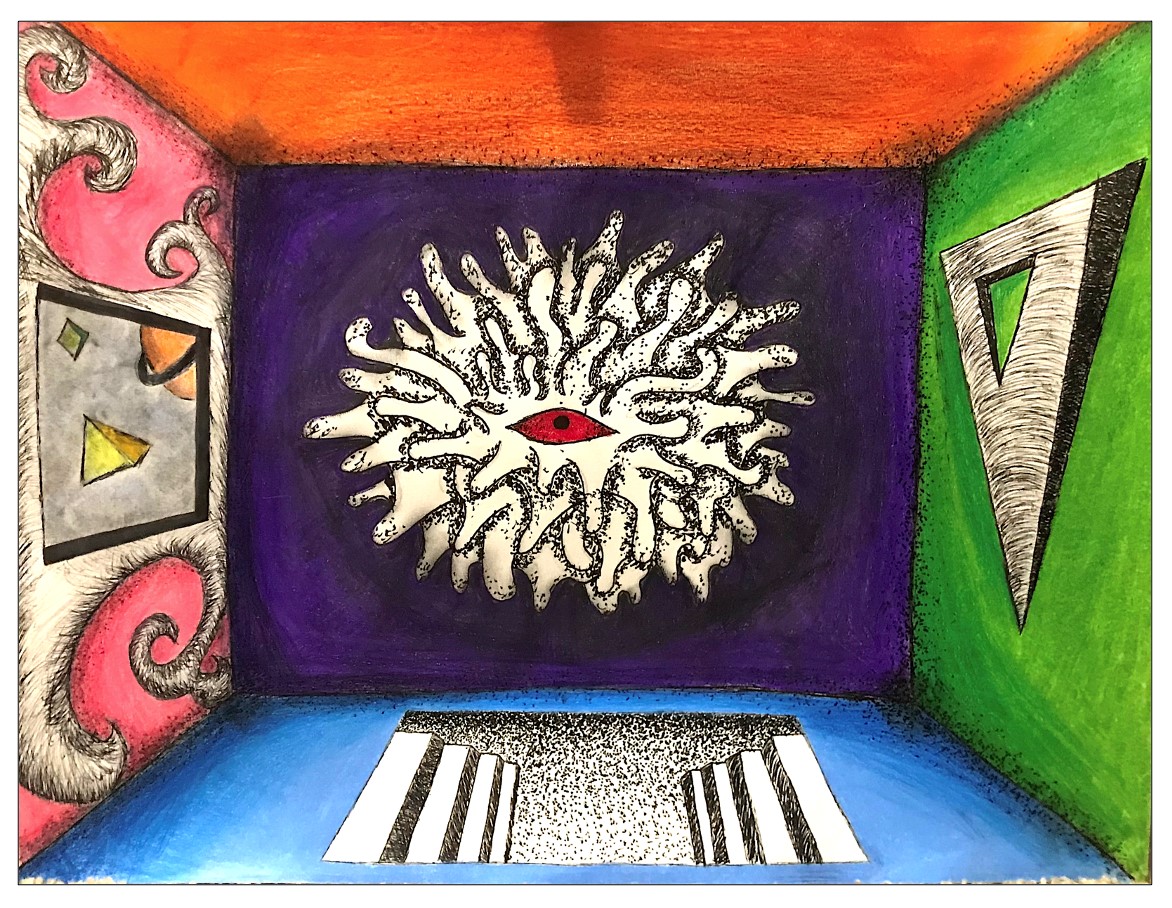 Conceptual Narrative Portrait
For this project, students had the choice of three options to help them visually explore narrative building and story-telling through Conceptual Portraiture.
Drawing 1 (ART 110)
Fall 2020
Professor Corrinne LeNeave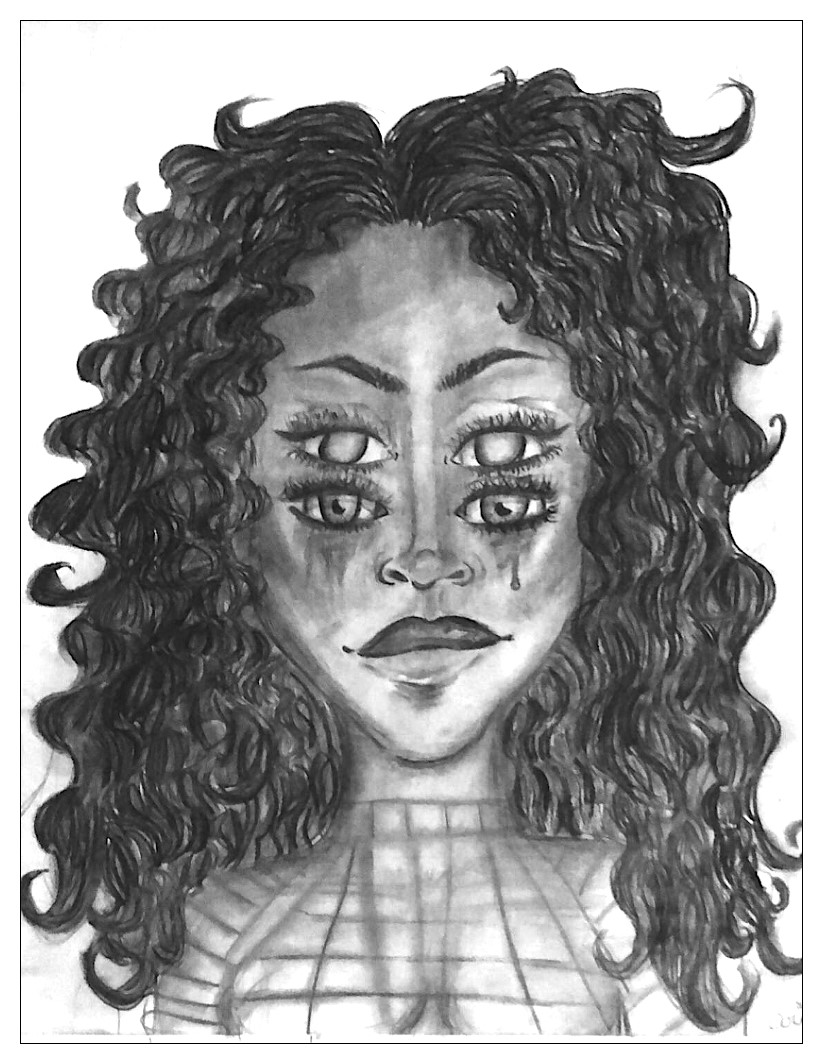 Drawing 1 (ART 110)
Fall 2020
Professor Corrinne LeNeave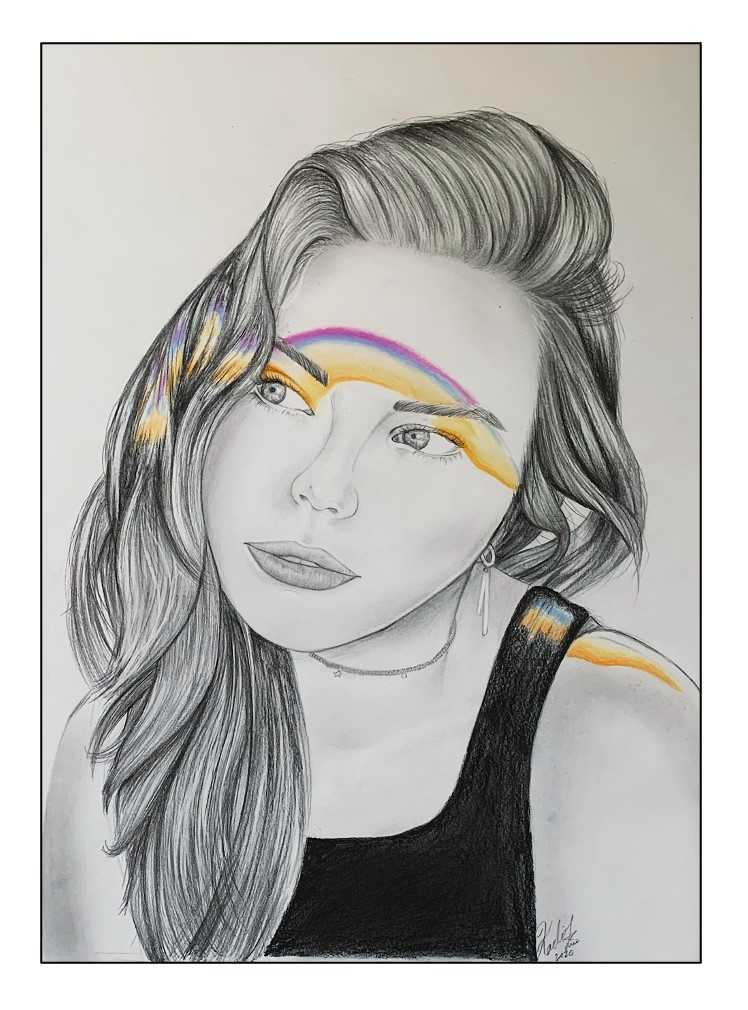 Drawing 1 (ART 110)
Fall 2020
Professor Corrinne LeNeave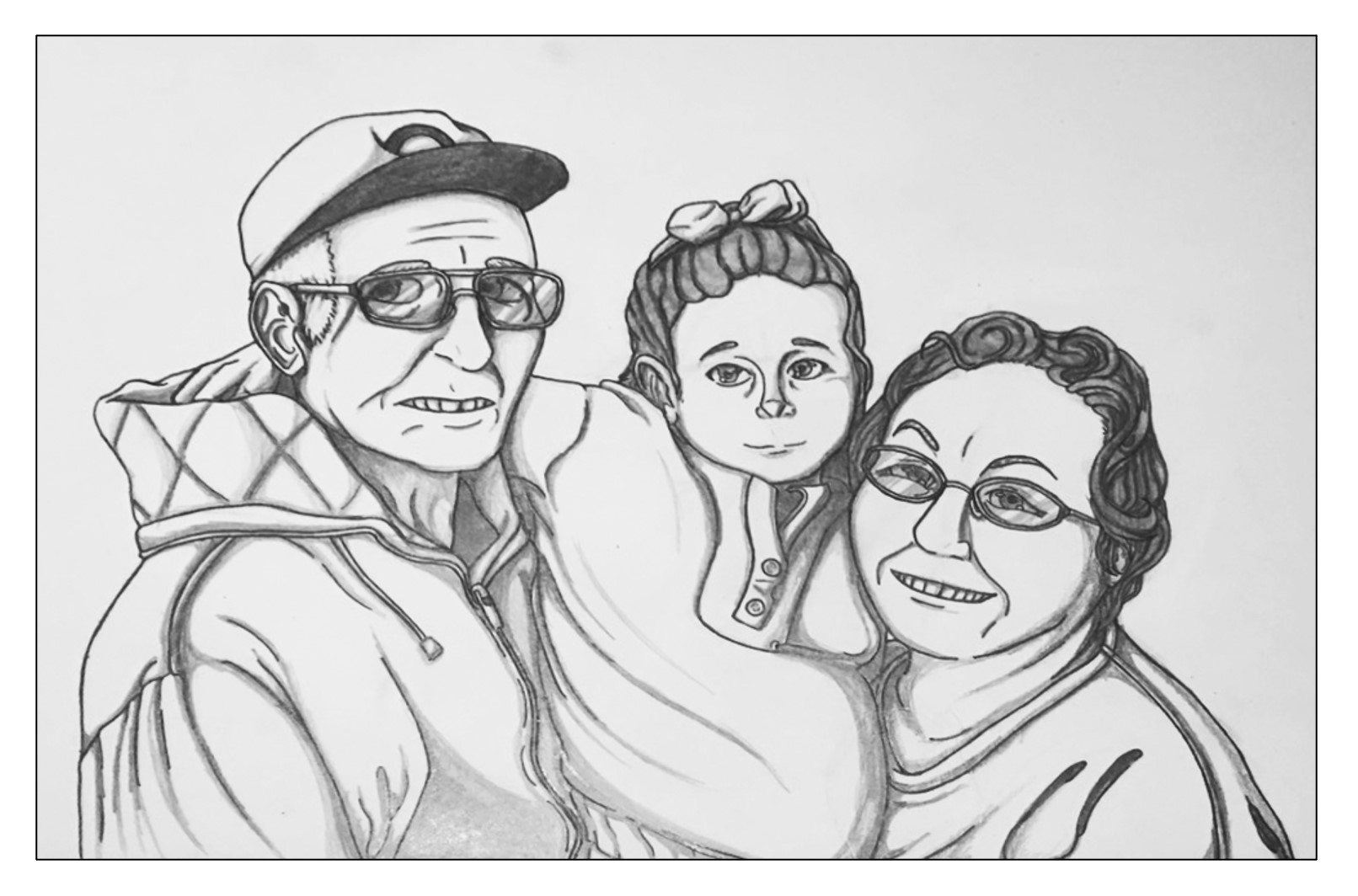 Drawing 1 (ART 110)
Fall 2020
Professor Corrinne LeNeave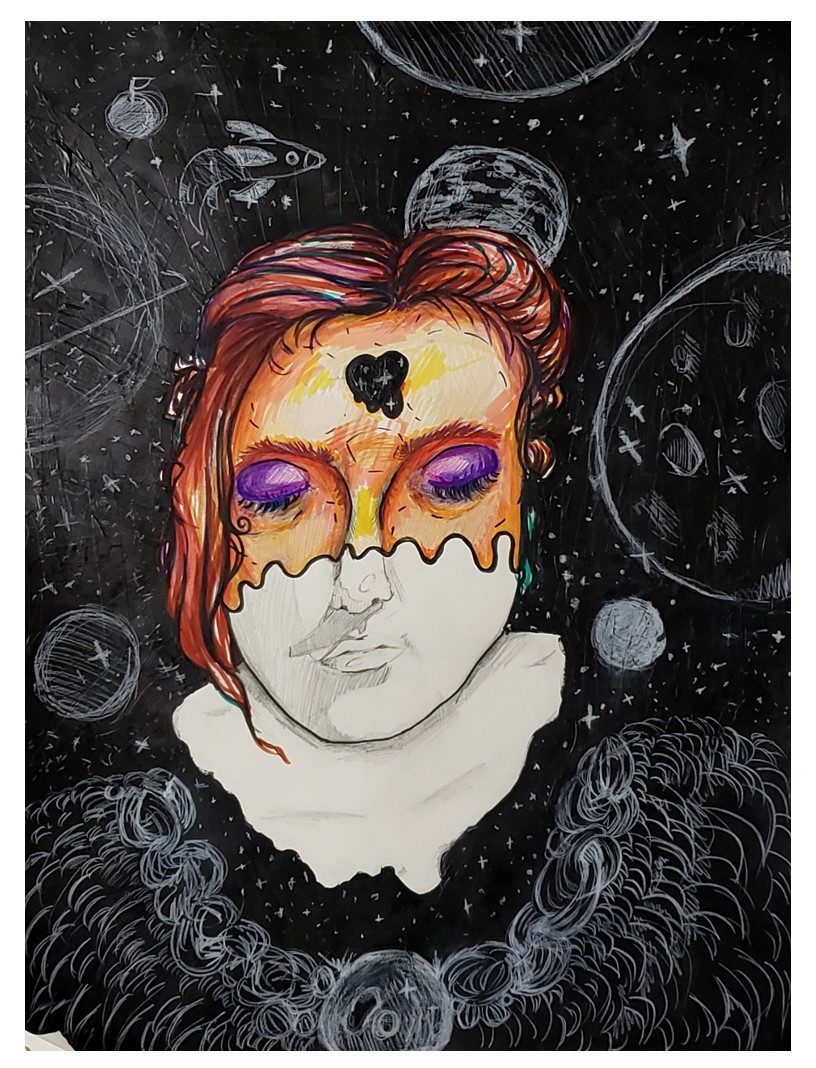 Drawing 1 (ART 110)
Fall 2020
Professor Corrinne LeNeave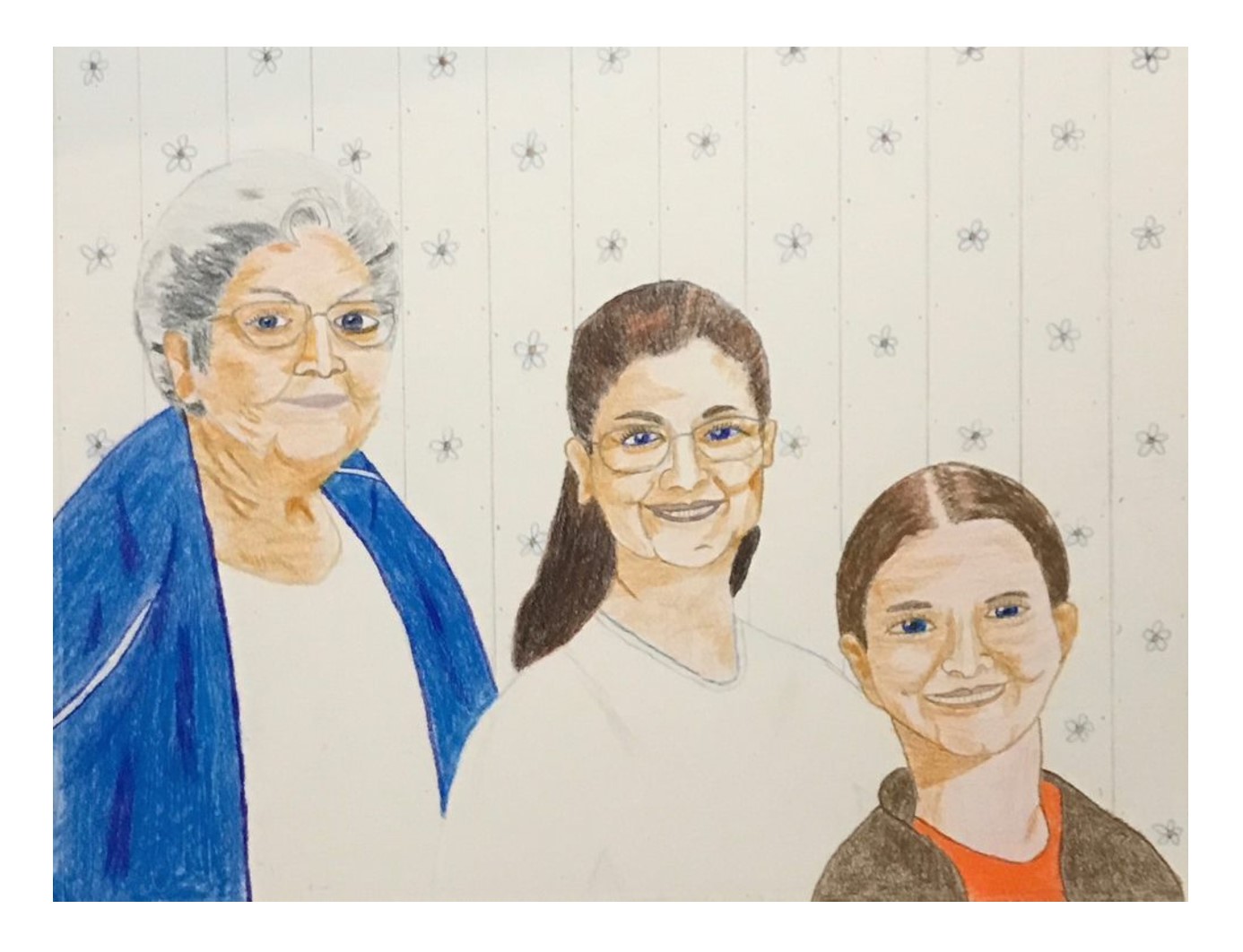 Drawing 1 (ART 110)
Fall 2020
Professor Corrinne LeNeave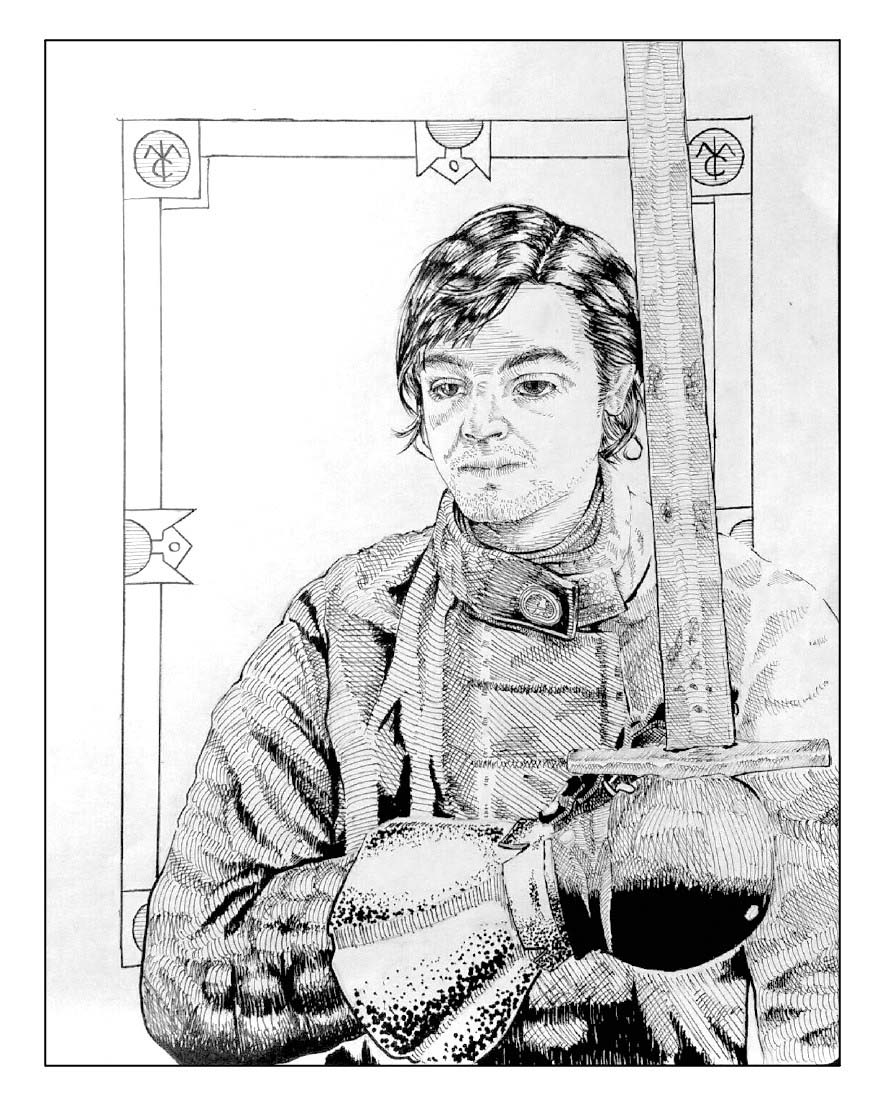 Drawing 1 (ART 110)
Fall 2020
Professor Corrinne LeNeave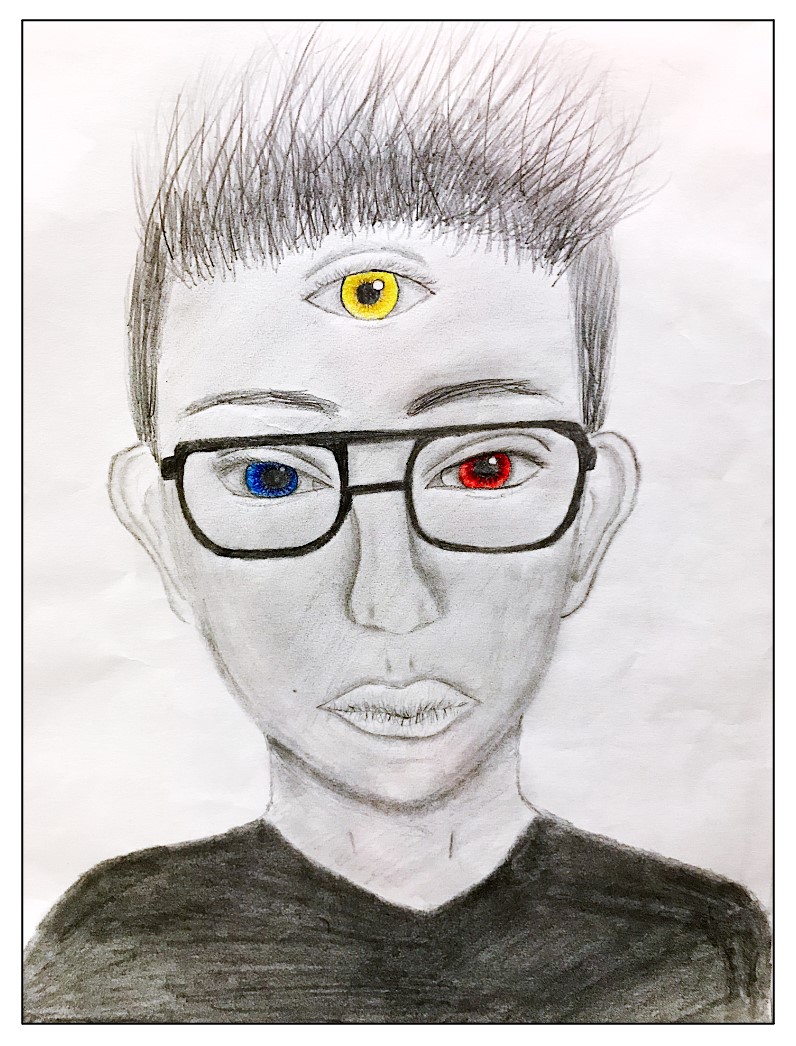 Observational Still-Life
For this project, students investigated the use of line weight and contours to illustrate a still life of their own creation. A still-life was considered any arrangement of objects or materials. This project facilitated a general understanding of line to define objects and their proximity to each other. Students used contour and cross contour lines, and general and specific drawing techniques to explore their still life. Students were encouraged to consider how the objects they selected held relationships to each other, and how that would influence the placement of those objects.
Drawing 1 (ART 110)
Fall 2020
Professor Corrinne LeNeave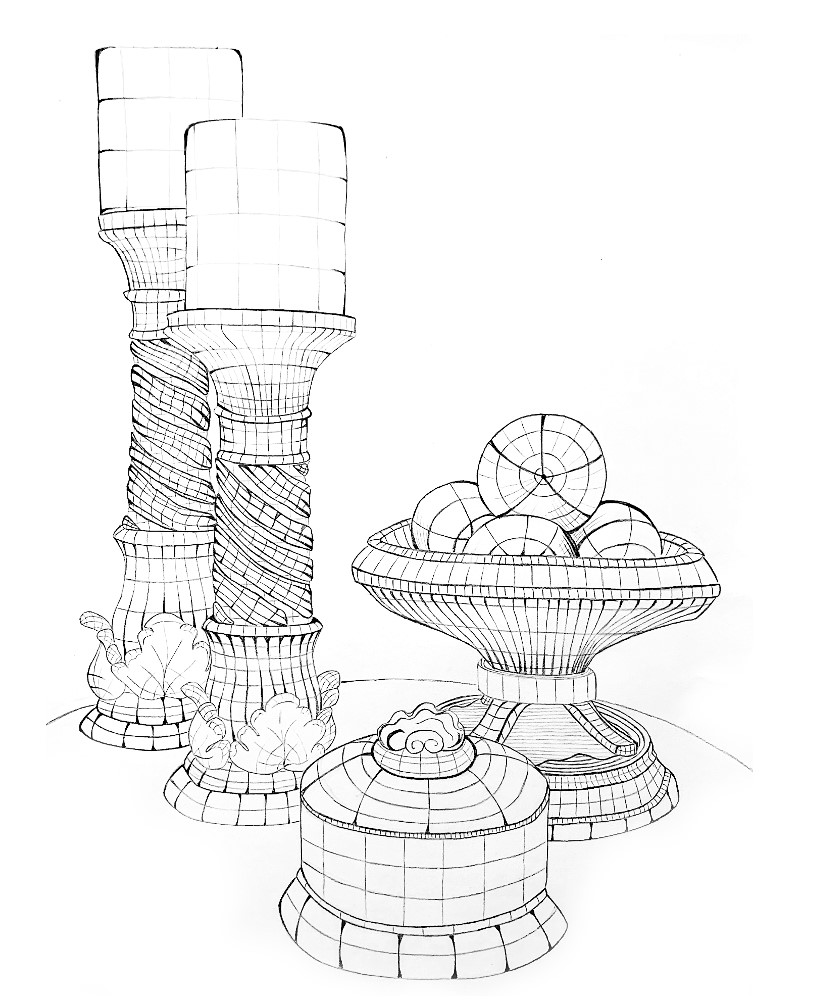 Drawing 1 (ART 110)
Fall 2020
Professor Corrinne LeNeave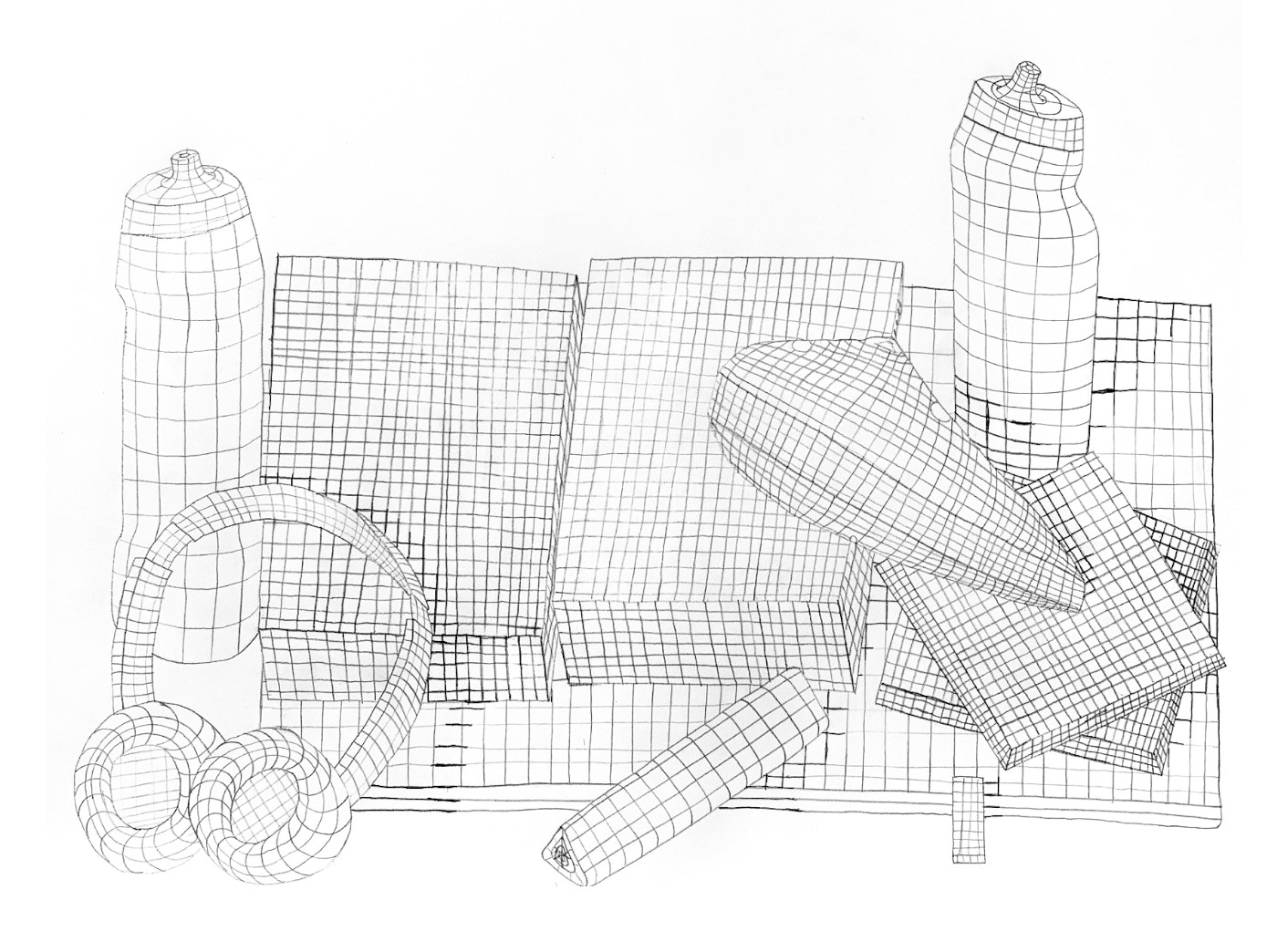 Drawing 1 (ART 110)
Fall 2020
Professor Corrinne LeNeave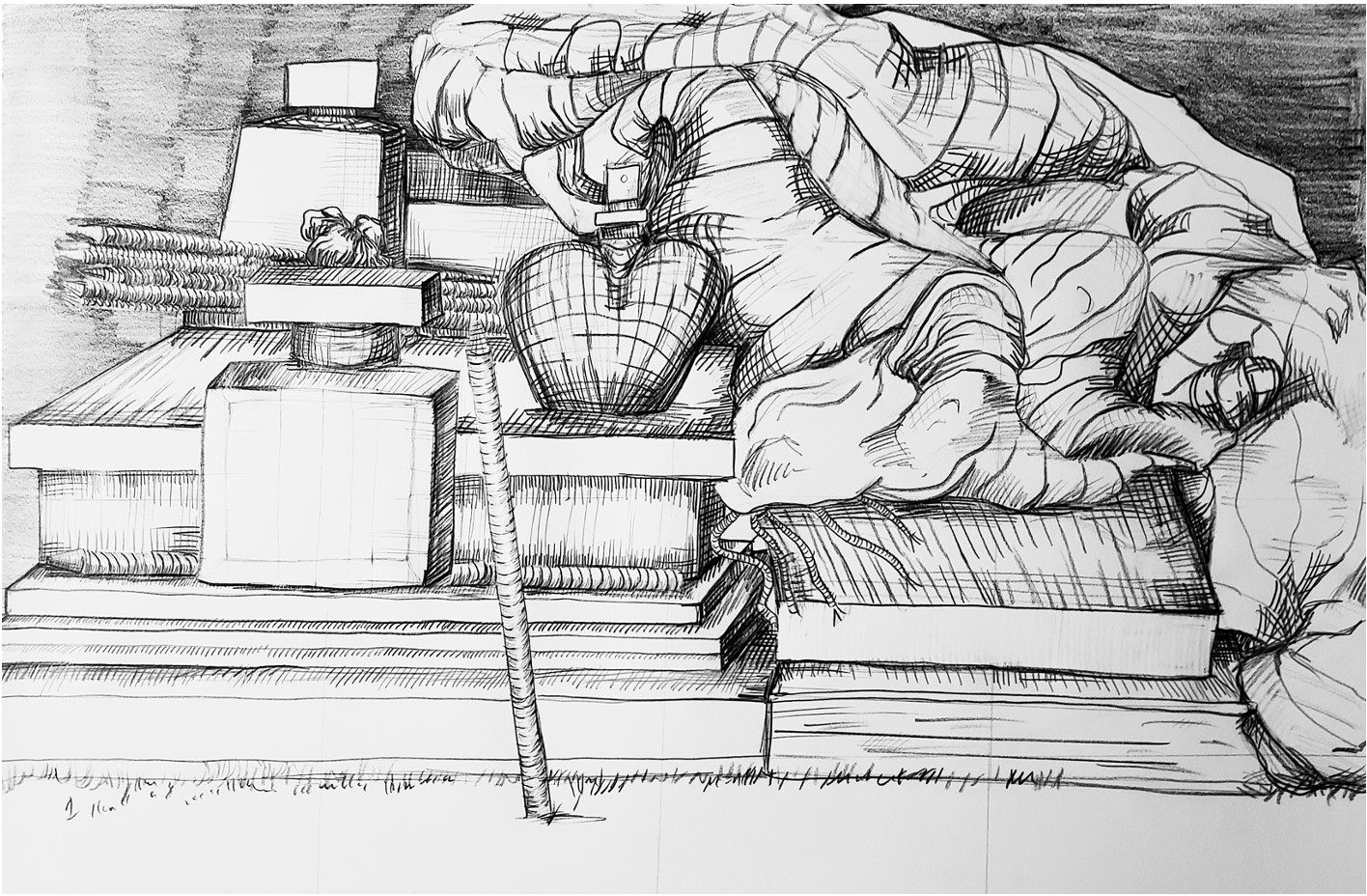 Spatial Value Landscape
For this project, students investigated space using a viewfinder. Students took a class field trip to do sketches, studies and studio sessions at the garden on Newtown's Campus for inspiration. This project facilitated a general understanding of tonal ranges and value strategies that help to guide the viewer's eye throughout a composition and create the illusion of depth and 3-D space. Students used lines, visual textures, and shading strategies.
Drawing 1 (ART 110)
Fall 2020
Professor Corrinne LeNeave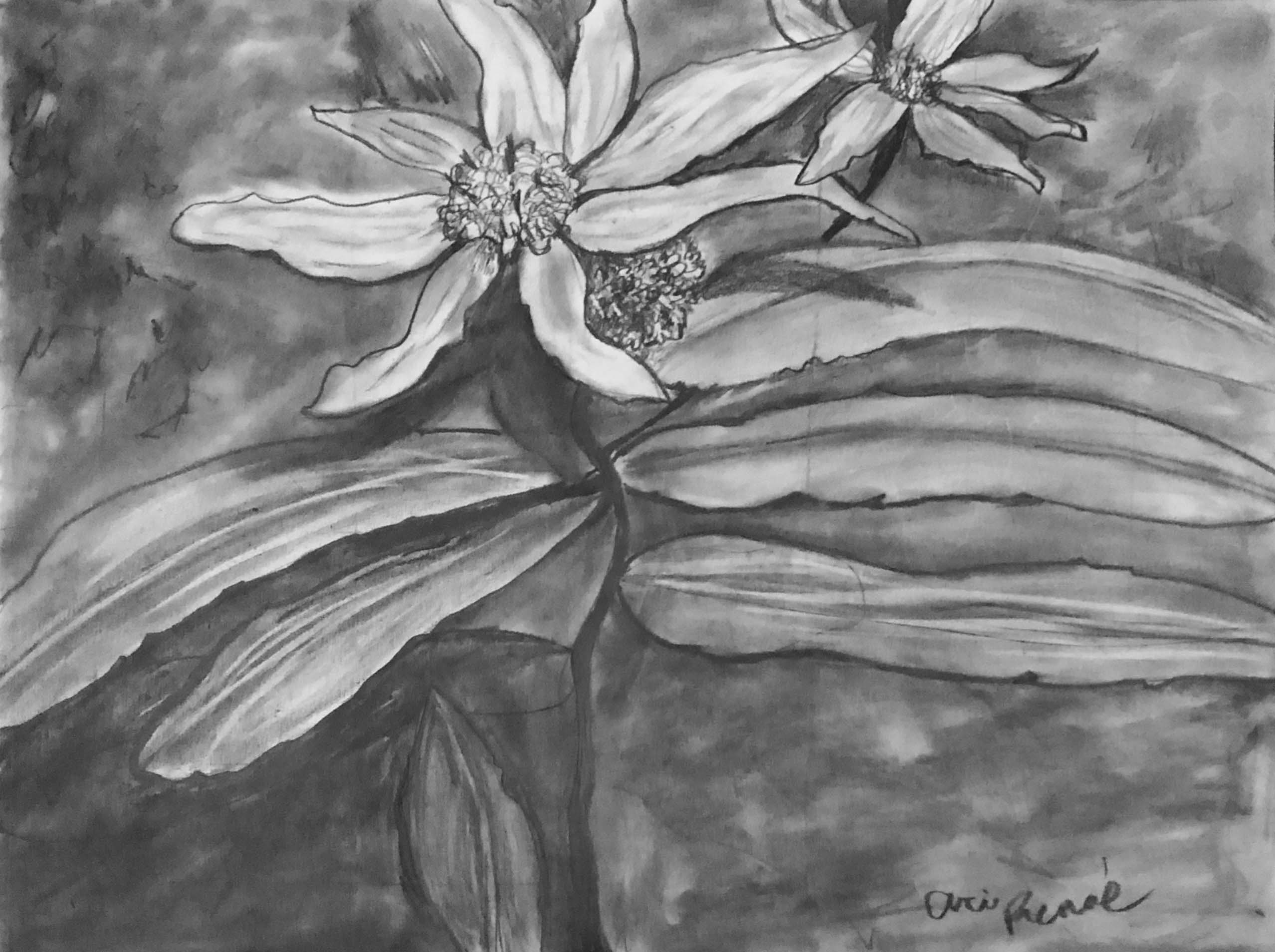 Drawing 1 (ART 110)
Fall 2020
Professor Corrinne LeNeave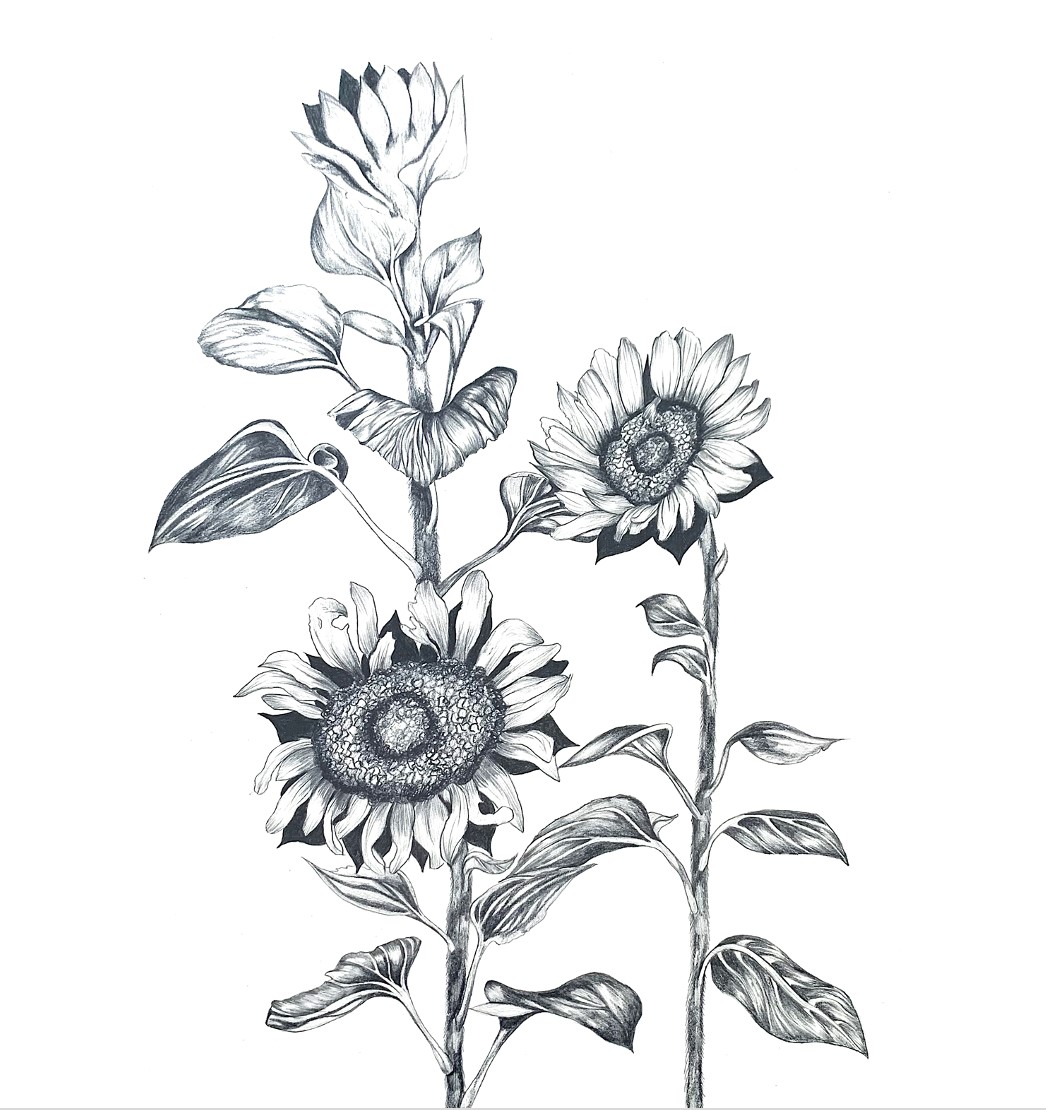 Drawing 1 (ART 110)
Fall 2020
Professor Corrinne LeNeave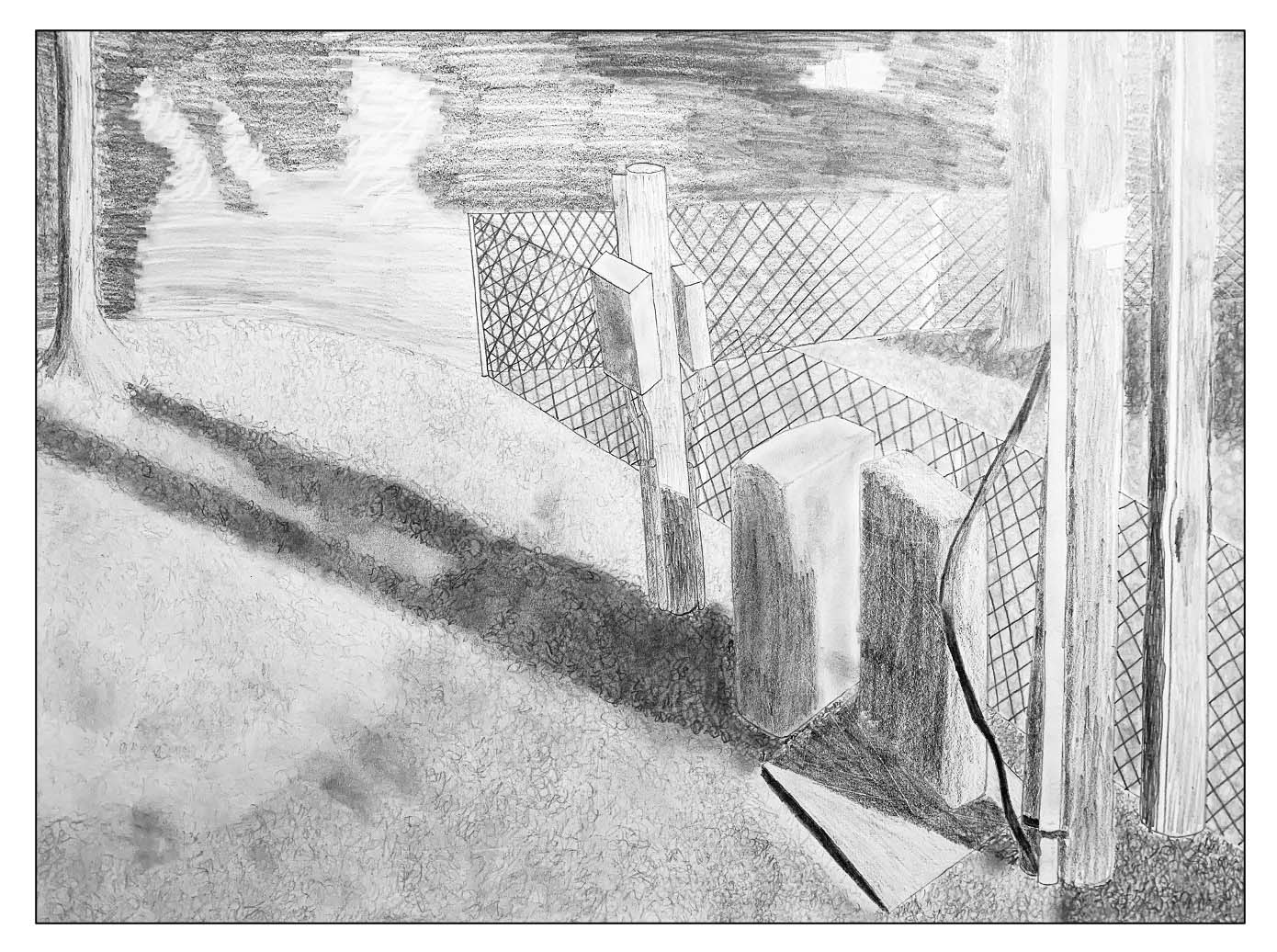 Drawing 1 (ART 110)
Fall 2020
Professor Corrinne LeNeave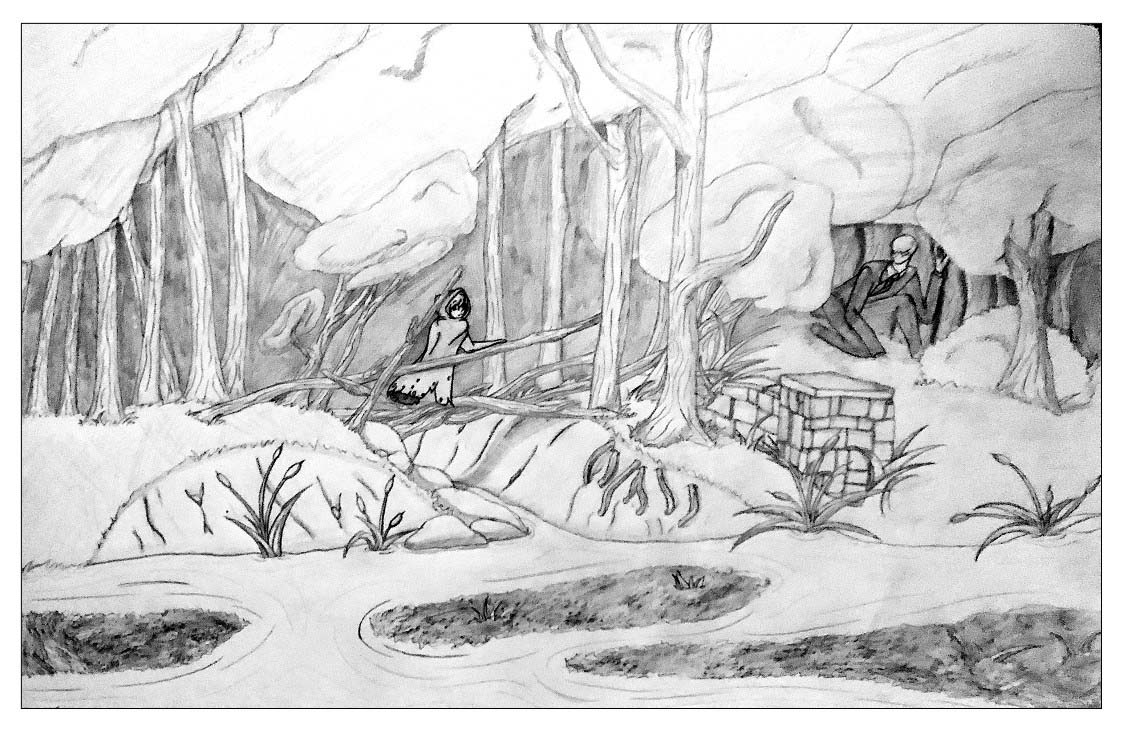 Drawing 1 (ART 110)
Fall 2020
Professor Corrinne LeNeave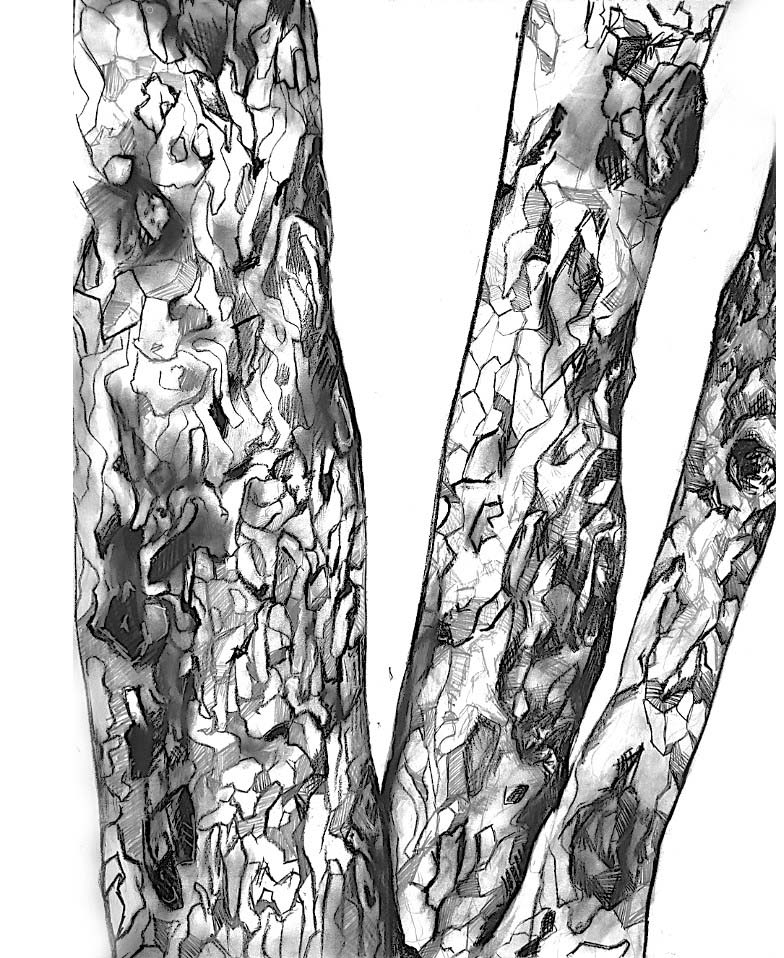 Drawing 1 (ART 110)
Fall 2020
Professor Corrinne LeNeave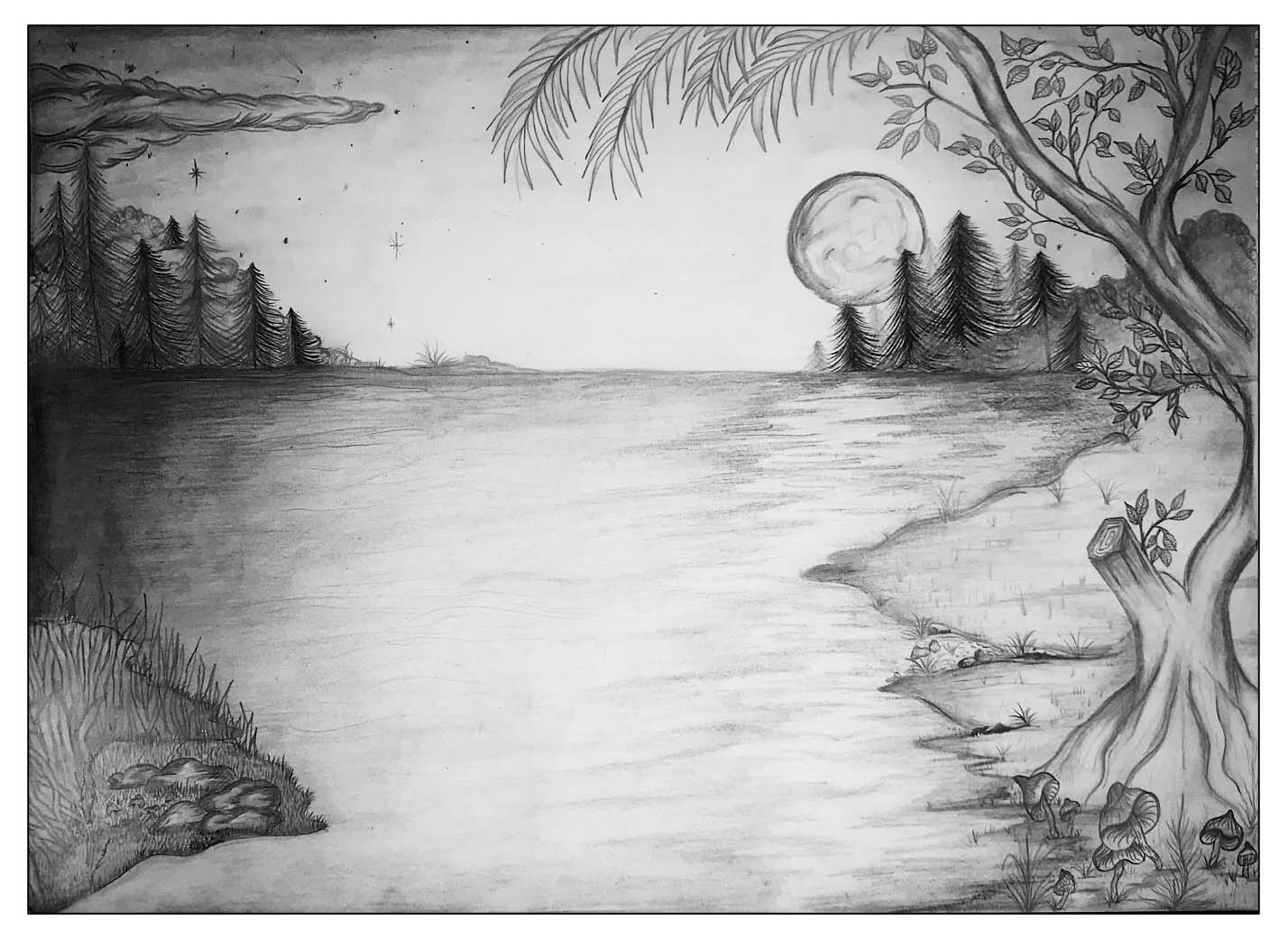 Drawing 1 (ART 110)
Fall 2020
Professor Corrinne LeNeave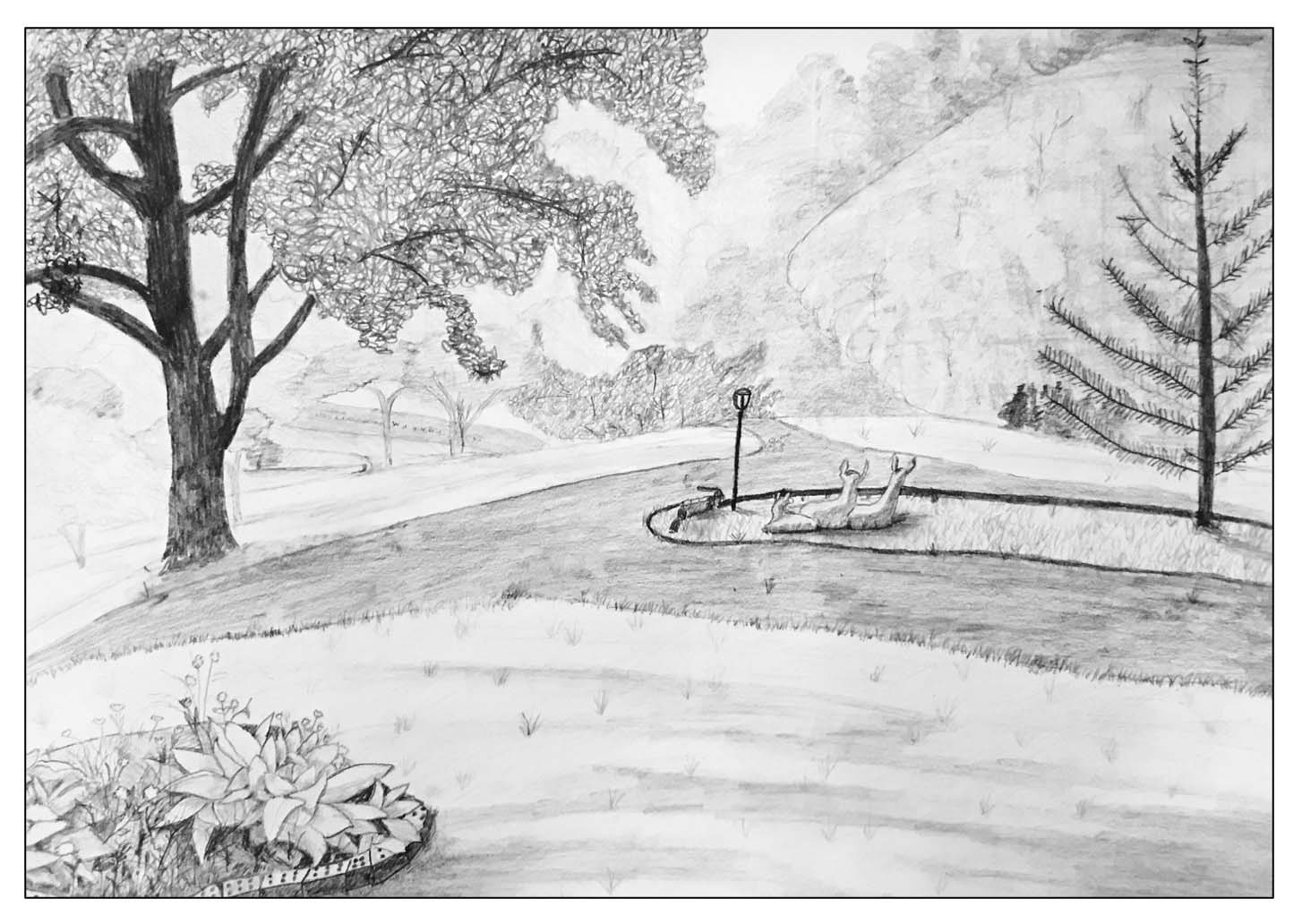 Drawing 1 (ART 110)
Fall 2020
Professor Corrinne LeNeave