The Art and Science of Radiography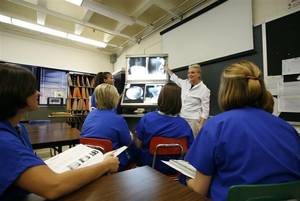 This program prepares the individual to become a radiographer. The radiographer is prepared to administer ionizing radiation for medical diagnostic imaging purposes. Emphasis is on radiation protection and quality patient care. The curriculum is comprised of specialized courses in radiography with concentrated study in the basic sciences, mathematics and general education. Upon completion of the program, the graduate is eligible to apply to write the examination for registration as a radiographer by the American Registry of Radiologic Technologists. Radiographers may find positions in hospitals, health clinics, and physicians' offices.
Radiography is the art and science of using radiation to provide images of the tissues, organs, bones, and vessels that comprise the human body. These images may be recorded on film or displayed on a video monitor. Sometimes motion picture film or videotape is used. Radiologists (physicians who have had special training in interpreting x-ray images) read or diagnose these images. Treatment of patient depends on the accurate and precise production of radiographic examinations.
The radiographer is an essential member of the health care team. The body part of the patient must be accurately positioned, and only the amount of radiation necessary to produce a quality diagnostic image must be applied. These are two important aspects of the responsibilities of the radiographer. Radiation, when used by persons uneducated in its characteristics and potential hazards, can be dangerous to the patient and the user. The radiographer understands radiation and knows how to produce quality diagnostic examinations safely. This protects both the patient and the radiographer.
With this knowledge, radiography is a safe career. It is also a satisfying career. The radiographer contributes a special talent to help diagnose injury and disease.
Accreditation
Bluegrass Community and Technical College, Radiography programs is accredited by the Joint Review Committee on Education in Radiologic Technology. The program has current length of 5 years accreditation award which was awarded 3/2015.
Clinical Affiliations
Baptist Health Lexington
Ephraim McDowell Regional Medical Center
Frankfort Regional Medical Center
Georgetown Community Hospital
Good Samaritan Hospital
Lexington Clinic
Mercy Health - Marcum and Wallace Hospital
Saint Joseph East Hospital
Saint Joseph Main Hospital
University of Kentucky Medical Center
Veterans Affairs Medical Center
More Information