Upcoming Productions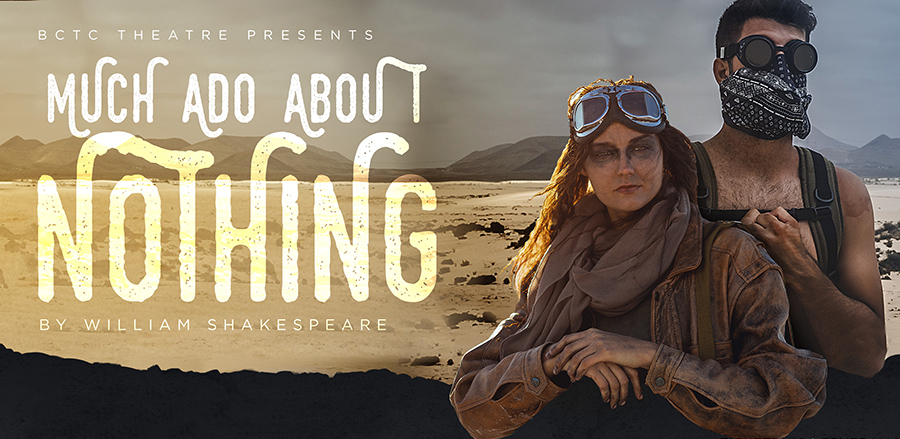 Much Ado About Nothing
The BCTC Theatre Program presents William Shakespeare's "Much Ado About Nothing".
Show Information
This production will be streamed live October 8, 9, 10 at 7:30 p.m.
Admission is free, but donations will be accepted. Donate through BCTC Giving and select "BCTC Theatre" from the dropdown menu.
Summary
Count Claudio falls in love with Hero, the daughter of his host. Hero's cousin Beatrice (a confirmed spinster) and Benedict (an eternal bachelor) are each duped into believing the other is in love with them. Claudio is deceived by a malicious plot and denounces Hero as unchaste before they marry. She faints and is believed dead but recovers to be proved innocent by a chance discovery. Benedict wins Beatrice's love defending her cousin's honor, and to his surprise, Claudio is reunited with Hero, who he believed dead.
Credits
Role/Position
Credit
Cast
Leonato
Will Bates
Benedick
Thomas Kinchen
Beatrice
Tiffany Madden
Don Pedro
David Rivera
Don John
Timothy Skidmore
Antonio
Hart Eastham
Dogberry
Gerry Adair
Verges
Matthew Morse
Borrachio
Jacob Skaggs
Conrade
Jengho Kim
Hero
Natalie Hutcherson
Claudio
Nick Jackson
Margaret
Hayley Nelson
Ursula
Graceyn Earlywine
Balthesar
Abbi Buettner
Friar Francis
Lawrence Prather
Sexton
Bret Ripley
Messenger 2/ Boy
Hannah Kern
George Secole (a Watchman)
Vaughn Roney
Watchmen
John McHugh, Jackson Salinas
Production Crew
Director
Tim X Davis
Stage Manager/ Understudy
Carl Tramel
Live Stream Director
Stephanie Fitch
Technical Director
Ian Scott
Costumer
Jeanie Hartman