Eastern Kentucky University and Bluegrass Community and Technical College Sign Memorandum of Agreement
Published on Mar 23, 2022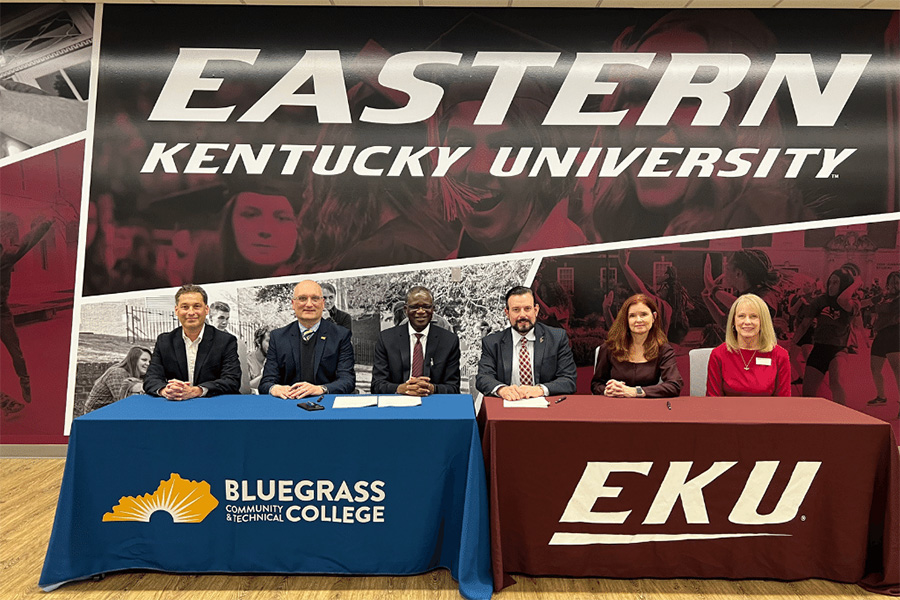 RICHMOND, Ky. — Eastern Kentucky University (EKU) and Bluegrass Community and Technical College (BCTC) today entered into a Memorandum of Agreement (MOU) that offers a pathway for BCTC students to complete the elementary education degree through a 2+2 program with EKU.
Beginning fall 2022, BCTC students who have completed the two-year Associate of Arts degree from BCTC and wish to progress to a Bachelor of Science in Elementary Education will have the opportunity to smoothly transition to EKU's program. Students who graduate from the program will be qualified to teach students in primary through fifth grades.
"This is an innovative and much needed pathway that will benefit our students and transform our communities for years to come," said EKU President David McFaddin. "It is important that we work together to meet the critical needs of our region."
EKU is the number one transfer institution in the Commonwealth with the most students coming from BCTC.
"Each of us has something unique to offer students, and our partnership with EKU offers students limitless possibilities, said BCTC President Koffi Akakpo. "We share the privilege of serving our students and our communities, and we serve them best when we partner."
The agreement is a crucial step in helping school districts across the Commonwealth meet the critical need for teachers.
"After several decades of declining enrollment in teacher education programs across the U.S., as well as the short-term and long-term pandemic stresses on the profession, school districts are experiencing teacher shortages," said Dr. Sherry Powers, dean of EKU's College of Education & Applied Human Sciences. "This partnership establishes a practical pathway for education students to experience outstanding preparation that is foundational for high-quality teaching."
For information about EKU's elementary education teaching program, visit curriculum.eku.edu/elementary.
For details about programs offered at BCTC, visit bluegrass.kctcs.edu.
About Eastern Kentucky University:
Eastern Kentucky University (EKU) is a student-centered, comprehensive regional university dedicated to high-quality instruction, service and scholarship serving approximately 14,000 students.
About Bluegrass Community and Technical College:
Bluegrass Community and Technical College (BCTC) has seven campuses that are within a 30-minute drive of 90% of central Kentuckians and offers more than 40 programs that prepare students for high-wage, high-demand careers. The college enrolls more than 14,000 students annually and provides training for business partners to more than 2,000 employees. BCTC is accredited by the Southern Association of Colleges and Schools Commission on Colleges.
Photo caption: EKU and BCTC gathered on the campus of Eastern Kentucky University Wednesday afternoon to formally sign a Memorandum of Agreement that will help Associate of Arts students transfer seamlessly to EKU to pursue a Bachelor of Science in Elementary Education. Pictured from left to right: Daniel Shuman, BCTC Education Program Coordinator; Dr. Greg Feeney, BCTC Provost; Dr. Koffi Akakpo, BCTC President; Dr. David McFaddin, EKU President; Dr. Sara Ziegler, EKU Provost; and Dr. Sherry Powers, EKU Dean of the College of Education and Applied Human Sciences.