Cooperative Education & Placement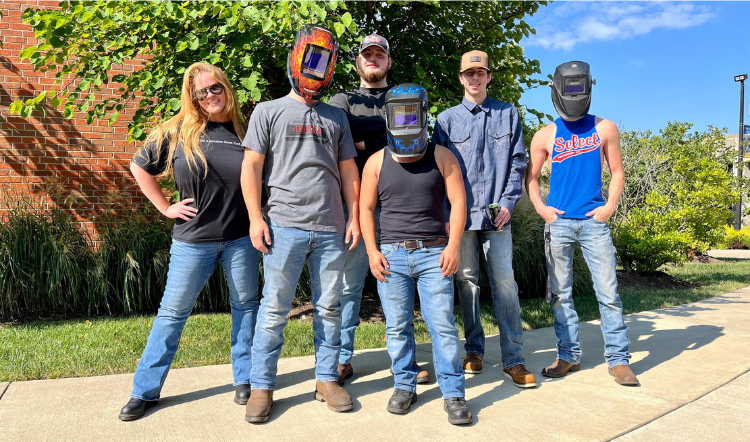 Bluegrass Community & Technical College offers students work based educational experiences through cooperative and experiential education courses. These courses offer students on- and off-campus workplace education with in-demand career skills development.
Cooperative Education (COE) is for students in Associate of Applied Science (AAS) degree, diploma and certificate training programs. These students are eligible for work based educational cooperative/practicum placements in business and industries that align with their majors.
Students in degree programs other than the AAS are also eligible to participate in cooperative education; these are COED courses. Cooperatives are planned and evaluated work experiences related to students' educational outcomes.
Experiential Education placement is for a student who plans to transfer, is non-degree seeking or is an undecided major. The placement maybe related to their major or exploratory in nature.
Employers that host these students gain access to a qualified group of newly skilled & talented workers, they foster a deeper knowledge and understanding of a given occupation, and it offers an opportunity to directly recruit their future workforce.
If you are a student or employer who would like to participate please contact:
Amy Heitzman
amy.heitzman@kctcs.edu
Cooperative Education Comprehensive Plan
The mission of the BCTC Comprehensive Education program is to provide students an authentic and supervised on the job work experience that relates to their educational and career training objectives. This experience will allow students to apply their academic and technical skills in a planned and evaluated work
based learning environment. The Cooperative Education Program enables the college to build partnerships with business, industry, and community agencies to enhance the learning experience for students while developing a skilled workforce for the local labor market. Cooperative Education participation is governed by a student's program curriculum. Students participating follow an individualized cooperative education plan with defined measurable outcomes outlined in the ONet job profile and created by their principal instructor. The student signs a memorandum of agreement (MOA), as well as the employer and instructor. The MOA states expected behaviors and tasks that must be completed. Hours awarded are based on contact hours and vary from program to program. The following classes are used to award academic credit for Cooperative Education learning experience. Full course descriptions available in the KCTCS Course catalog.
| Course | Description |
| --- | --- |
| EX196 | This course is open only to transfer, non-degree and undecided students. 1-6 credits (40- 240). Pass/Fail basis only. The work experience may be related to the student's major or may be exploratory in nature. Academic credit awarded and student may receive financial remuneration determining insurance coverage. Instructor consent required. |
| COE199 | For Associate in Applied Science Degree, Diplomas, and Certificate programs 1-8 hour's credit awarded and financial remuneration. Program specific examples: ACR299, CAR299, CAD299, CMM299. Students covered by employer's Worker's Comp Insurance. To participate, student must have completed at least 12 credit hours, minimum cumulative grade point average (GPA) of 2.0. |
| COED198 | For Associate of Science/Arts Degrees Practicum: 1-9 credits (45-405 contact hours). Practicum receives academic credit, but no financial remuneration. Students are covered by their own insurance and the institutions. Instructor consent required. |
| COED199 | For Associate of Science/Arts Degrees. One credit hour is awarded for successful completion of 60 hours of approved work and the student receives financial remuneration. Students are covered by employer's Workman's Comp Insurance. Instructor consent required. |
It is recommended that all students participating take a safety course prior to beginning live work. For example: ISX100 or other safety training appropriate for placement. Basic CPR / First Aid is encouraged. Teachers will inform student of safety regulations as required by OSHA.
Employer certifies that Worker's Compensation Insurance covers this student and that the policy is now in force and registered with the Department of Workers Claims in Frankfort, Kentucky as prescribed by law (KRS 324.630) or with the appropriate agency if outside Kentucky.
Students are covered by their own and the institutions insurance. Students participating in Cooperative or Exploratory Education must meet the requirements defined by the course curriculum and approved by the instructor.
Program advisory committees serve to provide advisory mechanisms for the BCTC Cooperative Education Program through their twice annual meetings attended by the Cooperative Education and Placement Coordinator. The student Cooperative Education Guide provides contacts, guidelines, expectations, MOA and an individualized cooperative education plan with O-NET job profile for students interested in participation in the program.
Student Selection - The employer is responsible for reviewing all applications, interviewing candidates, and selecting student(s) they wish to participate or hire.
Supervision - Employers must provide a supervisor available to actively train, provide guidance, and adequately assess student progress on their agreed individualized cooperative education plan. They are responsible for completing an evaluation of student progress and program survey. In the event of difficulties and changes, it is necessary to contact the program teacher. In case of an accident, the program teacher or cooperative education coordinator are to be notified immediately.
Compliance - The employer is subject to the provisions of the Fair Labor Standards Act, Minimum Wage Laws, Workmen's Compensation, Americans with Disabilities Act, and the Civil Rights Act.
Individualized Training Plans – Teachers develop an individualized cooperative education plan for each student that includes technical and employability skills based on O-Net job profile. Students are assessed on their individualized cooperative education plan and provided feedback for their performance. Instructors or coordinators will also monitor student's placement by one contact a month through phone calls, e-mails, and a once a semester site visit.
Conduct – Students are to follow the colleges, as well as the employer's code of conduct. They are to be punctual, dependable, and loyal. The behavior includes being courteous and considerate of employer and coworkers. Students are responsible to notify their employers immediately if unable to attend a work site. Students that quit or are discharged from a job will result in loss of education credit. Students are not to resign or discontinue a job until they discuss it with their instructor or coordinator. Students are to complete an individual cooperative education plan requirements and assignments as well as an experience survey. BCTC supports a comprehensive array of nonpaid and paid educational partnerships and activities that meet state and federal guidelines: Carl D. Perkins Vocational and Technical Education Act contact:
William (Mike) Franklin
859-246-6771
william.franklin@kctcs.edu
Disability Support Services (DSS) – Students who have need of DSS should contact the office. DSS goals are to ensure equal access and full participation for persons with disabilities in postsecondary education as outlined by Section 504 of the Rehabilitation Act of 1973.
International Student Participation questions contact:
Brian Schanding, Ed.D.
Asst. Director of International Student Services 859-246-4647
brian.schanding@kctcs.edu
Documentation is accomplished through the student application, memorandum of agreement, individual cooperative education training plans, class assignments, employer safety and progress visits, employer and student surveys. Individual Training Plans are designed to develop skills and abilities in the O-Net job profile. The following are a suggested list by major. The principal instructor will choose the appropriate code.
| Major | O-Net Code |
| --- | --- |
| Air Conditioning Technology | 49-9021.01 |
| Architectural Technology | 17-3011.01 |
| Automotive Technology | 49-3023.00 |
| Biotechnology | 43-9111.01 |
| Business Administrative Systems | 11-3011.00 |
| Civil Engineering Technology | 17-3011.02 |
| Computer-Aided Drafting & Design | 17-3013.00 |
| Computer Information Technologies | 15-1199.09 |
| Computerized Manufacturing & Machining | 51-4011.00 |
| Construction Technology | 47-2031.01 |
| Cosmetology | 39-5012.00 |
| Criminal Justice | 33-3021.03 |
| Education Teacher Preparation | 25-9041.00 |
| Electrical Technology | 47-2111.00 |
| Energy Technology | 13-1199.01 |
| Engineering & Electronics Technology | 17-3023.01 |
| Environmental Science Technology | 19-4091.00 |
| Equine Studies/NARA | 39-2011.00 |
| Film Studies | 27-2012.02 |
| Fire Rescue Science | 33-2011.00 |
| Human Resources | 21-1021.00 |
| Industrial Maintenance Technology | 49-9041.00 |
| Information Management & Design | 27-1024.00 |
| Integrated Engineering Technology | 17-3026.00 |
| Interdisciplinary Early Childhood Education | 25-2011.00 |
| Library Information Technology | 25-4031.00 |
| Medical Information Technology | 29-2071.00 |
| Office Systems Technology | 43-6014.00 |
| Real Estate | 41-9022.00 |
| Theater | 27-2012.00 |
| Welding | 51-4121.00 |
| Dental Hygiene | Clinical program placed |
| Medical Assisting | Clinical program placed |
| Nursing | Clinical program placed |
| Radiography | Clinical program placed |
| Respiratory Care | Clinical program placed |
| Surgical Technology | Clinical program placed |
| Pharmacy Technology | Clinical program placed |
O-NET plan based on placement and program learning objectives. Additional codes and information can be found at O*Net Online.
The Cooperative Education Program is measured against all the same key performance indicators as any other Career and Technical Education Program (CTE). These include CTE Program Metrics:
Increased academic, technical and employability skills
Increased awareness of career options and pathways
Increased career and college retention rates
Increased job placement
Increased earnings
Academic skills-core academic grades and standardized test
Technical skills-course grades and annual skills assessment
Employability skills-fundamental, social, problem solving, computer
Frequently Asked Questions
Sources that will aid you in finding a site are your faculty, the program advisory committee, the Cooperative Education Coordinator and BCTC Career Services.
You must meet the requirements and enroll in the appropriate class for your program and credential.
Check your program plan, the Cooperative Education Comprehensive Plan and/or the KCTCS course catalog.
Yes EX-196 Experiential Education is designed for a work experience related to a major or exploratory in nature. See the Cooperative Education Plan and/or the KCTCS course catalog.
The majority of coops are paid live work based experiences. Internships and practicums are paid and unpaid. It depends on the class and the site.
Yes our experience at BCTC is that most students who participate in coop are offered full-time employment. This is also reflected in the national statistics that prove most students who participate in coop stay with that employer 6-8 years after the original coop.
Students being paid are covered under the Worker's Compensation Insurance policy of employer. Students not being paid are covered under their own and the college's insurance.
Yes as stated in the Memorandum of Agreement (MOA) the employer will provide training and supervision of the student. This relationship should encourage instruction that is relevant, creative, encourages engagement and foundational work habits.
Students and Employers are required to complete a Cooperative Education Survey prior to award of educational credit.
It is also requested that if a student is employed as a result of this experience the student or employer report this to the BCTC Cooperative Education office. The survey data and employment data is used to secure further sites, obtain grant funding and in program health reviews. Your input is important we need it to continue to improve our services.