What is Advanced Manufacturing Technology?
The Advanced Manufacturing Technician Program (AMT) is a two-year (five semesters) Associate Degree that combines cutting-edge curriculum, paid working experience along with learning highly sought-after business principles and best practices of world-class manufacturers. It is more than a job, it is a pathway to a career. You attend class full time two days a week and work at your sponsoring manufacturer three days. You will also develop productive work behaviors that provide excellent self-development skills that are very attractive to employers.
AMT is more than just sitting in the classroom. The college and the manufacturer work closely together to enhance student learning. In addition to gaining skill mastery in the educational portion of the program, students learn about the culture of manufacturing through manufacturing workshops such as safety culture, lean manufacturing, problem solving, etc. Opportunities to increase communication and presentation skills as well as develop work ethic are also available. Students earn a wage while attending college and gain priceless work experience with global and local manufacturers.
Additional Information
Fill out the BCTC application.

If you are a dual credit student at a KCTCS school (Bluegrass, Maysville, Gateway, etc) you should already have a KCTCS student ID number and will not have to fill out the BCTC application.

Fill out AMT application. (new window)

It is recommended to be "college ready" before you submit your AMT application. See the College Readiness tab below for further information.

Interview with sponsoring companies. Once you have completed the AMT application you will be contacted to setup an interview date and time. All companies who are interested in sponsoring AMT students will be present in the interview. Therefore, there could be anywhere from 5 to 15 representatives present.

Companies make selections. If you are selected by a company, they will reach out to you to offer you a sponsorship for the AMT program. If you are not selected, BCTC will reach out to you by May 1.
If you are selected, you are required to be "college ready" by the start of the AMT program. See the College Readiness tab below for further information.
Carefully read all the information located above regarding the application process. Applicants who fail to follow the process explained above will not be considered for an interview.
The application is for those who are interested in beginning coursework in August 2024. It is highly recommended the BCTC application and the AMT application are completed by February 1, 2024. Any AMT applications completed after February 1st are not guaranteed an interview.
When completing the AMT/FAME application, you will select Kentucky as the state and Bluegrass Chapter in the next drop-down menu. At this point you will have the option to select either Georgetown or Danville. If you would like to apply to both Georgetown and Danville, fill out one application and send an email to BL-AMT@kctcs.edu stating you wish to apply to both locations.
Once you have successfully completed the application, you will be scheduled for an interview. The interview will be conducted by the sponsoring companies of the AMT program and will be held on the Georgetown or Danville Campus. The interview dates are listed below and are subject to change. Any changes will be communicated to applicants prior to interviews.
Georgetown Fall Interview Dates

November 15, 2023
November 16, 2023

Georgetown Spring Interview Dates

February 8, 2024
February 15, 2024
February 20, 2024
February 22, 2024

Danville Interview Dates
It is highly recommended for applicants to prepare for the interview by researching basic interview etiquette and sample questions.
The selected candidates must reach the minimum college placement scores in each area (Math, English, and Reading) by August 1st. However, it is best if you reach the minimum score before filling out the application. Minimum college placement scores can be met in the following ways:
ACT: 19
KYOTE: 22
EdReady: 55
College Level Math: Previous completion (grade of C or greater) of college level Math - MAT126 (Technical Algebra and Trigonometry) or equivalent course or higher
ACT: 18
Wonderlic: 310
College Level English: Previous completion (grade of C or greater) of college level English - Eng101 (Writing I) or equivalent course
ACT: 20
Wonderlic: 325
College Level English: Previous completion (grade of C or greater) of college level English - Eng101(Writing I) or equivalent course
If you have completed prior Math and English courses but do not meet any of requirements stated above, reach out to BL-AMT@kctcs.edu for guidance.
If you do not already meet these college placement scores, you can sign up for placement exams at BCTC. These exams are free the first time you take them. Please use the links below to schedule the necessary exam.
You will need your student ID number when you schedule. To obtain a student ID number, you will need to complete the BCTC application. Once accepted you will receive your student ID number via email.
Salary and any benefits are determined by the individual manufacturer and will be relayed to the student during the selection process.
Pay increases are based on work performance evaluation and academic performance (this is considered income and subject to all applicable wage guidelines).
Program is eligible for KEES scholarship funding
Program is eligible for Federal Financial Aid
Scholarships are also available
Manufacturers do not provide tuition reimbursement
Because of safety and other concerns in the High Bay Area of BCTC's Advanced Manufacturing Center in Georgetown, a dress code has been established and will be enforced. This dress code has been established with the approval of the college's administration.
Students not properly dressed will be asked to leave the High Bay area with the option to return in proper attire. Having to leave the lab area could result in being considered absent or tardy.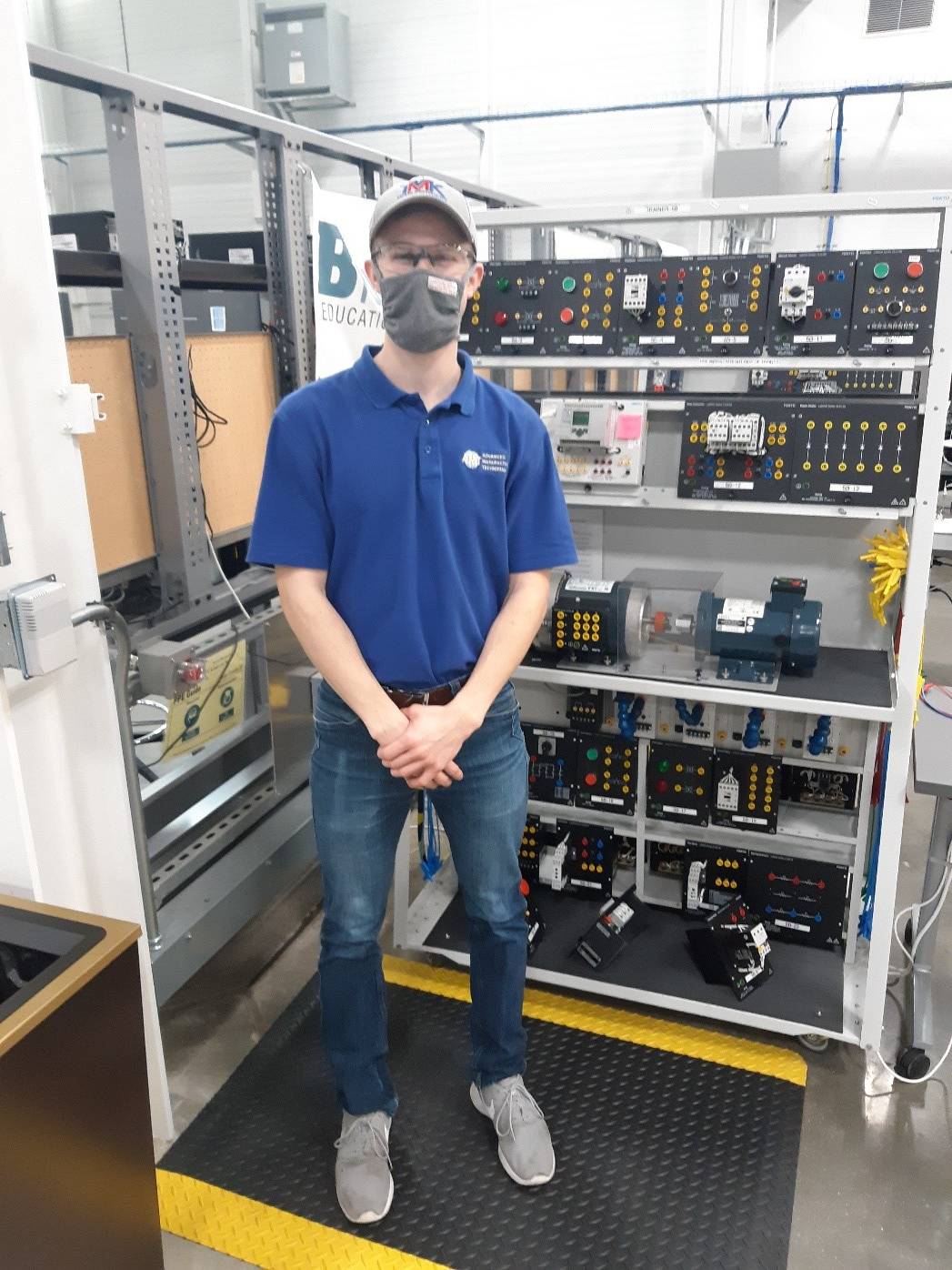 Use of offensive, obscene, and/or abusive words or symbols on clothing is not permitted.

This includes the use of emblems, insignias, badges, or other symbols or lewd or vulgar words where the effect is offensive to a reasonable person or otherwise causes disruption or interference with the orderly operations of the Advanced Manufacturing Center.
BCTC faculty and staff may determine if an individual's clothing violates any of the campus' dress code.

Generally, common sense and good taste should prevail in matters of dress.
NO open-toed shoes are allowed, as this is a safety hazard, this includes Crocs™ or any type of closed sandals.
Leather shoes are preferred but are not required.
Certain footwear may be required depending on the lab area. Please refer to the PPE Guide for the area you will be working.
NO shorts or cropped pants are allowed.
Jeans or khakis are acceptable if they have no major rips or tears.
Tank tops, halter-tops, tube tops, and sleeveless shirts are unsafe and strictly prohibited.
Long hair is to be put up or placed in a ponytail while in labs or near machinery. This is to protect the individual from serious injury.
Ball caps and hoods may be worn if they are in accordance with the area PPE.
After graduation from high school I thought that I wanted the typical college experience. As it turns out I was just another face in the crowd. In this program I m learning one-on-one real life applications and using the knowledge that I ve acquired out in the field today.
Megan Gant, AMT Program Graduate
I chose the Toyota AMT Program because it offered a job while going to school, affordable tuition, an opportunity for growth, and it was challenging.
Paul Switzer, AMT Program Graduate
The thing about the program that makes a difference to me is the hands-on experience. Being able to learn something in class and then being able to go to work the next day and have hands on practice with what you learned.
Christina Partin, AMT Program Graduate
This program puts us on a world class level. As these graduates integrate into our company, our skilled maintenance workforce as a business unit will compete with any company in the world. We will achieve better line run time, better and faster problem solving, adapt and change more quickly, and do it for less cost to the company. Their ability and flexibility will transform our skilled workforce into one of Toyota s most competitive units.
Keith Davis, Manager Power Train Engineering Toyota Motor Manufacturing, Kentucky Plant
The AMT program is designed to develop skilled manufacturing technicians who have no equal globally. Successful graduates of the program will be the best in the world, and will play an instrumental role in helping U.S. advanced manufacturing remain No. 1 in the world. They will win the ballgame for us. I know of no other 2-year technical program in the U.S. that compares to the AMT program. Successful graduates will be qualified far beyond their traditional peers when competing for the best jobs. Work hard. Study hard. Stay focused. If this is you, you will be great for the AMT program, and the AMT program will be great for you.
Dennis Dio Parker, Toyota North American Production Support Center
What are my career choices?
While not guaranteed a position with the sponsoring manufacturer, graduates have an opportunity to be hired with a great salary and excellent benefits. Other manufacturers seek professionals with this level of experience and training, plus graduates may pursue a Bachelor's Degree in fields such a engineering, technology, or business.
What are my degree, diploma, or certificate options?
The catalog describes the course requirements for completing the credential. Students are required to schedule an appointment with their assigned academic advisor to ensure achievement of their academic goals.
Industrial Maintenance involves maintaining industrial systems working properly. Technicians working in industry are the people who work directly with machines: troubleshooting, calibrating, repairing, re-programming, and performing preventative maintenance. The program work implements the multidisciplinary, multiskilled model with courses in electricity, fluid power, mechanics, fabrication, troubleshooting, problem solving, etc.
Tool and die makers are precision metal workers who craft tools and metal forms for stamping, injection molding, and forging operations. They analyze design specifications, cut and shape metal, assemble parts, and test completed products for use in manufacturing facilities. This career involves precision machining and precision measurement. Work activities in machine shop involve applying knowledge of machine capabilities, the properties of materials, and shop practices to set-up and operate various machines. The skills needed to position work pieces, adjust machines, and verify the accuracy of machine functions and finish products are taught by classroom instruction, demonstration, and hands on experience.
Length of program
You can earn an associate in applied science degree in two years if you maintain full-time status.
This information should not be considered a substitute for the KCTCS Catalog. You should always choose classes in cooperation with your faculty advisor to ensure that you meet all degree requirements.