Toyota invests in Georgetown students and future workforce
Published on Dec 14, 2021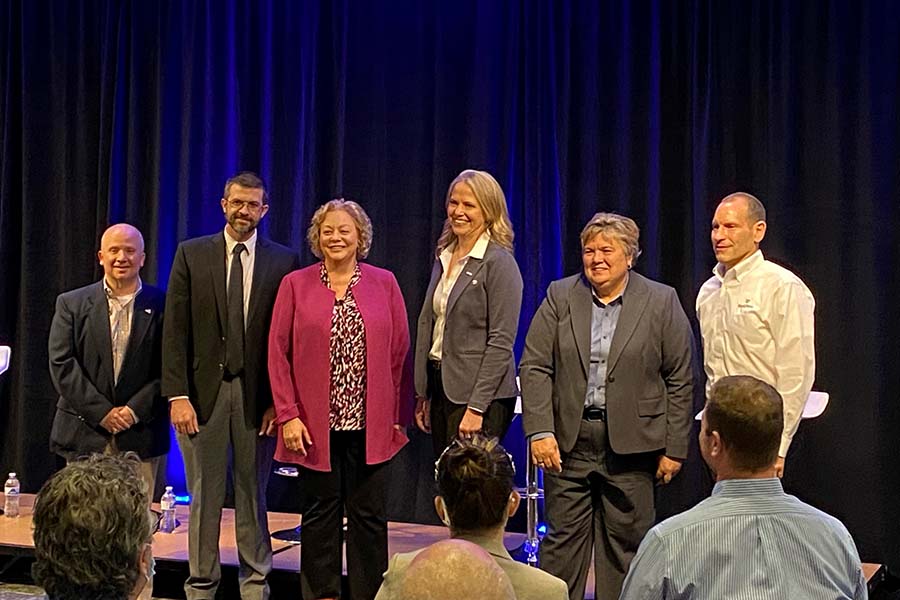 LEXINGTON, KY - Tuition cost will not be a concern for many a Bluegrass Community and Technical College (BCTC) Georgetown-Scott County dual credit and Middle College students thanks to a generous donation from Toyota Motor Manufacturing Kentucky (TMMK) establishing an endowment to fund scholarships for high school students interested fast-tracking to college or career.
"BCTC is a long-standing partner of Toyota's and an excellent resource for Scott County, particularly its dual credit and Middle College programs for junior and senior high school students to get a head start on an advanced degree," Susan Elkington, TMMK president said.
Elkington presented a$250,000 award to BCTC Georgetown-Scott County Campus Director Lynn Godsey to make it possible for high school students in Georgetown to participate in dual credit and the Middle College program.
"We are grateful for community leaders and business partners like Toyota who want to join us in preparing tomorrow's workforce today," said BCTC President Koffi Akakpo. "This endowment is an investment in Scott County's future."
Middle College students enroll in a full schedule of college classes that meet high school graduation requirements. Rising juniors who enroll in Middle College for two years can earn an associate degree from BCTC by the time they complete high school. Students enrolling in Middle College high school as seniors can earn up to 31 college credit hours that can count toward their associate or bachelor's degree.
When dual enrolled, high school students save time and significant college cost. Tuition for these classes is greatly reduced and scholarship opportunities are available for eligible Scott County students through the Kentucky Dual Credit Scholarship Program, the Work Ready Kentucky Scholarship program and the Scott County Dual Credit Scholarship. These scholarships are provided through state programs and generous donations from Toyota and other community supporters.
"We are so excited about our partnership with Scott County Schools that has led to the growth of dual credit enrollment," said Lynn Godsey, BCTC Georgetown-Scott County Campus director. "We also want to thank Toyota and our community for supporting this valuable program and our students."
Learn more about the BCTC Georgetown-Scott County Campus online, email campus director Lynn.Godsey@kctcs.edu or call (502) 570-0734. Complete a Georgetown-Scott County Bluegrass College Academy Application (formerly Middle College) online as well. BCTC spring classes begin Jan. 10, 2021.