BCTC and the Rotary Club of Lawrenceburg partner to raise $100k in Step-Up Challenge
Published on Oct 5, 2023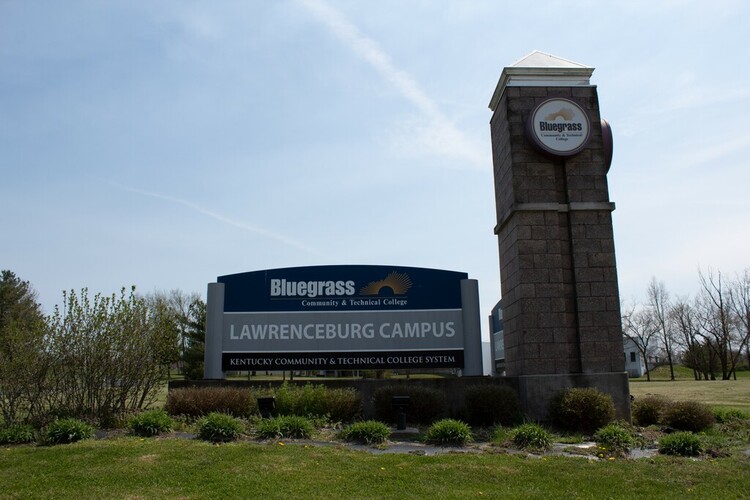 Lawrenceburg, KY – Bluegrass Community and Technical College (BCTC) partners with the Rotary Club of Lawrenceburg and will name the campus atrium in honor of them for their continued support of the Lawrenceburg campus and local students.
Today, the Rotary Club of Lawrenceburg launches the $100k Step-Up Challenge to raise scholarship funds for Anderson County high school students who enroll in classes at BCTC. The club has a goal of raising $16,000 from community donations and has pledged $22,500 in matching funds so that all contributions from local donors will be doubled or tripled. If the club successfully meets their goal, Steven Seeberger, CEO of ToyBurg, has pledged an additional gift of $22,500, which will bring the total of the Rotary Endowed Scholarship Fund at BCTC to $100,000 at the conclusion of the challenge. The $100k Step-Up Challenge is the third annual campaign that the club has led to establish and grow the endowed scholarship fund.
"The value of community support makes a difference in our programs. We thank the Rotary Club of Lawrenceburg, KY for their efforts to impact the lives of students" said Dr. Greg Feeney, Acting President/CEO at BCTC. "Studies have shown that earning dual credit while in high school increases students' chances of earning a degree or credentials on-time as well as reducing the cost of education." "This endowed scholarship will benefit numerous students and will give them an opportunity to enter the workforce with very little debt," said Feeney.
"The Rotary Club of Lawrenceburg has always valued education and the mission of BCTC. We understand that dual credit exposes students to many career possibilities prior to college," said Tiffany Drury, President of the Rotary Club of Lawrenceburg. "As a former BCTC employee, the mission of the college still holds a place near and dear to my heart and I am grateful to be part of a Club that places such an emphasis on education and helping students in our community. The Rotary Club of Lawrenceburg is committed to making a difference in our community and we encourage others to support and donate to this cause," said Drury.
"The outpouring of support from the Anderson County community has been extraordinary. Their investment in local students, our campus, and the future of our community will positively impact generations of students yet to come," said Alycia Tidrick, Lawrenceburg Campus Director. "I am also immensely grateful to the Rotary Club of Lawrenceburg and ToyBurg for their leadership and support of this initiative." "Their work will directly and positively impact the quality of life for the students who benefit from these scholarships, as well as provide educational and career-preparation opportunities that will strengthen our future workforce," said Tidrick.
On October 17, BCTC will unveil the newly named Rotary Club of Lawrenceburg Atrium at BCTC Lawrenceburg, to thank the club for their generosity and ongoing support of local students.
If you would like to contribute to this endowed scholarship, please email Alycia Tidrick at Alycia.tidrick@kctcs.edu.