BCTC names Atrium in honor of The Rotary Club of Lawrenceburg, KY
Published on Oct 17, 2023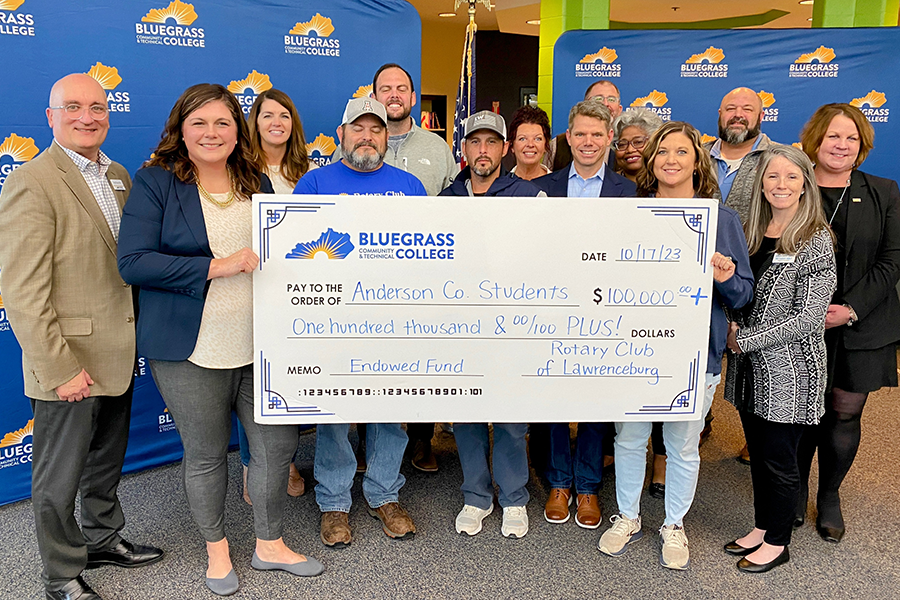 Lawrenceburg, KY – Bluegrass Community and Technical College (BCTC) celebrated the successful completion of a $100,000 scholarship campaign and named the campus atrium in honor of the Rotary Club of Lawrenceburg for their continued support of the Lawrenceburg campus and local students.
The $100k Step-Up Challenge launched on October 5, 2023, with a goal of raising $16,000 from community donations to support scholarships for Anderson County high school students enrolled in classes at BCTC. The Rotary Club of Lawrenceburg provided $22,500 in matching funds for the campaign, and Steven Seeberger, CEO of Toyburg, pledged an additional gift of $22,500 if the campaign reached its $16,000 goal.
We are pleased to report that the goal was exceeded, with $19,710 raised as of the time of publication. The $100k Step-Up Challenge is the third annual campaign that the club has led to establish and grow the endowed scholarship fund at BCTC. This endowed fund will create opportunities for local dual credit students to launch their education with BCTC.
"I am always in awe and impressed when people Step-up not because they have to, but because they want to," said Dr. Greg Feeney, Acting President/CEO at BCTC. "They recognize a need and want to be part of serving students. We thank the Rotary Club of Lawrenceburg, KY and Steven Seeberger for their efforts and generous gift for our Anderson County local students. "This endowed fund will provide and support many students for their educational success, "said Feeney.
"This scholarship will be truly life changing for students in Anderson County," said Alycia Tidrick, Lawrenceburg Campus Director. "The contributions made by our local Rotary Club, Steven Seeberger, and our community are nothing short of inspirational and extraordinary. The community's outpouring of support is a testament to our Anderson County's commitment to providing opportunities for education and workforce development close to home. We will see the positive impact of this work for many generations to come," said Tidrick.
Today, BCTC unveils the newly named Rotary Club of Lawrenceburg Atrium at BCTC Lawrenceburg, to thank the club for their generosity and ongoing support of local students. Thanks to additional support provided by the Rotary Club and Steven Seeberger, BCTC and the Rotary Club also announced a new goal - $200,000 for Endowed Dual Credit Scholarships. Inspired by recent events, Steven Seeberger and the Club have committed a combined $75,000 in additional funds to support the new $200,000 goal, with hopes of raising the remaining $25,000 over the next few years.
If you would like to contribute to this endowed scholarship, please email Alycia Tidrick at Alycia.tidrick@kctcs.edu.