BCTC Theatre Program Presents The Consequences of Madison Mumbry by Darren V. Michael
Published on Sep 21, 2023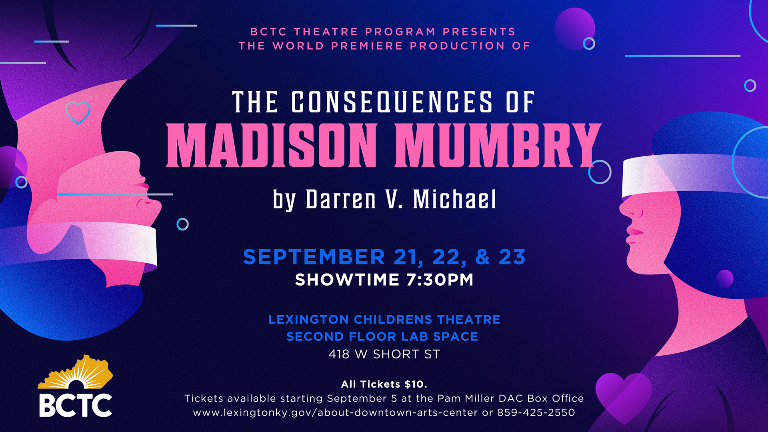 LEXINGTON, KY – Bluegrass Community and Technical College (BCTC) Theatre program presents the world premiere production of The Consequences of Madison Mumbry by Darren V. Michael.
Tim Davis, Program Coordinator of Theatre, is the director of this premiere play which will run from September 21 through September 23. Michael will be in Lexington for the production. He is the Professor of Acting at Austin Peay State University. He will be here for the entire run of the show and will also attend one of Tim's classes to talk to students about his process as a writer and to talk about the show.
The plot of the show begins when Madison's blind date Albert begins to sabotage their evening then confesses that he is from the future, bound and determined to stop their ever being together, Madison throws caution to the wind. What follows is a cat-and-mouse game where Madison must decipher an elaborate hoax or worse: that the future is beyond her control. At the conclusion of Friday nights' show, Darren will lead a talk back with the audience.
"I am the full-time faculty for BCTC's Theatre program. The directorial duties are my responsibility, so I have the opportunity to spend a good amount of time with our students," said Davis. "Our students have community mentors to work along side of them as well. We are happy to once again partner with Lexington Childrens Theatre to use their Lab/Learning space to perform the show," said Davis.
"I am always thrilled when we can showcase the talents of our students," said Dr. Greg Feeney, Acting President. "The support of our faculty and community mentors has a significant impact on the students' success in accomplishing their educational dreams," said Feeney.
The show will run this weekend at the Lexington Childrens Theatre, Second Floor Lab Space, 418 W. Short St. starting each night at 7:30 pm. All tickets are $10 and can be purchased at the Pam Miller DAC Box Office.