Quality Enhancement Plan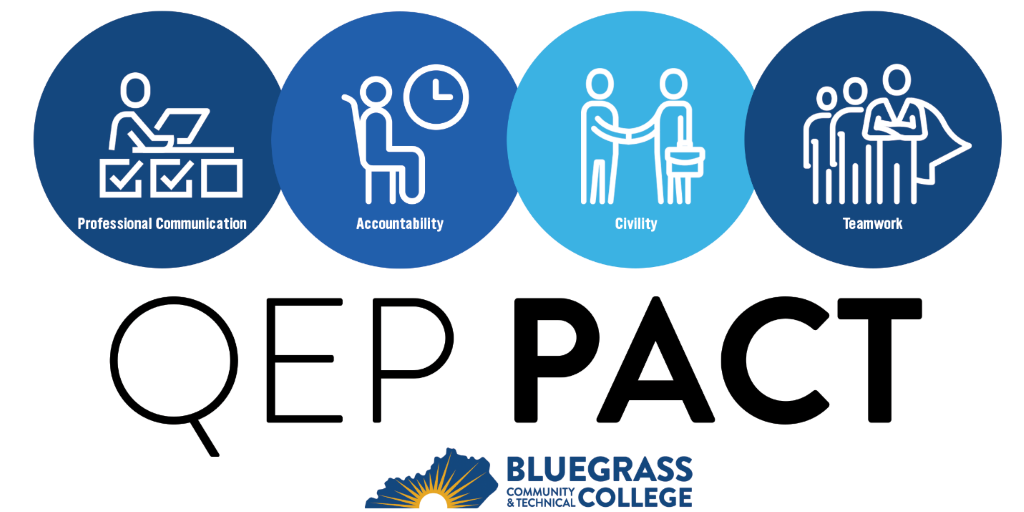 Through our Quality Enhancement Plan (QEP), we seek to transform Bluegrass Community and Technical College (BCTC) by committing to the QEP PACT - our agreement to promote professional communication, accountability, civility, and teamwork on our campuses. The QEP PACT focuses on improving these skills among our students because doing so resonates with our College's mission to "support student access, success, and completion of educational goals through comprehensive services, high-quality career and technical education for workforce skills..." and to "promote cultural awareness and inclusion, critical thinking, and civic responsibility."
Make the PACT:
Professional communication: Use appropriate protocol when addressing others and uses professional tone, especially in e-mail communications.
Accountability: Arrive prepared (e.g., brings supplies to class/work), participate in class/work activities (e.g., asks and answers questions), and demonstrate self-motivation (e.g., executes follow-up with partners).
Civility: Act respectfully and courteously, collaborate well with others, practice appropriate social skills, and maintain positive attitude.
Teamwork: Work with a diverse group of people with a mutual end goal in mind. Value the individual and diverse skills from team members and allow for dialogue and differing viewpoints.
Request the QEP Pact Document
Contact
To learn how you can get involved in the PACT, please contact:
QEP Director
Technology Assistance
Faculty Coordinator
Faculty Coordinator
Faculty Coordinator