The HEART of BCTC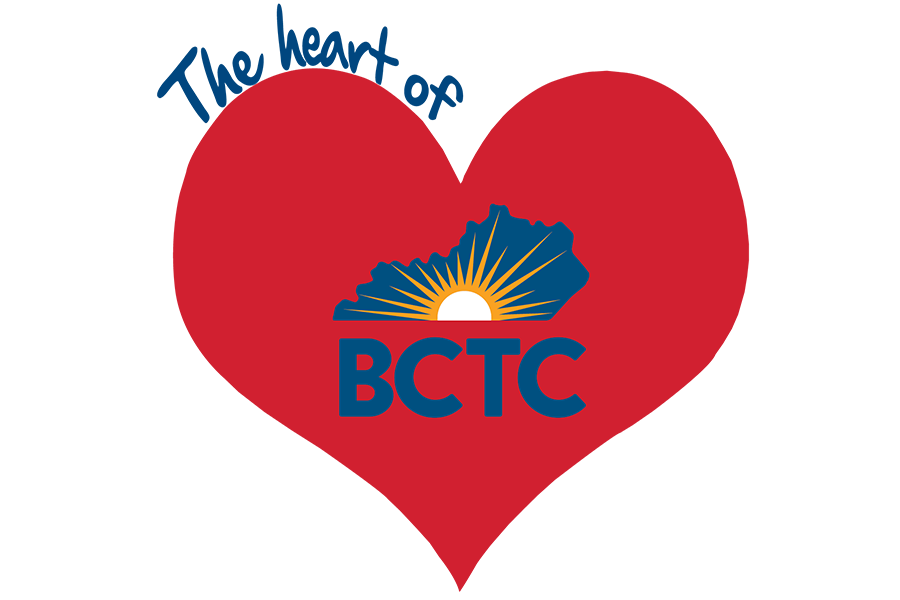 The HEART of BCTC was created for students who may need additional resources during their time at Bluegrass Community and Technical College. The HEART of BCTC provides personal hygiene items, and cleaning supplies to enhance a student's overall well-being.
You can also check out our list of local community resources below.
For questions please email BCTC-Hub@kctcs.edu.
Dates of service
On the following dates the HEART of BCTC Pantry will be open from 10 AM – 2 PM.
*Please note that these dates are subject to change due to the evolving COVID-19 pandemic. Please check this page for updated dates.*
January 20
February 3
February 10
February 17
February 24
March 3
March 10
March 24
March 31
April 7
April 14
April 21
April 28
May 5
Location
The HEART of BCTC Pantry is located at:
Leestown Campus, A Building, Room 203
164 Opportunity Way
Lexington, KY 40511
Parking is free at the Leestown Campus
Contact Us
Contact the Heart of BCTC by email at BCTC-Hub@kctcs.edu.
What to expect when you visit
When you visit the resource center, you will fill out a short intake form. Be sure to know your BCTC Student ID number.
Please bring a Photo ID.
You will be able to choose from the food, toiletry and cleaning supplies available.
Students may visit the pantry once a month.
Students will receive one bag to shop for items.
Community Resources
Organization
Contact Information

Suicide Prevention Lifeline
24-hour helpline

1 (800)-273-TALK (8255)
Ampersand
24-hour helpline
Wrap around support for those impacted by violent crimes, crisis counseling, therapy, and groups
(859) 253-2511
Lex Give United Way of the Bluegrass
211
Greenhouse 17
Victims of domestic violence
1 (800) 544-2022
Salvation Army
Single parents and their children
736 W. Main Street
(859) 252-7706
The HOPE Center
Services for men 18 and older
360 W. Loudon Avenue
(859) 252-7881
Arbor Youth Services
Unaccompanied children 6 weeks to 17
536 W. 3rd Street
(859) 254-2501
Catholic Action Center
Unaccompanied men and women over 18
1055 Industry Road
(859) 255-0301
The Nest
Parenting classes, crisis care center, and childcare
Counseling for survivors of domestic violence, physical and sexual abuse
530 North Limestone Street
(859) 259-1974
God's Pantry Food Bank
Contact BCTC Counseling Department for referral
KY Cabinet for Health and Family Services (DCBS)
SNAP benefits
(855) 306-8959
Lexington Health Department
WIC, public health and education, needle exchange, food handlers testing and permit
Multiple locations
(859) 252-2371
Lexington Housing Authority
300 New Circle Road
(859) 281-5060
Lexington Rescue Mission
Support for those experiencing homelessness
(859) 381-9600
Office of Vocational Rehabilitation
Employment services for individuals with disabilities
1 (800) 372-7172
Community Action Council
Prep academy, housing and mental health, senior services, and emergency assistance
(859) 233-4600
One Parent Scholar House
Affordable housing for single parents and children, on site child care
1156 Horsemans Lane
(859) 252-4828
Maxwell Street Legal Clinic
Kentucky Equal Justice Center, free and/or low cost legal services
(859) 233-3840
Journey Provisions
Non-profit thrift store for professional dress clothing
560 Fielding Drive, Versailles, KY
Amen House
Clothing and food pantry, offers financial assistance for families in need
319 East Main Street, Georgetown, KY
Lighthouse Ministries
Food, shoe, and hygiene bank
190 Spruce Street, Lexington, KY
Donations
Due to limited office hours, we are asking if you would like to assist in serving students that you donate monetarily through the BCTC Foundation. If you have questions about donating food, baby, cleaning or personal hygiene items, please email BCTC-Hub@kctcs.edu.
Professional clothing items are not accepted at this time, due to low demand.