Peer Mentors
Need help?
Drop in to the Peer Mentor Lab in Science Education Center (SEC) room 209 to meet with a BCTC Peer Mentor, access a computer, use the printer or simply find a chill place to study!
The Peer-Mentor services are on a walk-in basis, but students can also be paired with a mentor if they wish.
Peer Mentor Lab
The peer-mentor lab is open Monday - Friday from 8:30 - 4:30 pm. Please check the availability of the mentors below, as there isn't always a peer-mentor available.
Peer-Mentor availability schedule
Student Quote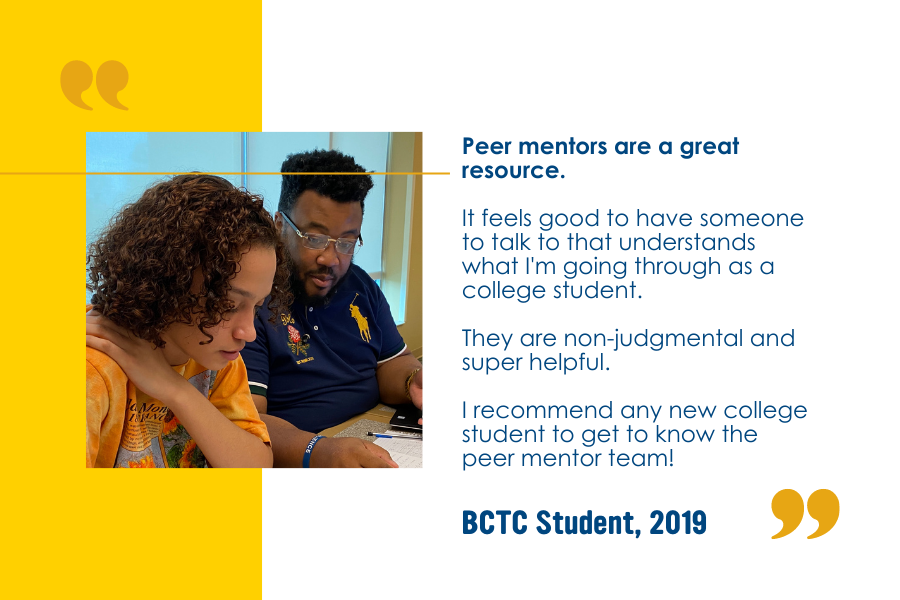 Quote:
"Peer mentors are a great resource.
It feels good to have someone to talk to that understands what I'm going through as a college student.
They are non-judgmental and super helpful.
I recommend any new college student to get to know the peer mentor team!"
- BCTC Student, 2019
Want to become a BCTC Peer Mentor?
BCTC peer mentors are an integral part of the college community. The Student Success Hub is hiring mentors for the Spring 2023 term.
If you are interested in applying to be a peer mentor, please contact Anastasia Kreyling (anastasia.kreyling@kctcs.edu) for further information about applying.