Scholarship Opportunities
Bluegrass Community & Technical College is dedicated to providing a diverse selection of scholarships to support the financial needs of our students. While criteria is varied with each scholarship, most are based on financial need. Some scholarships also emphasize strong academic need and/or special interests. Funding for BCTC scholarships come from the state government, individuals, businesses and organizations.
How to Apply
If you are planning to attend BCTC in Fall 2021 and/or Spring 2022, you should have your application and documentation submitted by February 1, 2021 to be considered for all available scholarships.
Students can still submit a scholarship application after the Priority Date!
The Priority Date for the 2021-2022 Scholarship Application will be February 1, 2021.
If you are a current BCTC student or planning to attend during the Spring 2021 semester. You can still complete a 2020/2021 application!
Here are the steps you will take to complete this application:
Create an online profile that will be verified using your provided email address. If you submitted a previous scholarship application, you would simply need to login to your profile to have access to the 2021-2022 application.
Once the application is submitted, you may begin to upload documentation to complete the application. If you submitted documentation for 2021-2022, do not forget to update your supporting documentation.
How to complete a BCTC Scholarship Application
Go to https://legacy.bluegrass.kctcs.edu/forms/scholarship/register.php
1) Create a profile using the following information:
First Name
Last Name
Username:
Your Email Address
Password
2) Verify your email address
An email with the subject "Please verify your new 'Scholarship Application' account" will be sent to the email you provided. You must verify within 24 hours of creating your profile. Also, don't forget to check your JUNK/SPAM folders if your email filters.
3) Complete the rest of your profile including
Address
Birthdate
last 4 digits of your SSN
Student ID
4) Once your profile is complete you may navigate between the tabs necessary to complete an application.

Overview Tab - Reviews the 3 step process of completing an application
Tab 1 (Profile) - Allows you to Edit Profile info such as address, phone number and email
Tab 2 (Application) - Allows you to Start, Edit, or View their application
Tab 3 (Documents) - Allows you to add or remove documents. HELP Tab - Info on who to contact for help
5) Complete an application. Please complete the application for which semesters you plan to attend (i.e. Fall 2019/Spring 2020). Click the green "Start A New Application" button to begin.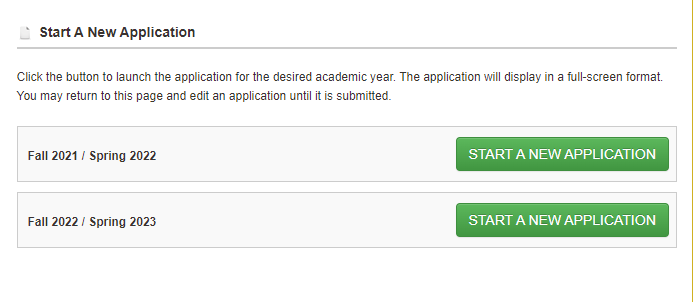 The application is broken down into 4 sections:

Click on the name of each section to expand and answer the questions.
You must answer each question under the required sections. At the end of each section it is recommended that you "SAVE & CONTINUE"


If you must leave and come back to the application later, you will find saved applications under the "My Applications" tab. Click "Edit" to open the saved application.

When you have completed Parts I, II, and III you are ready to sign the application. Please type your last name only as it appears on the profile. Don't forget to read and check the information box.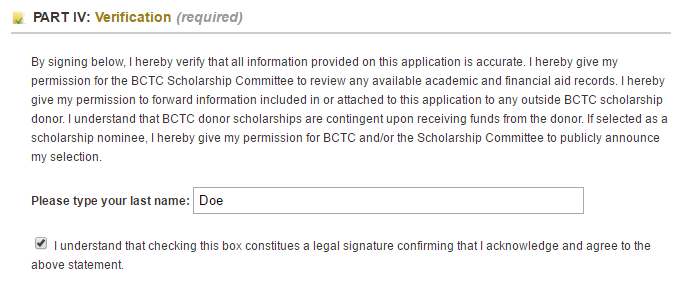 You are now ready to submit your application. Click on the Submit Application button.

You may print a copy of your application for your records by selecting the print button.

6) Upload documents to your application. At any time after you create your profile you may begin uploading documents. To upload a document, click on the Documents tab.

You may upload up to five documents of each type of supporting document. To begin select Choose File and attach your document.
Once you successfully upload a document it will show under the "My Supporting Documents" heading.


1. Create an online profile that will be verified using your provided email address. If you submitted a previous scholarship application, you will simply need to login to your profile to have access to the 2020-2021 application.
2. Once the online profile is confirmed, you may begin completing the application process, which is broken down into four categories.
Education Info (required)
Background Info (required)
Demographic /Personal information (optional)
Verification of Identify/Signature (required)
3. Once the application is submitted, you may begin to upload documentation to complete the application. If you submitted documentation for 2020-2021, don't forget to update your supporting documentation.
Transcript (required)
Original Statement (required)
Optional Letter of recommendation
Optional Verification of High School ranking (used only for incoming freshman to determine eligibility for Commonwealth Scholarship)
Optional Verification of BCTC Disability Support Services (used for students with documented disability and utilizing DSS services) must have signature of designated staff.
Please note the following:
The priority deadline will not change you must have a completed scholarship application including documentation- submitted by February 1.
If you have a technical/computer issues with the application you should contact technical support.
Once the application has been submitted NO CHANGES can be made. You may still upload documents. A scholarship file is not considered complete until all required documents has been uploaded.
Only students that will be receiving scholarships are contacted. If you do not receive a scholarship award notice from the Financial Aid Office, you have not been awarded. A denial letter will not be sent to you because your application will remain active for the academic year.
All students - including current year scholarship recipients - must submit a scholarship application each academic year to receive a BCTC scholarship.
LOGIN OR CREATE YOUR SCHOLARSHIP PROFILE
Other Scholarship Opportunities
There are many websites available to students with useful scholarship information. Visit the following websites to search for scholarship opportunities.
P.E.O. Continuing Education Scholarship is: a one time, need based grant, up to $3000, for a USA or Canadian woman student, who is within 24 months of completing the final planned education program leading to employment or job advancement.
Applicants must have had at least 24 consecutive months as a nonstudent sometime in her adult life and
not be enrolled in a doctoral degree program.
Access to the online application must be provided by a sponsoring
P. E. O. Chapter.
For more information contact Betty Gabehart, bdgabe@twc.com, 859-608-5871

Deadline- Application may be submitted as soon as four months before the beginning of the term and no later than 10 weeks prior to the term for which the grant is to be considered.
This is a need-based grant providing one-time financial assistance offered through P.E.O., a philanthropic organization.
Eligibility:
A citizen of the U.S. or Canada
Enrolled in a certification or degree program
Has had her education interrupted and finds it necessary to return to school
Is within 24 months of completing her educational program
Contact: Mary Anna Stepp