How to Raise Your Hand for Help
Step 1: Access Starfish
You can access Starfish by clicking on the tab in MyPath (https://kctcs.sharepoint.com/sites/mypath) or through Blackboard.
Login using the same username and password as you do for PeopleSoft. Once logged in, you will land on your Starfish homepage:
Step 2: Raise Your Hand
Click the three-bar menu button in the top-left corner. Click Raise Your Hand in the drop-down menu that opens.
Step 3: Tell Us How We can help
Select options from the Type of Help Needed drop-down menu that best fit your needs.
If your concern is related to one of your courses, select the appropriate option from the Course drop-down menu.
Most importantly, make sure to describe the help you need in the Details box.
Click Submit. Once you submit your request, the message will be directed to individuals on campus that can reach out and connect you to the right services to help you succeed.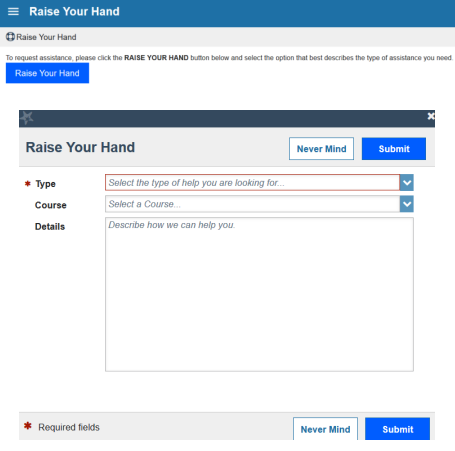 If you have any issues or questions, please e-mail BCTC-CollegeSuccess@kctcs.edu